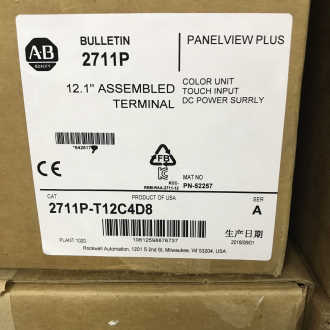 BASIC INFO

Allen Bradley 2711P-B15C22A9P Panelview Plus 7 Terminal
Description: Allen Bradley Panelview Plus 7 Terminal, Performance Model, with Touchscreen and Keypad, 15 XGA, TFT Color Display, with One Ethernet Port, 100-240VAC Powered , Windows CE OS License, Pro Software, Performance Model
About 2711P-B15C22A9P
The Allen-Bradley 2711P-B15C22A9P is part of the PanelView Plus 7 Performance Terminal series. It is used to monitor and control other devices connected to the CompactLogix 5370 and ControlLogix 5570 controllers within an EtherNet/IP network. This TFT color, 15-inch user interface terminal offers convenient data viewing. Users interact with the control system through a combination of touch screen and keypad input. Processes and information are displayed in text and animated graphics. A high-brightness display and LED backlight make it ideal for outdoor use. And with conformal coating and marine-certified components, this device has protection against moisture, dust, and temperature extremes.
2711P-B15C22A9P provides a familiar environment for designing HMI applications with its FactoryTalk View Machine Edition software. It runs the Windows CE operating system with desktop access making it user-friendly. It supports third-party devices, Active X controls, FTP server, and VNC client/server functionalities. Plus, it has a built-in PDF viewer that allows users to read PDF files stored on the terminal. The 2711P-B15C22A9P Interface Terminal is a versatile display device. It can be configured for either a standalone machine or mid-size system application. Its Ethernet communication works in linear, star, or device-level ring computer networks. It has 2 USB ports; one for high-speed connection to host computer and one for removable storage drives. It features high memory capacity – 512 MB RAM and 100 MB of nonvolatile storage for applications. For additional storage needs, it also has an SD card slot. And with Class 1, Division 2 and ATEX zones 2 and 22 certifications, safety and quality is a guarantee.
Technical Specifications for 2711P-B15C22A9P
Manufacturer
Rockwell Automation
Brand
Allen-Bradley
Part Number/Catalog No.
2711P-B15C22A9P
Product Line
Panelview Plus 7
Input Type
Touchscreen/Keypad
Display Size
15 in.
Order Number:
2711P-B10C4D8
2711P-B12C4D8
2711P-B15C22A9P
2711P-B6M5D8
2711P-B7C4D8
2711PC-T6C20D8
2711P-K10C4D8
2711P-K12C4D8
2711P-K7C4D8
2711P-RDB10C
2711P-RDK12C
2711P-RDK7C
2711P-RDT10C
2711P-RDT12C
2711P-RDT15C
2711P-RDT7C
2711P-RN15S
2711P-RN6
2711P-RP1
2711P-RP2
2711P-RP8D
2711P-RP9A
2711P-RSACDIN
2711P-RW1
2711P-T10C21D8S
2711P-T10C22A9P
2711P-T10C22D8S
2711P-T10C4D9
2711P-T12C4A9
2711P-T12C4D9
2711P-T12W21D8S
2711P-T12W22D9P
2711P-T15C22D9P
2711P-T19C22D9P
2711P-T6C20D
2711P-T6C20D8
2711P-T6C21D8S
2711P-T6M20D8
2711P-T7C21D8S
2711P-T7C22D8S
2711P-T7C4D8
2711P-RP8A
2711P-RP9D
2711P-T10C4A8
2711P-T10C4D8
2711R-T10T
2711R-T4T
2711R-T7T
2711P-T7C22D9P
2711P-T7C22D9P-B
2711P-T7C22A9P
2711P-T7C22A9P-B
2711P-B7C22D9P
2711P-B7C22D9P-B
2711P-B7C22A9P
2711P-B7C22A9P-B
2711P-T9W22D9P
2711P-T9W22D9-B
2711P-T9W22A9P
2711P-T9W22A9P-B
2711P-T10C22D9P
2711P-T10C22D9P-B
2711P-T10C22A9P
2711P-T10C22A9P-B
2711P-B10C22D9P
2711P-B10C22D9P-B
2711P-B10C22A9P
2711P-B10C22A9-B
2711P-T12W22D9P
2711P-T12W22D9P-B
2711P-T12W22A9P
2711P-T12W22A9P-B
2711P-T15C22D9P
2711P-T15C22D9P-B
2711P-T15C22A9P
2711P-T15C22A9P-B
2711P-B15C22D9P
2711P-B15C22D9P-B
2711P-B15C22A9P
2711P-B15C22A9P-B
2711P-T19C22D9P
2711P-T19C22D9P-B
2711P-T19C22A9P
2711P-T19C22A9P-B
2711P-T9W22D9P-BSHK
2711P-T12W22D9P-BSHK
2711P-T7C22D9PK
2711P-T9W22D9PK
2711P-T10C22D9PK
2711P-T12W22D9PK
2711P-T15C22D9PK
2711P-T19C22D9PK
2711P-B15C22D9PK
2711P-T12W22D9P-BM001
2711P-T12W22D9P-BM002
2711P-T12W22D9P-BM003
2711P-T12W22D9P-BM004
2711P-T12W22D9P-BM005
2711P-T12W22D9P-BM006
2711P-T12W22D9P-BM007
2711P-T12W22D9P-BM008
2711P-T12W22D9P-BM009
2711P-T12W22D9P-BM010
2711P-T12W22D9P-BM011
2711P-T12W22D9P-BM012
2711P-T12W22D9P-BM013
2711P-T12W22D9P-BM014
2711P-T12W22D9P-BM015
2711P-T12W22D9P-BM016
-----------------------------------
Lily
HONGKONG XIEYUAN TECH CO., LIMITED
T: 86-027-85568699 F: 86-027-85309780
E-mail: lily@hkxytech.com
Add: 7-A16,Caishen Commercial Plaza,Hankou Railway Station,Wuhan, Hubei, China
Web: www.hkxytech.com