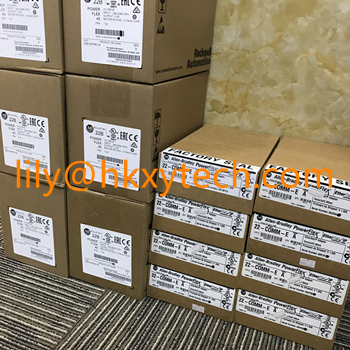 BASIC INFO
Rockwell Allen Bradley 20AB070A0AYNANC0 PowerFlex70 AC Drive, 240VAC

20AB070A0AYNANC0
Description: PowerFlex70 AC Drive, 240 (208) VAC, 3 PH, 70 Amps, 25 HP Normal Duty, 20 HP Heavy Duty,Panel Mount - IP20 / NEMA Type 1, with conformal coating, No HIM (Blank Plate), Brake IGBT Installed, Without Drive Mounted Brake Resistor, Second Environment Filter per CE EMC directive (89/336/EEC), No Communication Module, Enhanced Control , No Feedback
About 20AB070A0AYNANC0
The 20AB070A0AYNANC0 is a three-phase drive, designed and manufactured by Allen-Bradley. This drive belongs to the Power-flex 70 family of drives. This interface device offers a high quantity of features that make it ideal to work within any industrial application. The Allen-Bradley 20AB070A0AYNANC0 Power-Flex 70 drive operates with a voltage rating of 240 Volts and an output Amperage of 78.2 and 18.5 kW (25 HP). It has Volts per Hertz control, vector control without sensors, and vector control with force technology. This unit does not need any resistors. The structure of the Allen-Bradley 20AB070A0AYNANC0 Power-Flex 70 drive is covered with a panel mount IP20 NEMA enclosure, which is intended for industrial purposes and to protect the unit from external particles that could be a possible threat to it. The approximate weight of the unit is 18.6 kilograms (41 pounds). The installation of this drive requires a clearance of at least 76.2 millimeters (3.0 inches) between other units located vertically below or above, in order to let the air flow through the heatsink and chassis, and it is recommended that a short motor cable be used, in order to avoid electromagnetic interference.
The structure of the Allen-Bradley 20AB070A0AYNANC0 Power-Flex 70 drive offers flexibility since it is designed to meet a variety of application requirements and connectivity, in order to monitor and take appropriate actions. It also features safety assets and, at the same time, it reduces downtime after an event has occurred. It also offers protection against unplanned downtime. The Allen-Bradley 20AB070A0AYNANC0 Power-Flex 70 drive has a blank cover for human interface; at the same time, it provides explanations of parameters and events without the need of a manual.
Order Number:
PowerFlex 70 AC Drives
20AB015A0AYNANC0
20AB015C3AYNANC0
20AB015F0AYNANC0
20AB022A0AYNANC0
20AB022C3AYNANC0
20AB022F0AYNANC0
20AB028A0AYNANC0
20AB028C3AYNANC0
20AB028F0AYNANC0
20AB042A0AYNANC0
20AB042C3AYNANC0
20AB042F0AYNANC0
20AB054A0AYNANC0
20AB054C3AYNANC0
20AB054F0AYNANC0
20AB054G3AYNANC0
20AB070A0AYNANC0
20AB070C3AYNANC0
20AB070F0AYNANC0
20AB070G3AYNANC0
20AB2P2A0AYNANC0
20AB2P2A0AYNNNC0
20AB2P2C3AYNANC0
20AB2P2C3AYNNNC0
20AB2P2F0AYNANC0
20AB2P2F0AYNNNC0
20AB4P2A0AYNANC0
20AB4P2A0AYNNNC0
20AB4P2C3AYNANC0
20AB4P2C3AYNNNC0
20AB4P2F0AYNANC0
20AB4P2F0AYNNNC0
20AB6P8A0AYNANC0
20AB6P8A0AYNNNC0
20AB6P8C3AYNANC0
20AB6P8C3AYNNNC0
20AB6P8F0AYNANC0
20AB6P8F0AYNNNC0
20AB9P6A0AYNANC0
20AB9P6A0AYNNNC0
20AB9P6C3AYNANC0
20AB9P6C3AYNNNC0
20AB9P6F0AYNANC0
20AB9P6F0AYNNNC0
20AC037A0AYNANC0
20AC037C3AYNANC0
20AC043A0AYNANC0
20AC043C3AYNANC0
20AC060A0AYNANC0
20AC060C3AYNANC0
20AC072A0AYNANC0
20AC072C3AYNANC0
20AD011A0AYNANC0
20AD011C3AYNANC0
20AD011F0AYNANC0
20AD014A0AYNANC0
20AD014C3AYNANC0
20AD014F0AYNANC0
20AD022A0AYNANC0
20AD022C3AYNANC0
20AD022F0AYNANC0
20AD027A0AYNANC0
20AD027C3AYNANC0
20AD027F0AYNANC0
20AD034A0AYNANC0
20AD034C3AYNANC0
20AD034F0AYNANC0
20AD040A0AYNANC0
20AD040C3AYNANC0
20AD040F0AYNANC0
20AD052A0AYNANC0
20AD052C3AYNANC0
20AD052F0AYNANC0
20AD052G3AYNANC0
20AD065A0AYNANC0
20AD065C3AYNANC0
20AD065F0AYNANC0
20AD065G3AYNANC0
20AD1P1A0AYNANC0
20AD1P1A0AYNNNC0
20AD1P1C3AYNANC0
20AD1P1C3AYNNNC0
20AD1P1F0AYNANC0
20AD1P1F0AYNNNC0
20AD2P1A0AYNANC0
20AD2P1A0AYNNNC0
20AD2P1C3AYNANC0
20AD2P1C3AYNNNC0
20AD2P1F0AYNANC0
20AD2P1F0AYNNNC0
20AD3P4A0AYNANC0
20AD3P4A0AYNNNC0
20AD3P4C3AYNANC0
20AD3P4C3AYNNNC0
20AD3P4F0AYNANC0
20AD3P4F0AYNNNC0
20AD5P0A0AYNANC0
20AD5P0A0AYNNNC0
20AD5P0C3AYNANC0
20AD5P0C3AYNNNC0
20AD5P0F0AYNANC0
20AD5P0F0AYNNNC0
20AD8P0A0AYNANC0
20AD8P0A0AYNNNC0
20AD8P0C3AYNANC0
20AD8P0C3AYNNNC0
20AD8P0F0AYNANC0
20AD8P0F0AYNNNC0
20AE011A0AYNNNC0
20AE011C3AYNNNC0
20AE011F0AYNNNC0
20AE017A0AYNNNC0
20AE017C3AYNNNC0
20AE017F0AYNNNC0
20AE022A0AYNNNC0
20AE022C3AYNNNC0
20AE022F0AYNNNC0
20AE027A0AYNNNC0
20AE027C3AYNNNC0
20AE027F0AYNNNC0
20AE032A0AYNNNC0
20AE032C3AYNNNC0
20AE032F0AYNNNC0
20AE041A0AYNANC0
20AE041C3AYNANC0
20AE041F0AYNANC0
20AE041G3AYNANC0
20AE052A0AYNANC0
20AE052C3AYNANC0
20AE052F0AYNANC0
20AE052G3AYNANC0
20AE0P9A0AYNNNC0
20AE0P9C3AYNNNC0
20AE0P9F0AYNNNC0
20AE1P7A0AYNNNC0
20AE1P7C3AYNNNC0
20AE1P7F0AYNNNC0
20AE2P7A0AYNNNC0
20AE2P7C3AYNNNC0
20AE2P7F0AYNNNC0
20AE3P9A0AYNNNC0
20AE3P9C3AYNNNC0
20AE3P9F0AYNNNC0
20AE6P1A0AYNNNC0
20AE6P1C3AYNNNC0
20AE6P1F0AYNNNC0
20AE9P0A0AYNNNC0
20AE9P0C3AYNNNC0
20AE9P0F0AYNNNC0
Any inquires, please feel free to contact us via E-mail, thanks!
-----------------------------------
Lily
HONGKONG XIEYUAN TECH CO., LIMITED
T: 86-027-85568699 F: 86-027-85309780
E-mail: lily@hkxytech.com
Add: 7-A16,Caishen Commercial Plaza,Hankou Railway Station,Wuhan, Hubei, China
Web: www.hkxytech.com