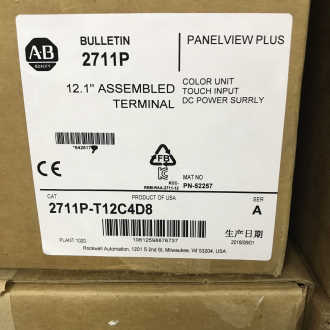 BASIC INFO
Allen-Bradley 2711P-B15C22D9P Panelview Plus 7 Terminal

Description: Allen Bradley Panelview Plus 7 Terminal, Performance Model, with Touchscreen and Keypad, 15 XGA, TFT Color Display, with One Ethernet Port, 24V DC Powered, Windows CE OS License, Pro Software, Performance Model
About 2711P-B15C22D9P
The Allen-Bradley 2711P-B15C22D9P PanelView Plus Performance Terminal is a DC-powered operator interface terminal with the Windows CE Operating System. The 2711P-B15C22D9P monitors and controls devices connected through the Ethernet/IP network to the ControlLogix and the CompactLogix 5370 controllers. Operators can easily and conveniently interact with the control system through the 2711P-B15C22D9P's stainless steel keypad, and the 15-inch color, TFT, LCD resistive analog touchscreen with an antiglare surface and an actuation rating of about 1 million presses. It comes with a 304mm x 228mm (12in x 9in) display dimension and a resolution of 1024 x 768 XGA in 18-bit color graphics and an aspect ratio of 4:3. It offers a display brightness of 300 cd/m2 (Nits), with a with a non-replaceable LED backlight that has about 50,000 hours of half-life, and with a battery-backed internal clock with +/-2 minutes per month of accuracy and with a replaceable battery that has a 4-year minimum lifespan. The 2711P-B15C22D9P comes with an internal 512MB RAM, 512MB of user memory, and with 80MB for application storage, and it supports an SD card slot for external storage.
The 2711P-B15C22D9P comes with 2 base-configured USB high-speed 2.0 host ports and with 1 high-speed 2.0 device port. It can communicate with other devices connected on the Ethernet/IP network by using its double 10/100MB Base-T, Auto MDI/MDI-X Ethernet ports which support Device Level Ring (DLR), linear, or star network topologies. The 2711P-B15C22D9P requires a DC power supply with an input range of 18-30V DC, and a maximum power usage of 50 W at 2.1A and 24V DC. The 2711P-B15C22D9P runs on the Windows CE operating system with Extended Features and MS Office Viewers which include FTP, VNC client-server, ActiveX controls, PDF reader, and third-party device support. The 2711P-B15C22D9P also supports FactoryTalk View Studio (Machine Edition) software and FactoryTalk ViewPoint software, version 2.6 or later. It has a functional temperature range of 32-131 °F, at 5-95% non-condensing relative humidity, and it built for storage at a temperature range of -13-158 °F. It is built to withstand an operational vibration of 2G at 57-500Hz, and it can still maintain its functions at a maximum height of 2000m. The 2711P-B15C22D9P weighs approximately 4.14kg (9.13lb), with approximate dimensions of 329mm x 484mm x 69.6mm (12.95in x 19.06in x 2.74in), and it is CE, c-UL-us, KCC, and RoHS-certified. LEDs on the back of the 2711P-B15C22D9P indicate run and fault status for proper diagnostics.
Technical Specifications for 2711P-B15C22D9P
Manufacturer
Rockwell Automation
Brand
Allen-Bradley
Part Number/Catalog No.
2711P-B15C22D9P
Product Line
Panelview Plus 7
Input Type
Touchscreen/Keypad
Display Size
15 in.
Order Number:
2711P-B10C4D8
2711P-B12C4D8
2711P-B15C22A9P
2711P-B6M5D8
2711P-B7C4D8
2711PC-T6C20D8
2711P-K10C4D8
2711P-K12C4D8
2711P-K7C4D8
2711P-RDB10C
2711P-RDK12C
2711P-RDK7C
2711P-RDT10C
2711P-RDT12C
2711P-RDT15C
2711P-RDT7C
2711P-RN15S
2711P-RN6
2711P-RP1
2711P-RP2
2711P-RP8D
2711P-RP9A
2711P-RSACDIN
2711P-RW1
2711P-T10C21D8S
2711P-T10C22A9P
2711P-T10C22D8S
2711P-T10C4D9
2711P-T12C4A9
2711P-T12C4D9
2711P-T12W21D8S
2711P-T12W22D9P
2711P-T15C22D9P
2711P-T19C22D9P
2711P-T6C20D
2711P-T6C20D8
2711P-T6C21D8S
2711P-T6M20D8
2711P-T7C21D8S
2711P-T7C22D8S
2711P-T7C4D8
2711P-RP8A
2711P-RP9D
2711P-T10C4A8
2711P-T10C4D8
2711R-T10T
2711R-T4T
2711R-T7T
2711P-T7C22D9P
2711P-T7C22D9P-B
2711P-T7C22A9P
2711P-T7C22A9P-B
2711P-B7C22D9P
2711P-B7C22D9P-B
2711P-B7C22A9P
2711P-B7C22A9P-B
2711P-T9W22D9P
2711P-T9W22D9-B
2711P-T9W22A9P
2711P-T9W22A9P-B
2711P-T10C22D9P
2711P-T10C22D9P-B
2711P-T10C22A9P
2711P-T10C22A9P-B
2711P-B10C22D9P
2711P-B10C22D9P-B
2711P-B10C22A9P
2711P-B10C22A9-B
2711P-T12W22D9P
2711P-T12W22D9P-B
2711P-T12W22A9P
2711P-T12W22A9P-B
2711P-T15C22D9P
2711P-T15C22D9P-B
2711P-T15C22A9P
2711P-T15C22A9P-B
2711P-B15C22D9P
2711P-B15C22D9P-B
2711P-B15C22A9P
2711P-B15C22A9P-B
2711P-T19C22D9P
2711P-T19C22D9P-B
2711P-T19C22A9P
2711P-T19C22A9P-B
2711P-T9W22D9P-BSHK
2711P-T12W22D9P-BSHK
2711P-T7C22D9PK
2711P-T9W22D9PK
2711P-T10C22D9PK
2711P-T12W22D9PK
2711P-T15C22D9PK
2711P-T19C22D9PK
2711P-B15C22D9PK
2711P-T12W22D9P-BM001
2711P-T12W22D9P-BM002
2711P-T12W22D9P-BM003
2711P-T12W22D9P-BM004
2711P-T12W22D9P-BM005
2711P-T12W22D9P-BM006
2711P-T12W22D9P-BM007
2711P-T12W22D9P-BM008
2711P-T12W22D9P-BM009
2711P-T12W22D9P-BM010
2711P-T12W22D9P-BM011
2711P-T12W22D9P-BM012
2711P-T12W22D9P-BM013
2711P-T12W22D9P-BM014
2711P-T12W22D9P-BM015
2711P-T12W22D9P-BM016
-----------------------------------
Lily
HONGKONG XIEYUAN TECH CO., LIMITED
T: 86-027-85568699 F: 86-027-85309780
E-mail: lily@hkxytech.com
Add: 7-A16,Caishen Commercial Plaza,Hankou Railway Station,Wuhan, Hubei, China
Web: www.hkxytech.com