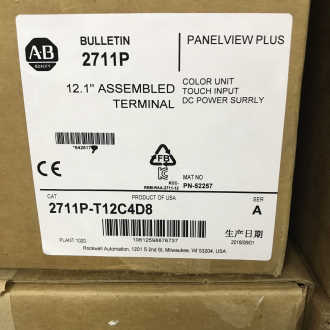 BASIC INFO

Allen Bradley 2711P-T19C22D9P Panelview Plus 7 Terminal
Description: Allen Bradley Panelview Plus 7 Terminal, Performance Model, with a Touchcreen, 19 SXGA, TFT Color Display, with One Ethernet Port, 24V DC Powered, Windows CE OS License, Pro Software, Performance Model
About 2711P-T19C22D9P
The Allen-Bradley PanelView™ Plus 7 (2711P-T19C22D9P) has a 19-inch screen and a resolution of 1280 x 1024 SXGA. The 2711P-T19C22D9P has an 18-bit color graphics display with a touchscreen input. This module has an aspect ratio of 5:4. The display type is TFT color. The typical brightness of this module is 300 cd/m2 (Nits). The input voltage of this module is 24V DC. The power consumption of this module is a maximum 50W (2.1 A at 24 V DC). This module runs Windows CE operating system. The 2711P-T19C22D9P also supports third-party software. This module has a flash memory of 1 GB. This module is equipped with 512 MB of RAM (with 80 MB free user memory). This module offers backup restoration functionality and is equipped with an automatic repair operations feature. This module can connect to the internet and it supports remote connectivity through both VNC and FTP. The 2711P-T19C22D9P allows the management of data that saved in the .CSV file format.
The Allen-Bradley 2711P-T19C22D9P has approximate dimensions of 411 x 485 x 69.6 mm (16.18 x 19.09 x 2.74 inch). The weight of this module is 5.62 kg (12.40 lb). The ambient temperature around the modules must be between 0 and 55 °C (32 and 131 °F). Make adequate spacing around the module inside the enclosure and ensure adequate ventilation. Be sure to consider the heat generated by other devices inside the enclosure.
Technical Specifications for 2711P-T19C22D9P
Manufacturer
Rockwell Automation
Brand
Allen-Bradley
Part Number/Catalog No.
2711P-T19C22D9P
Product Line
Panelview Plus 7
Input Type
Touchscreen
Display Size
19 in.
Order Number:
2711P-B10C4D8
2711P-B12C4D8
2711P-B15C22A9P
2711P-B6M5D8
2711P-B7C4D8
2711PC-T6C20D8
2711P-K10C4D8
2711P-K12C4D8
2711P-K7C4D8
2711P-RDB10C
2711P-RDK12C
2711P-RDK7C
2711P-RDT10C
2711P-RDT12C
2711P-RDT15C
2711P-RDT7C
2711P-RN15S
2711P-RN6
2711P-RP1
2711P-RP2
2711P-RP8D
2711P-RP9A
2711P-RSACDIN
2711P-RW1
2711P-T10C21D8S
2711P-T10C22A9P
2711P-T10C22D8S
2711P-T10C4D9
2711P-T12C4A9
2711P-T12C4D9
2711P-T12W21D8S
2711P-T12W22D9P
2711P-T15C22D9P
2711P-T19C22D9P
2711P-T6C20D
2711P-T6C20D8
2711P-T6C21D8S
2711P-T6M20D8
2711P-T7C21D8S
2711P-T7C22D8S
2711P-T7C4D8
2711P-RP8A
2711P-RP9D
2711P-T10C4A8
2711P-T10C4D8
2711R-T10T
2711R-T4T
2711R-T7T
2711P-T7C22D9P
2711P-T7C22D9P-B
2711P-T7C22A9P
2711P-T7C22A9P-B
2711P-B7C22D9P
2711P-B7C22D9P-B
2711P-B7C22A9P
2711P-B7C22A9P-B
2711P-T9W22D9P
2711P-T9W22D9-B
2711P-T9W22A9P
2711P-T9W22A9P-B
2711P-T10C22D9P
2711P-T10C22D9P-B
2711P-T10C22A9P
2711P-T10C22A9P-B
2711P-B10C22D9P
2711P-B10C22D9P-B
2711P-B10C22A9P
2711P-B10C22A9-B
2711P-T12W22D9P
2711P-T12W22D9P-B
2711P-T12W22A9P
2711P-T12W22A9P-B
2711P-T15C22D9P
2711P-T15C22D9P-B
2711P-T15C22A9P
2711P-T15C22A9P-B
2711P-B15C22D9P
2711P-B15C22D9P-B
2711P-B15C22A9P
2711P-B15C22A9P-B
2711P-T19C22D9P
2711P-T19C22D9P-B
2711P-T19C22A9P
2711P-T19C22A9P-B
2711P-T9W22D9P-BSHK
2711P-T12W22D9P-BSHK
2711P-T7C22D9PK
2711P-T9W22D9PK
2711P-T10C22D9PK
2711P-T12W22D9PK
2711P-T15C22D9PK
2711P-T19C22D9PK
2711P-B15C22D9PK
2711P-T12W22D9P-BM001
2711P-T12W22D9P-BM002
2711P-T12W22D9P-BM003
2711P-T12W22D9P-BM004
2711P-T12W22D9P-BM005
2711P-T12W22D9P-BM006
2711P-T12W22D9P-BM007
2711P-T12W22D9P-BM008
2711P-T12W22D9P-BM009
2711P-T12W22D9P-BM010
2711P-T12W22D9P-BM011
2711P-T12W22D9P-BM012
2711P-T12W22D9P-BM013
2711P-T12W22D9P-BM014
2711P-T12W22D9P-BM015
2711P-T12W22D9P-BM016
-----------------------------------
Lily
HONGKONG XIEYUAN TECH CO., LIMITED
T: 86-027-85568699 F: 86-027-85309780
E-mail: lily@hkxytech.com
Add: 7-A16,Caishen Commercial Plaza,Hankou Railway Station,Wuhan, Hubei, China
Web: www.hkxytech.com