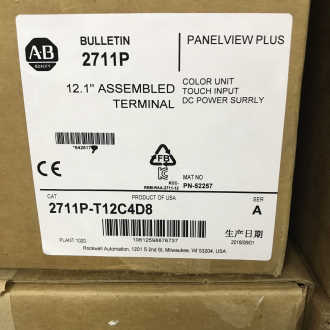 BASIC INFO
Allen-Bradley 2711R-T10T PanelView 800 Display with Touchscreen

Description: PanelView 800 with 10.4 inch Display with Touchscreen and both Serial and Ethernet communication ports
About 2711R-T10T

The Allen-Bradley 2711R-T10T PanelView 800 HMI Terminal is an operator interface with the Windows CE 6.0 operating system which allows users to graphically view the machine status and to monitor and manage machine functions. Users can input and set the machine's parameters through the 65K color trans-missive, thin-film transistor color active matrix, 10-inch LCD screen with a display dimension of 8.31in x 6.24in and a resolution of 800 x 600 pixel. The 2711R-T10T has an analog resistive surface touch and a LED backlight with a standby time of up to 40,000 hours. It has a battery-backed real-time clock with a battery lifespan of 5 years when used at a temperature below 77 °F. It also has a factory-built internal cache memory of 256 MB for storing the user settings and application parameters.
The 2711R-T10T is also fitted with a 256-MB Synchronous DRAM for application processes with a processor speed of 800MHz and it is compatible with MicroLogix and Micro 800 Controllers. The 2711R-T10T uses the isolated RS-232 and RS-422/RS-485 serial communication ports for data transmission and for programming by a PC using the Connected Components Workbench Software version 8.0 or later, which is compatible with Microsoft Windows 8.0 and 8.1. It also supports a USB 2.0 host port for connection to external peripheral devices and a micro SD card slot for an external memory of up to 32 GB. The 2711R-T10T has dimensions of 8.9 x 11.3 x 2.2 in and it weighs approximately 10lb. It is designated with the T4 temperature code and has a functional temperature of 0-50 °C (32-122 °F) with a NEMA/UL Type 4X, 12, 13, and IP65 enclosure type rating and a front bezel protection feature.
This Panelview is powered using 24 VDC power. The most common series is Series A. The PanelView 800 product line contains a group of panel-mount display units that have both keypad or touch-screen offering for the user input method. These HMI terminals are available in 4-inch, 7-inch, and 10-inch display sizes. They include high-speed CPU processors, high-resolution screens with long-lasting backlights utilizing LED technology, and both dynamic memory as well as high flash memory. These units also allow you to work in a wide range of networks with both Ethernet and Serial ports.
Technical Specifications for 2711R-T10T
Manufacturer
Rockwell Automation
Brand
Allen-Bradley
Part Number/Catalog No.
2711R-T10T
Product Line
Panelview 800
Display Size
10.4 in.
Display Color
Color TFT
Input Type
Touchscreen
Order Number:
2711P-B10C4D8
2711P-B12C4D8
2711P-B15C22A9P
2711P-B6M5D8
2711P-B7C4D8
2711PC-T6C20D8
2711P-K10C4D8
2711P-K12C4D8
2711P-K7C4D8
2711P-RDB10C
2711P-RDK12C
2711P-RDK7C
2711P-RDT10C
2711P-RDT12C
2711P-RDT15C
2711P-RDT7C
2711P-RN15S
2711P-RN6
2711P-RP1
2711P-RP2
2711P-RP8D
2711P-RP9A
2711P-RSACDIN
2711P-RW1
2711P-T10C21D8S
2711P-T10C22A9P
2711P-T10C22D8S
2711P-T10C4D9
2711P-T12C4A9
2711P-T12C4D9
2711P-T12W21D8S
2711P-T12W22D9P
2711P-T15C22D9P
2711P-T19C22D9P
2711P-T6C20D
2711P-T6C20D8
2711P-T6C21D8S
2711P-T6M20D8
2711P-T7C21D8S
2711P-T7C22D8S
2711P-T7C4D8
2711P-RP8A
2711P-RP9D
2711P-T10C4A8
2711P-T10C4D8
2711R-T10T
2711R-T4T
2711R-T7T
2711P-T7C22D9P
2711P-T7C22D9P-B
2711P-T7C22A9P
2711P-T7C22A9P-B
2711P-B7C22D9P
2711P-B7C22D9P-B
2711P-B7C22A9P
2711P-B7C22A9P-B
2711P-T9W22D9P
2711P-T9W22D9-B
2711P-T9W22A9P
2711P-T9W22A9P-B
2711P-T10C22D9P
2711P-T10C22D9P-B
2711P-T10C22A9P
2711P-T10C22A9P-B
2711P-B10C22D9P
2711P-B10C22D9P-B
2711P-B10C22A9P
2711P-B10C22A9-B
2711P-T12W22D9P
2711P-T12W22D9P-B
2711P-T12W22A9P
2711P-T12W22A9P-B
2711P-T15C22D9P
2711P-T15C22D9P-B
2711P-T15C22A9P
2711P-T15C22A9P-B
2711P-B15C22D9P
2711P-B15C22D9P-B
2711P-B15C22A9P
2711P-B15C22A9P-B
2711P-T19C22D9P
2711P-T19C22D9P-B
2711P-T19C22A9P
2711P-T19C22A9P-B
2711P-T9W22D9P-BSHK
2711P-T12W22D9P-BSHK
2711P-T7C22D9PK
2711P-T9W22D9PK
2711P-T10C22D9PK
2711P-T12W22D9PK
2711P-T15C22D9PK
2711P-T19C22D9PK
2711P-B15C22D9PK
2711P-T12W22D9P-BM001
2711P-T12W22D9P-BM002
2711P-T12W22D9P-BM003
2711P-T12W22D9P-BM004
2711P-T12W22D9P-BM005
2711P-T12W22D9P-BM006
2711P-T12W22D9P-BM007
2711P-T12W22D9P-BM008
2711P-T12W22D9P-BM009
2711P-T12W22D9P-BM010
2711P-T12W22D9P-BM011
2711P-T12W22D9P-BM012
2711P-T12W22D9P-BM013
2711P-T12W22D9P-BM014
2711P-T12W22D9P-BM015
2711P-T12W22D9P-BM016
-----------------------------------
Lily
HONGKONG XIEYUAN TECH CO., LIMITED
T: 86-027-85568699 F: 86-027-85309780
E-mail: lily@hkxytech.com
Add: 7-A16,Caishen Commercial Plaza,Hankou Railway Station,Wuhan, Hubei, China
Web: www.hkxytech.com