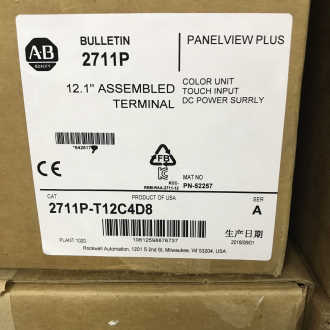 BASIC INFO
Allen-Bradley 2711P-T10C4D8 PanelView Plus 6 Graphic Terminals
Description: PanelView Plus 6 Operator interface , 1000 Terminal, with Touchscreen, Color display, - Ethernet & RS-232, AC Powered Unit, and the Windows CE 6.0 Operating System
About 2711P-T10C4A8
The Allen-Bradley 2711P-T10C4A8 PanelView Plus 6 Terminal is a Human-Module Interface (HMI) with an interactive graphics display that makes controlling a machine easy. The 2711P-T10C4A8 provides users with flexible configuration through the separate logic module and display module, and the communication modules. It arrives preloaded and activated with FactoryTalk View Machine Edition software and FactoryTalk ViewPoint software. Various HMI applications can also be developed with the FactoryTalk View Studio software.
The 2711P-T10C4A8 Terminal has a 10.4-inch TFT display with resistive touchscreen input. The native resolution is 640 x 480 pixels with 18-bit color graphics. It has 512 MB of RAM and 512 MB of nonvolatile memory for data storage. The 2711P-T10C4A8 weighs 8 pounds and measures 16 x 14 x 8 inches. It requires an input voltage of 100 to 240 Volts AC at 50 to 60 Hertz with a 160 VA maximum power consumption. For communication, it has Ethernet and RS-232 serial ports with optional DH-485, DH+, and ControlNet module ports. The 2711P-T10C4A8 also has 2 USB ports for connecting external devices such as keyboards and flash drives. This 2711P-T10C4A8 PanelView Plus 6 allows the user to connect using FactoryTalk View Machine Edition software and an Ethernet and RS-232 communication port with a 2711-NC13 communication cable(s). The user is able to control the 2711P-T10C4A8 operator interface by utilizing the touchscreen to input information and data.
The 2711P-T10C4A8 runs on the Windows CE 6.0 operating system providing common user functionalities such as a VNC client server, an FTP server, ActiveX controls, a built-in pdf viewer, and third-party device support. For data backup and logging, it also supports an SD card. The 2711P-T10C4A8 includes a real-time clock for timestamping critical data. The clock is battery-backed, and it has a minimum battery life of 4 years. It has major improvements over its predecessors in the areas of speed, transition rate, system memory, storage space, and backlight illumination. The most common Series are Series A and Series B and the most common firmware include 6.00 to 8.10.
Technical Specifications for 2711P-T10C4A8
Manufacturer
Rockwell Automation
Brand
Allen-Bradley
Part Number/Catalog No.
2711P-T10C4A8
Product Line
Panelview 6 Plus
Product Type
HMI
Display Size
10.4 inches
Display Color
Color
Input Type
Touchscreen
Communication
Ethernet and RS-232
Order Number:
2711P-B10C4D8
2711P-B12C4D8
2711P-B15C22A9P
2711P-B6M5D8
2711P-B7C4D8
2711PC-T6C20D8
2711P-K10C4D8
2711P-K12C4D8
2711P-K7C4D8
2711P-RDB10C
2711P-RDK12C
2711P-RDK7C
2711P-RDT10C
2711P-RDT12C
2711P-RDT15C
2711P-RDT7C
2711P-RN15S
2711P-RN6
2711P-RP1
2711P-RP2
2711P-RP8D
2711P-RP9A
2711P-RSACDIN
2711P-RW1
2711P-T10C21D8S
2711P-T10C22A9P
2711P-T10C22D8S
2711P-T10C4D9
2711P-T12C4A9
2711P-T12C4D9
2711P-T12W21D8S
2711P-T12W22D9P
2711P-T15C22D9P
2711P-T19C22D9P
2711P-T6C20D
2711P-T6C20D8
2711P-T6C21D8S
2711P-T6M20D8
2711P-T7C21D8S
2711P-T7C22D8S
2711P-T7C4D8
2711P-RP8A
2711P-RP9D
2711P-T10C4A8
2711P-T10C4D8
2711R-T10T
2711R-T4T
2711R-T7T
2711P-T7C22D9P
2711P-T7C22D9P-B
2711P-T7C22A9P
2711P-T7C22A9P-B
2711P-B7C22D9P
2711P-B7C22D9P-B
2711P-B7C22A9P
2711P-B7C22A9P-B
2711P-T9W22D9P
2711P-T9W22D9-B
2711P-T9W22A9P
2711P-T9W22A9P-B
2711P-T10C22D9P
2711P-T10C22D9P-B
2711P-T10C22A9P
2711P-T10C22A9P-B
2711P-B10C22D9P
2711P-B10C22D9P-B
2711P-B10C22A9P
2711P-B10C22A9-B
2711P-T12W22D9P
2711P-T12W22D9P-B
2711P-T12W22A9P
2711P-T12W22A9P-B
2711P-T15C22D9P
2711P-T15C22D9P-B
2711P-T15C22A9P
2711P-T15C22A9P-B
2711P-B15C22D9P
2711P-B15C22D9P-B
2711P-B15C22A9P
2711P-B15C22A9P-B
2711P-T19C22D9P
2711P-T19C22D9P-B
2711P-T19C22A9P
2711P-T19C22A9P-B
2711P-T9W22D9P-BSHK
2711P-T12W22D9P-BSHK
2711P-T7C22D9PK
2711P-T9W22D9PK
2711P-T10C22D9PK
2711P-T12W22D9PK
2711P-T15C22D9PK
2711P-T19C22D9PK
2711P-B15C22D9PK
2711P-T12W22D9P-BM001
2711P-T12W22D9P-BM002
2711P-T12W22D9P-BM003
2711P-T12W22D9P-BM004
2711P-T12W22D9P-BM005
2711P-T12W22D9P-BM006
2711P-T12W22D9P-BM007
2711P-T12W22D9P-BM008
2711P-T12W22D9P-BM009
2711P-T12W22D9P-BM010
2711P-T12W22D9P-BM011
2711P-T12W22D9P-BM012
2711P-T12W22D9P-BM013
2711P-T12W22D9P-BM014
2711P-T12W22D9P-BM015
2711P-T12W22D9P-BM016
-----------------------------------
Lily
HONGKONG XIEYUAN TECH CO., LIMITED
T: 86-027-85568699 F: 86-027-85309780
E-mail: lily@hkxytech.com
Add: 7-A16,Caishen Commercial Plaza,Hankou Railway Station,Wuhan, Hubei, China
Web: www.hkxytech.com