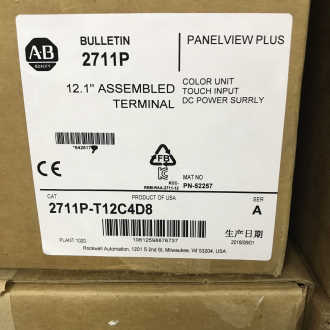 BASIC INFO
Allen-Bradley 2711R-T4T Panelview 800 Operator Interface with 4.3 in.
Description: Operator Interface with 4.3 in. Terminal, with Ethernet and Serial communication ports and Touchscreen TFT
About 2711R-T4T
The Allen-Bradley 2711R-T4T is a PanelView 800 HMI terminal featuring a 4-inch color touchscreen. It uses a color transmissive thin film transistor (TFT) active matrix LCD screen and has a pixel resolution of 480 x 272 and a display area of 3.74 x 2.12 inches. Its display comes with a backlight that has a minimum lifespan of 40,000 hours. Aside from its analog touch feature, this terminal also comes with a keypad that has 4 function keys available. The programming port present is an EtherNet port and the 2711R-T4T terminal's memory can be expanded by connecting an external storage to its USB port or micro-SD slot. Note that this terminal can only support up to 32 GB micro-SD card memory and is only compatible with Class 6 and Class 10 SDCH micro-SD cards and SDSC cards with a FAT32/16 format. A real-time clock is also present on this terminal and it also has a battery with a minimum life of 5 years at 25 ËšC. The entire terminal measures approximately 4.56 x 5.43 x 1.69 inches and weighs 0.73 lbs or 0.33 kg.
Its input voltage ranges from 18-32V DC and it has a nominal input voltage of 24V DC. It also has a maximum power consumption of 9 W or 0.39 A at 24V DC. The maximum surrounding air temperature is 50 oC, the operating temperature is 0 to 50 oC, and the non-operating temperature is -25-70 oC. It also has a non-condensing relative humidity of 5-95% and a heat dissipation of 23 BTU/hr. The operating shock is 15 g, the non-operating shock is 30 g, and the operating vibration is 2 g at 10-500 Hz.
Technical Specifications for 2711R-T4T
Manufacturer
Rockwell Automation
Brand
Allen-Bradley
Part Number/Catalog No.
2711R-T4T
Product Line
Panelview 800
Display Size
4.3 in.
Display Color
Color TFT
Input Type
Analog touch and function keys
Order Number:
2711P-B10C4D8
2711P-B12C4D8
2711P-B15C22A9P
2711P-B6M5D8
2711P-B7C4D8
2711PC-T6C20D8
2711P-K10C4D8
2711P-K12C4D8
2711P-K7C4D8
2711P-RDB10C
2711P-RDK12C
2711P-RDK7C
2711P-RDT10C
2711P-RDT12C
2711P-RDT15C
2711P-RDT7C
2711P-RN15S
2711P-RN6
2711P-RP1
2711P-RP2
2711P-RP8D
2711P-RP9A
2711P-RSACDIN
2711P-RW1
2711P-T10C21D8S
2711P-T10C22A9P
2711P-T10C22D8S
2711P-T10C4D9
2711P-T12C4A9
2711P-T12C4D9
2711P-T12W21D8S
2711P-T12W22D9P
2711P-T15C22D9P
2711P-T19C22D9P
2711P-T6C20D
2711P-T6C20D8
2711P-T6C21D8S
2711P-T6M20D8
2711P-T7C21D8S
2711P-T7C22D8S
2711P-T7C4D8
2711P-RP8A
2711P-RP9D
2711P-T10C4A8
2711P-T10C4D8
2711R-T10T
2711R-T4T
2711R-T7T
2711P-T7C22D9P
2711P-T7C22D9P-B
2711P-T7C22A9P
2711P-T7C22A9P-B
2711P-B7C22D9P
2711P-B7C22D9P-B
2711P-B7C22A9P
2711P-B7C22A9P-B
2711P-T9W22D9P
2711P-T9W22D9-B
2711P-T9W22A9P
2711P-T9W22A9P-B
2711P-T10C22D9P
2711P-T10C22D9P-B
2711P-T10C22A9P
2711P-T10C22A9P-B
2711P-B10C22D9P
2711P-B10C22D9P-B
2711P-B10C22A9P
2711P-B10C22A9-B
2711P-T12W22D9P
2711P-T12W22D9P-B
2711P-T12W22A9P
2711P-T12W22A9P-B
2711P-T15C22D9P
2711P-T15C22D9P-B
2711P-T15C22A9P
2711P-T15C22A9P-B
2711P-B15C22D9P
2711P-B15C22D9P-B
2711P-B15C22A9P
2711P-B15C22A9P-B
2711P-T19C22D9P
2711P-T19C22D9P-B
2711P-T19C22A9P
2711P-T19C22A9P-B
2711P-T9W22D9P-BSHK
2711P-T12W22D9P-BSHK
2711P-T7C22D9PK
2711P-T9W22D9PK
2711P-T10C22D9PK
2711P-T12W22D9PK
2711P-T15C22D9PK
2711P-T19C22D9PK
2711P-B15C22D9PK
2711P-T12W22D9P-BM001
2711P-T12W22D9P-BM002
2711P-T12W22D9P-BM003
2711P-T12W22D9P-BM004
2711P-T12W22D9P-BM005
2711P-T12W22D9P-BM006
2711P-T12W22D9P-BM007
2711P-T12W22D9P-BM008
2711P-T12W22D9P-BM009
2711P-T12W22D9P-BM010
2711P-T12W22D9P-BM011
2711P-T12W22D9P-BM012
2711P-T12W22D9P-BM013
2711P-T12W22D9P-BM014
2711P-T12W22D9P-BM015
2711P-T12W22D9P-BM016
-----------------------------------
Lily
HONGKONG XIEYUAN TECH CO., LIMITED
T: 86-027-85568699 F: 86-027-85309780
E-mail: lily@hkxytech.com
Add: 7-A16,Caishen Commercial Plaza,Hankou Railway Station,Wuhan, Hubei, China
Web: www.hkxytech.com