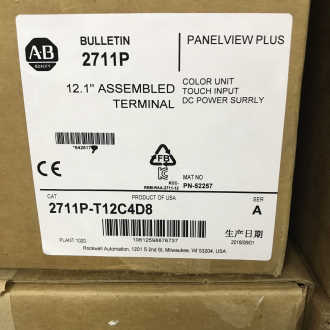 BASIC INFO
Allen-Bradley 2711P-T7C21D8S PanelView Plus 7 Operator Interface


Description: The 2711P-T7C21D8S is a PanelView Plus 7 Operator Interface Standard Model, Touchscreen 6.5 inches, TFT Color Display; Single Ethernet Communication Port with 24 Volts DC Power, Windows CE OS License Operating System, HMI. Uses FactoryTalk View Studio software.
About 2711P-T7C21D8S
The Allen-Bradley 2711P-T7C21D8S PanelView Plus 7 Standard is an interface device with a 6.5-inch TFT color screen and a 24 Volt DC power input for controlling and monitoring devices connected to the Allen-Bradley ControlLogix 5570 and CompactLogix 5370 controllers. The device provides convenient control and interfaces via its Liquid Crystal Display (LCD) with an analog resistive touch and an antiglare display surface with a 1-million press actuation and a shock withstand of up to 100G. Its display dimensions are around 115 x 86 millimeters and its native display resolution is 640 x 480 VGA, in 18-bit color graphics with an aspect ratio of 4:3. The 2711P-T7C21D8S has a display luminance of 300nits, and its non-replaceable backlight will glow for about 50,000 hours. It has a +/-2 minutes per month accuracy for its battery-backed internal clock with a minimum battery life of 4 years and it can process and store applications in its 512MB (RAM) and 512MB user memory. The 2711P-T7C21D8S supports an external SD card slot, and it is compatible with the Allen-Bradley 1784-SD1 (1GB) and the Allen-Bradley 1784-SD2 (2GB) memory cards. The device is equipped with a single 10/100 Base-T Ethernet port, and a base-configured single USB 2.0 high-speed host port (type A) which supports the removal of flash drives for long-term storage, and a single high-speed 1.0 device port (type B) which supports connections to a host computer.
The 2711P-T7C21D8S, like every member in its series, runs on the Microsoft Windows CE operating system, and it is compatible with the FactoryTalk View Studio, ME software, version 8.0 or later, and the FactoryTalk ViewPoint software, version 2.6 or later. The 2711P-T7C21D8S has an operating voltage range of 18 to 30 Volts DC, with a maximum power consumption of 35 Watts at 1.46A and 24 Volts DC, and a range of 85 to 265 Volts AC at 47 to 63 Hertz DIN-railed power supply source. Its operational temperature ranges between 32 and 131 degrees Fahrenheit at 5 to 95% non-condensing relative humidity, and it is stored at a temperature range of -13 and 158 degrees Fahrenheit. It dissipates 15 Watts of maximum heat when operational, and it is designed to withstand an operational shock of 15G and an operational vibration of 2G at 57 to 600 Hertz. it comes in a NEMA 4X, 12, and 13-rated enclosure, and it is cUL-us, ATEX, CE, KCC, and RoHS-certified. The 2711P-T7C21D8S weighs approximately 0.85 kilograms (1.86 pounds), and it has net dimensions of 170 x 212 x 56.5 millimeters (6.69 x 8.35 x 2.22 inches).
Technical Specifications for 2711P-T7C21D8S
Manufacturer
Rockwell Automation
Brand
Allen-Bradley
Part Number/Catalog No.
2711P-T7C21D8S
Product Line
Panelview Plus 7
Input Type
Touchscreen
Display Size
6.5 inches
Order Number:
2711P-B10C4D8
2711P-B12C4D8
2711P-B15C22A9P
2711P-B6M5D8
2711P-B7C4D8
2711PC-T6C20D8
2711P-K10C4D8
2711P-K12C4D8
2711P-K7C4D8
2711P-RDB10C
2711P-RDK12C
2711P-RDK7C
2711P-RDT10C
2711P-RDT12C
2711P-RDT15C
2711P-RDT7C
2711P-RN15S
2711P-RN6
2711P-RP1
2711P-RP2
2711P-RP8D
2711P-RP9A
2711P-RSACDIN
2711P-RW1
2711P-T10C21D8S
2711P-T10C22A9P
2711P-T10C22D8S
2711P-T10C4D9
2711P-T12C4A9
2711P-T12C4D9
2711P-T12W21D8S
2711P-T12W22D9P
2711P-T15C22D9P
2711P-T19C22D9P
2711P-T6C20D
2711P-T6C20D8
2711P-T6C21D8S
2711P-T6M20D8
2711P-T7C21D8S
2711P-T7C22D8S
2711P-T7C4D8
2711P-RP8A
2711P-RP9D
2711P-T10C4A8
2711P-T10C4D8
2711R-T10T
2711R-T4T
2711R-T7T
2711P-T7C22D9P
2711P-T7C22D9P-B
2711P-T7C22A9P
2711P-T7C22A9P-B
2711P-B7C22D9P
2711P-B7C22D9P-B
2711P-B7C22A9P
2711P-B7C22A9P-B
2711P-T9W22D9P
2711P-T9W22D9-B
2711P-T9W22A9P
2711P-T9W22A9P-B
2711P-T10C22D9P
2711P-T10C22D9P-B
2711P-T10C22A9P
2711P-T10C22A9P-B
2711P-B10C22D9P
2711P-B10C22D9P-B
2711P-B10C22A9P
2711P-B10C22A9-B
2711P-T12W22D9P
2711P-T12W22D9P-B
2711P-T12W22A9P
2711P-T12W22A9P-B
2711P-T15C22D9P
2711P-T15C22D9P-B
2711P-T15C22A9P
2711P-T15C22A9P-B
2711P-B15C22D9P
2711P-B15C22D9P-B
2711P-B15C22A9P
2711P-B15C22A9P-B
2711P-T19C22D9P
2711P-T19C22D9P-B
2711P-T19C22A9P
2711P-T19C22A9P-B
2711P-T9W22D9P-BSHK
2711P-T12W22D9P-BSHK
2711P-T7C22D9PK
2711P-T9W22D9PK
2711P-T10C22D9PK
2711P-T12W22D9PK
2711P-T15C22D9PK
2711P-T19C22D9PK
2711P-B15C22D9PK
2711P-T12W22D9P-BM001
2711P-T12W22D9P-BM002
2711P-T12W22D9P-BM003
2711P-T12W22D9P-BM004
2711P-T12W22D9P-BM005
2711P-T12W22D9P-BM006
2711P-T12W22D9P-BM007
2711P-T12W22D9P-BM008
2711P-T12W22D9P-BM009
2711P-T12W22D9P-BM010
2711P-T12W22D9P-BM011
2711P-T12W22D9P-BM012
2711P-T12W22D9P-BM013
2711P-T12W22D9P-BM014
2711P-T12W22D9P-BM015
2711P-T12W22D9P-BM016
-----------------------------------
Lily
HONGKONG XIEYUAN TECH CO., LIMITED
T: 86-027-85568699 F: 86-027-85309780
E-mail: lily@hkxytech.com
Add: 7-A16,Caishen Commercial Plaza,Hankou Railway Station,Wuhan, Hubei, China
Web: www.hkxytech.com