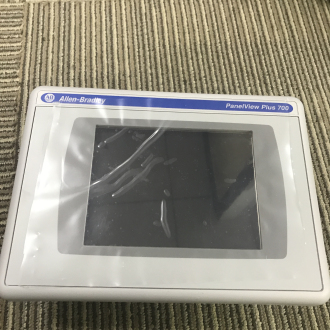 BASIC INFO
Allen-Bradley 2711P-T7C22D8S Panelview Plus 7 Graphic Terminals
Description:

Panelview Plus 7 Operator Interface Standard Model, Touchscreen, 6.5 in. TFT Color Display DLR Ethernet Communication Port, with 24 VDC Power, Windows CE OS License Operating System, HMI, Brandless Version
About 2711P-T7C22D8S

The 2711P-T7C22D8S terminal is a standard graphics display terminal. Allen-Bradley is the manufacturer of this graphics terminal, which belongs to the Allen-Bradley PanelView Plus 7 series. A 12-month warranty is provided that starts on the installation date of the terminal. The terminal comes with a touchscreen interface. This panel is powered with a 24 Volts DC power supply. The display has a 640 x 480 pixels resolution with an aspect ratio of 4:3. The display is a VGA TFT display with an LED backlight. The 2711P-T7C22D8S terminal needs a relatively humid environment with 5 to 95% non-condensing relative humidity. It is a 6.5-inch terminal with physical dimensions of 6.69 x 8.35 x 2.74 inches. The terminal comes with a functionality that permits connection to 1 controller and up to 25 screens, and it has support for up to 200 alarms. The terminal uses the FactoryTalk View Machine Edition software which provides an easy user environment for the operators of the terminal. The panel uses the Windows CE operating system which lets the operators have desktop access for configuration and third-party applications.
For internal connectivity, the 2711P-T7C22D8S terminal is equipped with RS-232 port. It also comes with Ethernet ports for controller communication which supports device-level ring network topology. The touchscreen of the display provides accurate, reliable, and durable touch control for modern industrial applications. The touchscreen of the 2711P-T7C22D8S terminal also supports gesture control for interacting with the screen elements. The display terminal has been manufactured to be used in a Pollution Degree 2 rated industrial environment with overvoltage Category II applications as defined in the IEC 60664-1 publications. The panel can be used at an altitude of up to 2000 meters above sea level without any degrading in its performance. The 2711P-T7C22D8S terminal meets the specified NEMA, UL, and IEC ratings when it is mounted in a panel or enclosure.
Technical Specifications for 2711P-T7C22D8S
Manufacturer
Rockwell Automation
Brand
Allen-Bradley
Part Number/Catalog No.
2711P-T7C22D8S
Product Line
Panelview Plus 7
Input Type
Touchscreen
Display Size
6.5 in.




Order Number:
2711P-B10C4D8
2711P-B12C4D8
2711P-B15C22A9P
2711P-B6M5D8
2711P-B7C4D8
2711PC-T6C20D8
2711P-K10C4D8
2711P-K12C4D8
2711P-K7C4D8
2711P-RDB10C
2711P-RDK12C
2711P-RDK7C
2711P-RDT10C
2711P-RDT12C
2711P-RDT15C
2711P-RDT7C
2711P-RN15S
2711P-RN6
2711P-RP1
2711P-RP2
2711P-RP8D
2711P-RP9A
2711P-RSACDIN
2711P-RW1
2711P-T10C21D8S
2711P-T10C22A9P
2711P-T10C22D8S
2711P-T10C4D9
2711P-T12C4A9
2711P-T12C4D9
2711P-T12W21D8S
2711P-T12W22D9P
2711P-T15C22D9P
2711P-T19C22D9P
2711P-T6C20D
2711P-T6C20D8
2711P-T6C21D8S
2711P-T6M20D8
2711P-T7C21D8S
2711P-T7C22D8S
2711P-T7C4D8
2711P-RP8A
2711P-RP9D
2711P-T10C4A8
2711P-T10C4D8
2711R-T10T
2711R-T4T
2711R-T7T
2711P-T7C22D9P
2711P-T7C22D9P-B
2711P-T7C22A9P
2711P-T7C22A9P-B
2711P-B7C22D9P
2711P-B7C22D9P-B
2711P-B7C22A9P
2711P-B7C22A9P-B
2711P-T9W22D9P
2711P-T9W22D9-B
2711P-T9W22A9P
2711P-T9W22A9P-B
2711P-T10C22D9P
2711P-T10C22D9P-B
2711P-T10C22A9P
2711P-T10C22A9P-B
2711P-B10C22D9P
2711P-B10C22D9P-B
2711P-B10C22A9P
2711P-B10C22A9-B
2711P-T12W22D9P
2711P-T12W22D9P-B
2711P-T12W22A9P
2711P-T12W22A9P-B
2711P-T15C22D9P
2711P-T15C22D9P-B
2711P-T15C22A9P
2711P-T15C22A9P-B
2711P-B15C22D9P
2711P-B15C22D9P-B
2711P-B15C22A9P
2711P-B15C22A9P-B
2711P-T19C22D9P
2711P-T19C22D9P-B
2711P-T19C22A9P
2711P-T19C22A9P-B
2711P-T9W22D9P-BSHK
2711P-T12W22D9P-BSHK
2711P-T7C22D9PK
2711P-T9W22D9PK
2711P-T10C22D9PK
2711P-T12W22D9PK
2711P-T15C22D9PK
2711P-T19C22D9PK
2711P-B15C22D9PK
2711P-T12W22D9P-BM001
2711P-T12W22D9P-BM002
2711P-T12W22D9P-BM003
2711P-T12W22D9P-BM004
2711P-T12W22D9P-BM005
2711P-T12W22D9P-BM006
2711P-T12W22D9P-BM007
2711P-T12W22D9P-BM008
2711P-T12W22D9P-BM009
2711P-T12W22D9P-BM010
2711P-T12W22D9P-BM011
2711P-T12W22D9P-BM012
2711P-T12W22D9P-BM013
2711P-T12W22D9P-BM014
2711P-T12W22D9P-BM015
2711P-T12W22D9P-BM016
-----------------------------------
Lily
HONGKONG XIEYUAN TECH CO., LIMITED
T: 86-027-85568699 F: 86-027-85309780
E-mail: lily@hkxytech.com
Add: 7-A16,Caishen Commercial Plaza,Hankou Railway Station,Wuhan, Hubei, China
Web: www.hkxytech.com