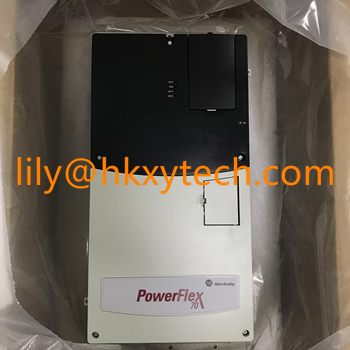 BASIC INFO
Rockwell Allen Bradley 20AB054A0AYNANC0 PowerFlex70 AC Drive 240VAC
20AB054A0AYNANC0

Description: PowerFlex70 AC Drive, 240 (208) VAC, 3 PH, 54 Amps, 20 HP Normal Duty, 15 HP Heavy Duty,Panel Mount - IP20 / NEMA Type 1, with conformal coating, No HIM (Blank Plate), Brake IGBT Installed, Without Drive Mounted Brake Resistor, Second Environment Filter per CE EMC directive (89/336/EEC), No Communication Module, Enhanced Control , No Feedback
About 20AB054A0AYNANC0

The Allen-Bradley 20AB054A0AYNANC0 is a manual type PowerFlex70 low voltage three-phase drive that has an E frame size and is equipped with an internal EMC filter and a standard brake. It has an enclosure rating of NEMA/UL Type 1, IP20 that allows it to be panel mounted but it does not have a human interface module, or HIM, installed. This drive features a common industrial protocol as its communication option and is suitable for various applications, including open loop speed regulation, precise torque, and speed regulation, and closed-loop speed regulation. For the motor control of the 20AB054A0AYNANC0 drive, the user can choose from flux vector control, sensorless vector control, and volts per Hertz control.
At 208V AC input, when the 20AB054A0AYNANC0 drive is programmed to a lower voltage, its outputs are 62.1 when continuous, 72.4 A for 1 minute, and 96.6 for 3 seconds. It also has a kW rate of 15 kW at normal duty and 11 kW at heavy duty. At 240V AC input, this drive has outputs of 54 A for continuous, 63 A for 1 minute, and 84 for 3 seconds. This drive also has an HP rating of 20 HP at normal duty and 15 HP when used for heavy-duty operations. You can use this drive at a location that has a temperature ranging from 0 to 50 °C and store the 20AB054A0AYNANC0 drive at temperatures ranging between -40 and 70 °C. Make sure that there are no corrosive particles in the atmosphere when running or storing this drive.
Order Number:
PowerFlex 70 AC Drives
20AB015A0AYNANC0
20AB015C3AYNANC0
20AB015F0AYNANC0
20AB022A0AYNANC0
20AB022C3AYNANC0
20AB022F0AYNANC0
20AB028A0AYNANC0
20AB028C3AYNANC0
20AB028F0AYNANC0
20AB042A0AYNANC0
20AB042C3AYNANC0
20AB042F0AYNANC0
20AB054A0AYNANC0
20AB054C3AYNANC0
20AB054F0AYNANC0
20AB054G3AYNANC0
20AB070A0AYNANC0
20AB070C3AYNANC0
20AB070F0AYNANC0
20AB070G3AYNANC0
20AB2P2A0AYNANC0
20AB2P2A0AYNNNC0
20AB2P2C3AYNANC0
20AB2P2C3AYNNNC0
20AB2P2F0AYNANC0
20AB2P2F0AYNNNC0
20AB4P2A0AYNANC0
20AB4P2A0AYNNNC0
20AB4P2C3AYNANC0
20AB4P2C3AYNNNC0
20AB4P2F0AYNANC0
20AB4P2F0AYNNNC0
20AB6P8A0AYNANC0
20AB6P8A0AYNNNC0
20AB6P8C3AYNANC0
20AB6P8C3AYNNNC0
20AB6P8F0AYNANC0
20AB6P8F0AYNNNC0
20AB9P6A0AYNANC0
20AB9P6A0AYNNNC0
20AB9P6C3AYNANC0
20AB9P6C3AYNNNC0
20AB9P6F0AYNANC0
20AB9P6F0AYNNNC0
20AC037A0AYNANC0
20AC037C3AYNANC0
20AC043A0AYNANC0
20AC043C3AYNANC0
20AC060A0AYNANC0
20AC060C3AYNANC0
20AC072A0AYNANC0
20AC072C3AYNANC0
20AD011A0AYNANC0
20AD011C3AYNANC0
20AD011F0AYNANC0
20AD014A0AYNANC0
20AD014C3AYNANC0
20AD014F0AYNANC0
20AD022A0AYNANC0
20AD022C3AYNANC0
20AD022F0AYNANC0
20AD027A0AYNANC0
20AD027C3AYNANC0
20AD027F0AYNANC0
20AD034A0AYNANC0
20AD034C3AYNANC0
20AD034F0AYNANC0
20AD040A0AYNANC0
20AD040C3AYNANC0
20AD040F0AYNANC0
20AD052A0AYNANC0
20AD052C3AYNANC0
20AD052F0AYNANC0
20AD052G3AYNANC0
20AD065A0AYNANC0
20AD065C3AYNANC0
20AD065F0AYNANC0
20AD065G3AYNANC0
20AD1P1A0AYNANC0
20AD1P1A0AYNNNC0
20AD1P1C3AYNANC0
20AD1P1C3AYNNNC0
20AD1P1F0AYNANC0
20AD1P1F0AYNNNC0
20AD2P1A0AYNANC0
20AD2P1A0AYNNNC0
20AD2P1C3AYNANC0
20AD2P1C3AYNNNC0
20AD2P1F0AYNANC0
20AD2P1F0AYNNNC0
20AD3P4A0AYNANC0
20AD3P4A0AYNNNC0
20AD3P4C3AYNANC0
20AD3P4C3AYNNNC0
20AD3P4F0AYNANC0
20AD3P4F0AYNNNC0
20AD5P0A0AYNANC0
20AD5P0A0AYNNNC0
20AD5P0C3AYNANC0
20AD5P0C3AYNNNC0
20AD5P0F0AYNANC0
20AD5P0F0AYNNNC0
20AD8P0A0AYNANC0
20AD8P0A0AYNNNC0
20AD8P0C3AYNANC0
20AD8P0C3AYNNNC0
20AD8P0F0AYNANC0
20AD8P0F0AYNNNC0
20AE011A0AYNNNC0
20AE011C3AYNNNC0
20AE011F0AYNNNC0
20AE017A0AYNNNC0
20AE017C3AYNNNC0
20AE017F0AYNNNC0
20AE022A0AYNNNC0
20AE022C3AYNNNC0
20AE022F0AYNNNC0
20AE027A0AYNNNC0
20AE027C3AYNNNC0
20AE027F0AYNNNC0
20AE032A0AYNNNC0
20AE032C3AYNNNC0
20AE032F0AYNNNC0
20AE041A0AYNANC0
20AE041C3AYNANC0
20AE041F0AYNANC0
20AE041G3AYNANC0
20AE052A0AYNANC0
20AE052C3AYNANC0
20AE052F0AYNANC0
20AE052G3AYNANC0
20AE0P9A0AYNNNC0
20AE0P9C3AYNNNC0
20AE0P9F0AYNNNC0
20AE1P7A0AYNNNC0
20AE1P7C3AYNNNC0
20AE1P7F0AYNNNC0
20AE2P7A0AYNNNC0
20AE2P7C3AYNNNC0
20AE2P7F0AYNNNC0
20AE3P9A0AYNNNC0
20AE3P9C3AYNNNC0
20AE3P9F0AYNNNC0
20AE6P1A0AYNNNC0
20AE6P1C3AYNNNC0
20AE6P1F0AYNNNC0
20AE9P0A0AYNNNC0
20AE9P0C3AYNNNC0
20AE9P0F0AYNNNC0
Any inquires, please feel free to contact us via E-mail, thanks!
-----------------------------------
Lily
HONGKONG XIEYUAN TECH CO., LIMITED
T: 86-027-85568699 F: 86-027-85309780
E-mail: lily@hkxytech.com
Add: 7-A16,Caishen Commercial Plaza,Hankou Railway Station,Wuhan, Hubei, China
Web: www.hkxytech.com