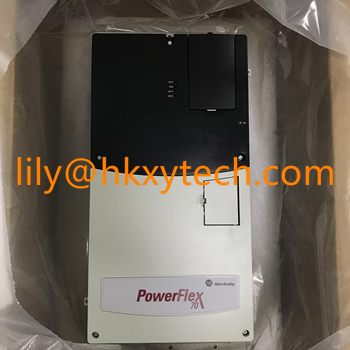 BASIC INFO
Rockwell Allen Bradley 20AB042C3AYNANC0 PowerFlex70 AC Drive 240VAC,3 PH


20AB042C3AYNANC0
Description: PowerFlex70 AC Drive, 240 (208) VAC, 3 PH, 42 Amps, 15 HP Normal Duty, 10 HP Heavy Duty,Wall / Machine Mount - IP66/NEMA Type 4X/12 (Indoor Use), with conformal coating, LCD Display, Full Numeric Keypad, Brake IGBT Installed, Without Drive Mounted Brake Resistor, Second Environment Filter per CE EMC directive (89/336/EEC), No Communication Module, Enhanced Control , No Feedback
About 20AB042C3AYNANC0
The Allen-Bradley 20AB042C3AYNANC0 is a PowerFlex70 adjustable frequency AC drive. It features 240V AC power and 3PH, 42 Amps, 15 HP of output at normal duty and 10 HP of output at heavy-duty. It also has an IP66/NEMA Type 4X/12 (Indoor) enclosure. This unit features conformal coating, a full keypad, and an LCD, but it does not have a drive-mounted brake resistor. The 20AB042C3AYNANC0 is an enhanced control without a feedback AC drive. It has a 'calculator-like' number pad that facilitates data entry. It also has alternative function keys that enable shortcuts to common tasks. The control keys of this drive help in starting, stopping, speeding up, and giving directions to the users. This drive uses a variety of languages and this enables it to be used by different users who speak different languages. The languages supported by this drive include English, German, Spanish, Italian, Dutch, and Portuguese.
The 20AB042C3AYNANC0 features a PI control that eliminates the process loop controller. The flying start feature of this device enables uniform connection between rotating loads despite the command direction. The 20AB042C3AYNANC0 does this without needing a speed feedback device. It also has a fast-acting current limit and bus voltage regulation. These leads to unmatched acceleration and deceleration without the device tripping. The slip compensation of this unit provides minimum open-loop speed regulation across a wide speed range. The 20AB042C3AYNANC0 has a safe-off option, which prevents the drive from sending rotational energy to the motors by integrating a safety circuit with its power switching signals. It also has user sets that enable as many as three complete sets of parameter data to be used. This data can be loaded individually for varying batch processes.
Order Number:
PowerFlex 70 AC Drives
20AB015A0AYNANC0
20AB015C3AYNANC0
20AB015F0AYNANC0
20AB022A0AYNANC0
20AB022C3AYNANC0
20AB022F0AYNANC0
20AB028A0AYNANC0
20AB028C3AYNANC0
20AB028F0AYNANC0
20AB042A0AYNANC0
20AB042C3AYNANC0
20AB042F0AYNANC0
20AB054A0AYNANC0
20AB054C3AYNANC0
20AB054F0AYNANC0
20AB054G3AYNANC0
20AB070A0AYNANC0
20AB070C3AYNANC0
20AB070F0AYNANC0
20AB070G3AYNANC0
20AB2P2A0AYNANC0
20AB2P2A0AYNNNC0
20AB2P2C3AYNANC0
20AB2P2C3AYNNNC0
20AB2P2F0AYNANC0
20AB2P2F0AYNNNC0
20AB4P2A0AYNANC0
20AB4P2A0AYNNNC0
20AB4P2C3AYNANC0
20AB4P2C3AYNNNC0
20AB4P2F0AYNANC0
20AB4P2F0AYNNNC0
20AB6P8A0AYNANC0
20AB6P8A0AYNNNC0
20AB6P8C3AYNANC0
20AB6P8C3AYNNNC0
20AB6P8F0AYNANC0
20AB6P8F0AYNNNC0
20AB9P6A0AYNANC0
20AB9P6A0AYNNNC0
20AB9P6C3AYNANC0
20AB9P6C3AYNNNC0
20AB9P6F0AYNANC0
20AB9P6F0AYNNNC0
20AC037A0AYNANC0
20AC037C3AYNANC0
20AC043A0AYNANC0
20AC043C3AYNANC0
20AC060A0AYNANC0
20AC060C3AYNANC0
20AC072A0AYNANC0
20AC072C3AYNANC0
20AD011A0AYNANC0
20AD011C3AYNANC0
20AD011F0AYNANC0
20AD014A0AYNANC0
20AD014C3AYNANC0
20AD014F0AYNANC0
20AD022A0AYNANC0
20AD022C3AYNANC0
20AD022F0AYNANC0
20AD027A0AYNANC0
20AD027C3AYNANC0
20AD027F0AYNANC0
20AD034A0AYNANC0
20AD034C3AYNANC0
20AD034F0AYNANC0
20AD040A0AYNANC0
20AD040C3AYNANC0
20AD040F0AYNANC0
20AD052A0AYNANC0
20AD052C3AYNANC0
20AD052F0AYNANC0
20AD052G3AYNANC0
20AD065A0AYNANC0
20AD065C3AYNANC0
20AD065F0AYNANC0
20AD065G3AYNANC0
20AD1P1A0AYNANC0
20AD1P1A0AYNNNC0
20AD1P1C3AYNANC0
20AD1P1C3AYNNNC0
20AD1P1F0AYNANC0
20AD1P1F0AYNNNC0
20AD2P1A0AYNANC0
20AD2P1A0AYNNNC0
20AD2P1C3AYNANC0
20AD2P1C3AYNNNC0
20AD2P1F0AYNANC0
20AD2P1F0AYNNNC0
20AD3P4A0AYNANC0
20AD3P4A0AYNNNC0
20AD3P4C3AYNANC0
20AD3P4C3AYNNNC0
20AD3P4F0AYNANC0
20AD3P4F0AYNNNC0
20AD5P0A0AYNANC0
20AD5P0A0AYNNNC0
20AD5P0C3AYNANC0
20AD5P0C3AYNNNC0
20AD5P0F0AYNANC0
20AD5P0F0AYNNNC0
20AD8P0A0AYNANC0
20AD8P0A0AYNNNC0
20AD8P0C3AYNANC0
20AD8P0C3AYNNNC0
20AD8P0F0AYNANC0
20AD8P0F0AYNNNC0
20AE011A0AYNNNC0
20AE011C3AYNNNC0
20AE011F0AYNNNC0
20AE017A0AYNNNC0
20AE017C3AYNNNC0
20AE017F0AYNNNC0
20AE022A0AYNNNC0
20AE022C3AYNNNC0
20AE022F0AYNNNC0
20AE027A0AYNNNC0
20AE027C3AYNNNC0
20AE027F0AYNNNC0
20AE032A0AYNNNC0
20AE032C3AYNNNC0
20AE032F0AYNNNC0
20AE041A0AYNANC0
20AE041C3AYNANC0
20AE041F0AYNANC0
20AE041G3AYNANC0
20AE052A0AYNANC0
20AE052C3AYNANC0
20AE052F0AYNANC0
20AE052G3AYNANC0
20AE0P9A0AYNNNC0
20AE0P9C3AYNNNC0
20AE0P9F0AYNNNC0
20AE1P7A0AYNNNC0
20AE1P7C3AYNNNC0
20AE1P7F0AYNNNC0
20AE2P7A0AYNNNC0
20AE2P7C3AYNNNC0
20AE2P7F0AYNNNC0
20AE3P9A0AYNNNC0
20AE3P9C3AYNNNC0
20AE3P9F0AYNNNC0
20AE6P1A0AYNNNC0
20AE6P1C3AYNNNC0
20AE6P1F0AYNNNC0
20AE9P0A0AYNNNC0
20AE9P0C3AYNNNC0
20AE9P0F0AYNNNC0
Any inquires, please feel free to contact us via E-mail, thanks!
-----------------------------------
Lily
HONGKONG XIEYUAN TECH CO., LIMITED
T: 86-027-85568699 F: 86-027-85309780
E-mail: lily@hkxytech.com
Add: 7-A16,Caishen Commercial Plaza,Hankou Railway Station,Wuhan, Hubei, China
Web: www.hkxytech.com