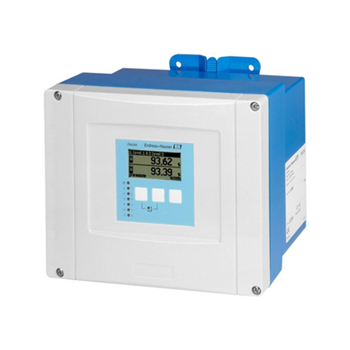 BASIC INFO
Endress+Hauser FMU90-R11CA111AA3A Ultrasonic Level measurement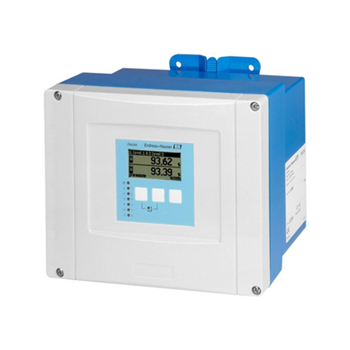 Ultrasonic measurement Time-of-Flight Prosonic FMU90
Transmitter in housing for field or top hat rail mounting for up to 2 sensors FDU90/91/92/93/95
Prosonic FMU90 separated version with field housing or top hat rail housing for control cabinet instrumentation are suited for continuous, non-contact level measurement of fluids, pastes, sludge and powdery to coarse bulk solids. Also the flow measurement in open channels and weirs is possible as the simultaneous measurement of level and flow in a storm water overflow basin with only 1 sensor. Up to 6 relays for tendency alarm, flow pulse output or backwater/sludge alarm, 1 or 2 channel version.
Benefits
Simple, menu-guided operation with 6-line plain text display, 15 languages selectable
Envelope curves on the display for quick and simple diagnosis
Easy operation, diagnosis and measuring point documentation with the supplied "FieldCare" operating program
Time-of-Flight correction via integrated or external temperature sensors
Linearisation (up to 32 points, freely configurable) for the most common flumes and weirs
pre-programmed and selectable
Online calculation of the flume-/weir-flows via integrated flow curves
Automatic detection of the sensors FDU9x
Field of application
Level measurement of fluids and bulk materials with 1 or 2 sensors for measuring of up to 45m (148ft) and level limit detection. Pump control, rake control and as option: additional pump control function.
Calculations: Average, difference, sum
Application flow: Flow measurement in open channels and weirs with 1 or 2 sensors
Flow measurement with back water or sludge detection
Up to 3 totalizers and 3 counters
Counting or time pulse output for control of external units
Features and specifications
(Continuous / Solids)
Measuring principle
Ultrasonic
Characteristic / Application
Separated version with Field housing or top hat rail housing for control cabinet instrumentation, up to 6 relays for limit control, 1 or 2 channel version
Specialities
Protection Class IP 66 / NEMA 4x
automatic sensor recognition of FDU9x sensors
Supply / Communication
90 ... 253 VAC
10.5 ... 32 VDC
up to 2x 4...20mA HART
Profibus DP
Accuracy
+/- 2mm + 0.17% of measured distance


FMU40-ANG2A2
FMU860-R1A1A1
FMU861-R1B1A1
FMU862-R1A1A1
FDU81-RG1A
FDU81-RG2A
FDU81-RG3A
FDU81-RG4A
FMU230E-AA32
FMU231E-AA32
FMU40-ARB2A2
FMU40-ANB1A2
FMU232E-AA42
FMU40-ANB2A2
FDU80-RG2S
FMU231A-AA31
FMU860-R1EB1
FDU83-RN3
FDU80-RG2A
FMU41-ARB2A2
FDU80-RG1A
FMU40-KRB2A2
FMU40-APH2A2
FMU41-ARB1A2
FMU43-APH1A2
FDU81F-RG2A
FMU42-APB2A22A 10M
FDU80-JG8A .50M
FDU80-JG8A
FMU41-1RB2A2
FMU41-1RB1A2
FMU41-1RB2D2
FMU40-1RB2A2
FMU860-R1A1A3
FDU82-RG3A
FMU41-ARD2A2
FMU42-APB1A22A
FAU40-1G
FDU85-RG1
FMU41-ARB2A2
FMU90-R11CA232AA1A
FMU860-R1A1B3
FDU80-RG4A
FMU860-R1A1A1
FDU81-JG1A
FMU43-APG2A2
FMU41-ARB1A2
FMU43-ARB1A2
FMU860-R1E1E3
FDU83-UN2
FMU43-AMG2A3
FMU40-4RB2C2
FMU41-ANB2A2
FMU43-APH2A2
FDU83-RG3
FMU90-R11CA111AA1A
FMU41-ANB2A2
FMU42-APB2A42A
FMU40-ANB2A4
FMU41-ANB2A4
FMU42-1SB2A22A
FMU42-1MB2A22A
FMU860-R1A1A3
FDU80F-RG3A
FDU82-RG1
FDU82-RG2
FDU86-UN6
FMU862-R1A1A4
FMU41-ARB2A2
FMU40-4NB2C2
FMU860-R1A1A1
FDU83-RG2
FDU91-RG2AA
FMU90-R11CA212AA1A
FMU90-R11CA111AA1A
FDU91-RG1AA
FDU86-RG6
FMU41-ARB2A2
FDU81-RG2A
FDU80-RG2A
FMU862-R1A1A1
FMU90-R11CA131AA1A
FMU231A-AA22
FMU862-R1E1A1
FDU80-RG8A
FMU90-R11CA131AA1A
FDU92-RG3A
FTU231E-AA22
FMU860-R1A2A1
FDU84-RG1
FMU40-SNB1A4
FDU82-RG3
FDU86-RG2
FMU860-R1A1B1
FAU40-2N
FMU40-ANB2A2
FMU43-APG2A2
FDU85-RG2
FMU90-R11CA131AA3A
FMU90-R11CA131AA1A
FDU96-RG2A
FMU40-ARB2A2
FDU91-RG1AA
FMU90-R11CA111AA3A
FMU42-APB2A22A
FMU41-ANB2A4
FMU42-4VB2C23A
FDU93-RG1A
FMU43-AMH2A2
FMU41-ARB2A2
FMU40-ARB2A2
FMU90-R11CA111AA3A
FDU91-RG2AA
FTU231E-AA32
FMU90-R11CA133AA3A
FMU41-ARB2A2
FMU42-AMB2A22A
FMU230E-AA32
FMU90-J11CB111AA3A
FDU92-EN1A
FMU40-4NB2C4
FMU41-4NB2C4
FMU230E-AA32
FMU230E-AA33
FMU40-ANG2A2
FMU42-ATG2A22A
FMU42-ATG2A22A
FMU90-R11CA111AA1A
FDU91-RG1AA
FMU40-ANB2A2
FMU231E-AA42
FMU90-R11CA131AA3A
FDU91-RG2AA
FMU90-R11CA212AA3A
FDU92-RG3A
FMU90-R11CA232AA3A
FDU91-RG2AA
FMU41-ARB2A4
FDU86-EN1
FMU40-4RB1C4
FMU860-R1A1A1
FDU83-UN3
FDU80-RN2A
PMC71-ABA1H2GAAAA
FDU81-JG4B
FDU83-RN3
FDU91-RG2AA
FDU91-RG1AA
FMU90-R21CA232AA3A
FDU80-JG1B
FMU230E-AA22
FMU42-APB2A22A
FMU231E-AA32
FMU41-1RB2A2
FMU41-ARH2A2
FMU90-R21CA111AA3A
FDU91-RG2AA
FMU90-R11CB131AA3A
FDU81-RG1B
FMU90-R12EA232AA3A
FDU91-RG5AA
FMU40-1NB3A4
FAU70A-2452
FHX40-11B
FDU91-RG2AA
FDU91-RG1AA
FMU90-R11CA111AA3A
FDU91-RG2AA
FMU90-R11CA111AA3A
FMU40-1RB2A2
FMU90-R12CA232AA3A
FMU90-R12CA131AA3A
FDU91-JG1AA
FMU90-J11CA111AA3A
FDU81-RG2A
FDU82-RG3
FMU90-R21CA111AA1A
FMU40-ARB1A3
FDU93-RG4A
FDU83-RG2 10M
FMU40-NNB2A4
FDU82-RG2
FMU40-NNB2A2
FDU81-RG3A
FMU40-NRG2A4
FMU90-R12CA111AA2A
FDU91-RG1AA
FMU43-AKG2A2
FMU43-ASG2A2
FMU90-R11CA131AA3A
FMU90-R11CA232AA3A
FDU96-EN1A
FMU90-R12CA111AA3A
FMU90-R12CA111AA2A
FMU41-ARG2A2
FMU90-R11CA111AA2A
FDU91-RG1AA
FMU42-APB2A22A
FMU41-ANG2A2
FMU43-AMG2A2
FMU90-R11CB131AA1A
FAU40-2G
FDU96-RG1AA
FMU43-APG2A2
FMU42-ATB2A23A
FDU91-JG4AA
FMU41-ANB2A2
FMU90-R21CA232AA31A
FDU91-RG2AA
FMU90-R11CA232AA1A
FMU41-ARB1A2
FDU95-R1G5A
FMU40-1RB2A2
FMU43-AMD2A5
FMU40-AND2A5
FMU40-ANB2A4
FDU91F-RG1A
FMU41-4NB2C4
FMU43-AKH1A2
FDU93-RG1A
FMU90-R11CB111AA1A
FMU43-APG2A2
RMA422-B22A11A
FDU93-RG1A
FMU90-R11CB111AA1A
FXA191-G1
FMU41-ERB2A2
FDU91-EN1AA
FMU40-ARB2A2
FMU41-1RB2A2
FMU40-ANB2A2
FDU91-RG8AA, 50M
FDU81-RG8A, 50M
FDU91-RG3AA
FDU91-RG1AA
FMU90-R11CA111AA3A
FMU43-AKG2A2 FTM260-010
-----------------------------------
Lily
HONGKONG XIEYUAN TECH CO., LIMITED
T: 86-027-85581877 F: 86-027-85309780
Mail:lily@hkxytech.com
Ad: 7-A16,Caishen Commercial Plaza,Hankou Railway Station,Wuhan, Hubei, China
Web: www.hkxytech.com