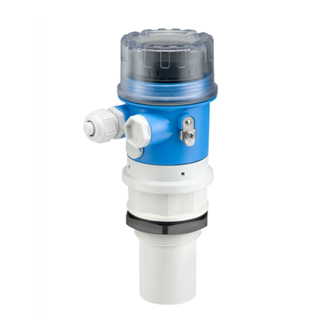 BASIC INFO
Endress + Hauser FMU30-AAHEABGHF Ultrasonic measurement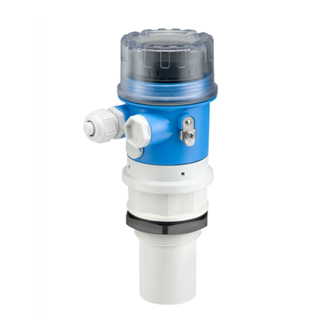 Ultrasonic measurement Time-of-Flight Prosonic FMU30
Cost effective all-round instrument for level applications in liquids and bulk solids
The range of applications extends from monitoring levels in sewage treatment plants and process water tanks to applications for loading, storage and buffer tanks. FMU30 ultrasonic sensor offers proven software algorithms and all warning and alarm messages are shown on the four-line plain text display and guarantee fast remedy of problems. The envelope curve can also be shown on the display. As the analysis results are displayed directly on-site, this ensures quick and accurate error diagnostics.

Ultrasonic, Transmitter Compact
Level transmitter, continuous.
Ultrasonic, contactless.
Housing F16 single compartment, plastic.
Sensor enclosure: PP.
Sensor membrane: EPDM.
Process temperature: -20...60oC/
-4...140oF.
2-wire, 4-20mA.
Process pressure: max 3bar abs.
Operating languages
(DE,EN,NL,FR,ES,IT,JA).
:: Measuring range freely adjustable.
:: Volume calculation possible.
Application safety.
:: Integr. sound velocity compensation.
:: Self cleaning effect sensor membran.
FDU91-RG1AA
FDU91-RG2AA
FMU30-AAHEABGHF
FMU40-ARB2A2
FMU41-ARB2A2
FMU90-R11CA111AA3A
FTL31-AA4U3BAWSJ
FMU30-AAHEAAGGF
CPS11D-7BA21
CPS11D-7BA2G
CPS11D-7AA21
CPS11-2BA2ESA
FTL31-AA4U2AAWBJ
FTL31-AA4M2AAWBJ
FTL31-AA4U2AAW5J
FTW23-AA4MWVJ
FTW23-AA4NWVJ
PMP11-AA1U1PBWJJ
PMP11-AA1U1MJWJJ
PMP11-AA1U1MBWJJ
PMP11-AA1U1QBWJJ
PMP11-AA1U1RBWJJ
PMP11-AA1U1HBWJJ
PMP11-AA1U1PBWBJ
PMP11-AA1U1QBWBJ
PMP21-AA1U1PBWJJ
PMP21-AA1U1MJWJJ
PMP21-AA1U1MBWJJ
PMP21-AA1U1QBWJJ
PMP21-AA1U1RBWJJ
PMP21-AA1U1HBWJJ
PMP21-AA1U1PBWBJ
PMP21-AA1U1QBWBJ
FMU30-AAHEAAGGF
FMU30-AAHEABGHF
FMR10-AAQBMVCEVEE2
FMR10-AAQBMVCEWFE2
FMR10-AAQBMWDEWFE2
FMR10-AAQBMWDEVEE2
FMR10-AAQBMVCEWFE2+R7
FMR10-AAQBMWDEWFE2+R7
-----------------------------------
Lily
HONGKONG XIEYUAN TECH CO., LIMITED
T: 86-027-85581877 F: 86-027-85309780
E-mail: lily@hkxytech.com
Ad: 7-A16,Caishen Commercial Plaza,Hankou Railway Station,Wuhan, Hubei, China
Web: www.hkxytech.com