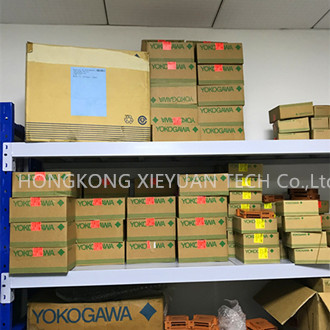 BASIC INFO
Yokogawa EC402 ESB Bus Coupler Module

GENERAL
The ESB Bus Coupler Module is a communication module to connect the Field Control Unit and the Node Unit for ESB Bus via the ESB bus.
This module can be installed in the Field Control Unit for FIO (AFV30S, AFV30D, AFV40S, AFV40D).
By installing two modules in the Field Control Unit for FIO, dual-redundant ESB bus can be configured.
EC402 has two ESB bus connector ports on the front of the module and accommodates a larger number of
connected nodes than EC401, so it can offer a longer transmission distance.
STANDARD SPECIFICATIONS
Function: ESB bus master interface function
Number of connectable nodes (*1): Upper side : Max. 9 units, Lower side : Max 9 units, Total: Max. 13 units.
Transmission speed: 128 Mbps (I/O module data transmission)
Transmission distance: Upper side: Max. 10 m, Lower side: Max. 10 m, Total: Max. 20 m
Current consumption: 0.5 A
Weight: 0.24 kg
*1: This varies depending on the FCS database.
EC402 ESB Bus Coupler Module (for AFV30¨/AFV40 2-Port)
EC402-50 EC402-51 EC402-E0 EC402-E1

CP451-10
CP401
SCP401-11
SCP451-11
CP333D
CP345
CP703
AAI135-S00/13A00
AAI835-S00/B3A00
AAI143-S00
AAI543-S00
AAI835-H00
AAI141-H00/CCC01
AAI135-H00/K4A00
AAI841-H00/CCC01
AAI841-S00\A4D00
AAI835-H00/K4A00
ADV 151-P10/D5A00
ADV151-P00/D5A00
ADV 551-P10/D5A00
ADV151-P00
ADV551-P00
ADV551-P00/CCC01
ADV151-P00/CCC01
AAR181-S03/R8S00
AAT141-S03/T4S00
AAI141-S00/A4S00
AAI143-H03/A4S00
AAI143-S00/A4S00
AAI143-S00/A4D00
AAI543-S00/A4D00
AAI543-S03/A4S00
AAI543-S00/A4S00
ADV151-P03/D5A00
ADV551-P03/D5A00
ADV551-P00/D5A00
SAKB331-M005
SAI143-S03
SAI143-S33
SAI143-H03
SAI143-H33
SAI533-H03
SAI533-H33
SAV144-S03
SAV144-S33
SDV144-S13
SDV144-S33
SDV521-S33
SDV531-S13
SDV531-S23
SDV531-S33
SDV531-L23
SDV531-L33
SDV541-S23
SDV541-S33
AAB841-S03
AAT145-S03
AAP135-S00\13S00
AAL143-S00
AAR145-S00
ADV151-P00/D5A00
AAR181-S00 S2
ADV151-P00 S2
ADV551-P00 S2
SPW481-13
SPW482-13
SPW484-13
PW444-11
PW481-10
PW502
PW482-10-S2

SCP401-11
SCP451-11
CP451-10
CP333D
CP345
PW441-10
PW481-10
PW444-11
PW302
Pw702
Pw601
Pw602
PW604
S9400UK
S9880UK
S9129FA
S9528VK
S9325UK
VI701
VI702
VF702
VI451-11
VC401-11
A1329EF
A1330EF
CP451-10
CP401
EC401-10
SB401-10
SSB401-13
EB401-10
ATP502
AIP503
AIP502
AIP602
AIP504-13
AIP261
AIP827
ALP111-S00
ALR121-S00
ALE111-S00
ALR111-S01
ALR121-S01
AEA3D
SEA4D-01
SEA4D-11
SED2D-11
SED2D-01
SED4D-01
SED4D-11
AET4D-00
ARM55W
ARM55C
AFM20D
ARM55x
ARS15B
ARS15M-1
SCB100-S0
SCB110-S0
K9142TN
K9142TH
AFS40D-H4233
AFV10S-S31201
ANB10S-320/CU1T/NDEL
ANB10D-420/CU2N/NDEL
ANB10D-420/CU2T/NDEL
ANR11D-420/NDEL
SNT10D
SNT401-13
SNT411-13
SNT501-13
SNT511-13
SEC401-11
ANR10S
ANR10D
SSC10S-S2121
SSC10D-S2111
SSC50C
SSC50D
ABC11D
ALE111-10
A1080RZ
ARM15A
ARM55D
YCB118
YCB148
YCB149
YCB146
YCB117
YCB148
S9165VM
AKB331-M005
KS1-05
A1120AJ
CFS1100
CHS5100
CHS5400
CHSKM02
CHS2100
CHS2200
CHS5200
CFS9153
T9070CB
RB301
-----------------------------------
Lily
HONGKONG XIEYUAN TECH CO., LIMITED
|T: 86-027-85581877 |F: 86-027-85309780 |Mail:lily@whxyauto.com |
Ad: 7-A16,Caishen Commercial Plaza,Hankou Railway Station,Wuhan, Hubei, China
Web: www.hkxytech.com