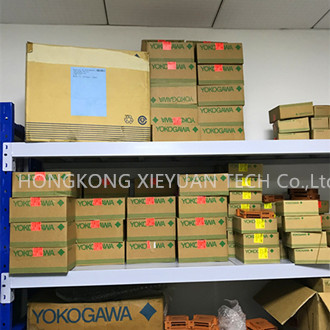 BASIC INFO
Yokogawa ESB Bus Coupler Module SEC401-11
Yokogawa ESB Bus Coupler Module SEC401-11 SEC401-51
ESB Bus Coupler Module connects safety control units and safety node units via an ESB bus cable.
Two ESB Bus Coupler Modules are mounted on the safety control unit (SSC60, SSC50, or SSC10).
STANDARD SPECIFICATIONS
Function: ESB bus master interface function
Number of connectable safety node units: 9 units maximum
Transmission speed: 128 Mbps (I/O module data transmission)
Transmission distance: 10 m maximum
Current consumption: 0.5 A
Weight: 0.24 kg
The ESB Bus Coupler Module is mounted on the seventh and eighth slots of the safety control unit.
SEC401 ESB Bus Coupler Module
MODEL AND SUFFIX CODES
Description
Model SEC401 ESB Bus Coupler Module
Suffix
Codes
-5 Standard type with no explosion protection
-E Standard type with explosion protection
1 With ISA Standard G3
Yokogawa ESB Bus Coupler Module SEC401-11 SEC401-51
Example model: SDV53A-S33
SAI143 Analog Input Module (4 to 20 mA, 16-channel, module isolation)
SAI143-H53/A4S00 , SAI143-H53/A4S10 , SAI143-H53/A4D00 , SAI143-H53/A4D10 ,SAI143-H53/PRP, SAI143-H53/CCC01
SAI143-H63/A4S00 , SAI143-H63/A4S10 , SAI143-H63/A4D00 , SAI143-H63/A4D10 ,SAI143-H63/PRP, SAI143-H63/CCC01
SAI143-HE3/A4S00 , SAI143-HE3/A4S10 , SAI143-HE3/A4D00 , SAI143-HE3/A4D10 ,SAI143-HE3/PRP, SAI143-HE3/CCC01
SAI143-HF3/A4S00 , SAI143-HF3/A4S10 , SAI143-HF3/A4D00 , SAI143-HF3/A4D10 ,SAI143-HF3/PRP, SAI143-HF3/CCC01
SAI143-H5C/A4S00 , SAI143-H5C/A4S10 , SAI143-H5C/A4D00 , SAI143-H5C/A4D10 ,SAI143-H5C/PRP, SAI143-H5C/CCC01
SAI143-H6C/A4S00 , SAI143-H6C/A4S10 , SAI143-H6C/A4D00 , SAI143-H6C/A4D10 ,SAI143-H6C/PRP, SAI143-H6C/CCC01
SAI143-HEC/A4S00 , SAI143-HEC/A4S10 , SAI143-HEC/A4D00 , SAI143-HEC/A4D10 ,SAI143-HEC/PRP, SAI143-HEC/CCC01
SAI143-HFC/A4S00 , SAI143-HFC/A4S10 , SAI143-HFC/A4D00 , SAI143-HFC/A4D10 ,SAI143-HFC/PRP, SAI143-HFC/CCC01


Yokogawa ESB Bus Coupler Module SEC401-11 SEC401-51
SAV144 Analog input module (1 to 5 V/1 to 10 V, 16-channel, module isolation)
SAV144-S53/A4S00, SAV144-S53/A4S10, SAV144-S53/A4D00, SAV144-S53/A4D10,SAV144-S53/PRP SAV144-S53/CCC01
SAV144-S63/A4S00, SAV144-S63/A4S10, SAV144-S63/A4D00, SAV144-S63/A4D10,SAV144-S63/PRP SAV144-S63/CCC01
SAV144-SE3/A4S00, SAV144-SE3/A4S10, SAV144-SE3/A4D00, SAV144-SE3/A4D10,SAV144-SE3/PRP SAV144-SE3/CCC01
SAV144-SF3/A4S00, SAV144-SF3/A4S10, SAV144-SF3/A4D00, SAV144-SF3/A4D10,SAV144-SF3/PRP SAV144-SF3/CCC01

Yokogawa ESB Bus Coupler Module SEC401-11 SEC401-51
SDV144 Digital Input Module (16-channel, 24 V DC, module isolation)
SDV144-S53/B4S00 , SDV144-S53/B4S10 , SDV144-S53/B4D00 , SDV144-S53/B4D10 ,SDV144-S53/PRP, SDV144-S53/CCC01 , SDV144-S53/CCC02
SDV144-S63/B4S00 , SDV144-S63/B4S10 , SDV144-S63/B4D00 , SDV144-S63/B4D10 ,SDV144-S63/PRP, SDV144-S63/CCC01 , SDV144-S63/CCC02
SDV144-SE3/B4S00 , SDV144-SE3/B4S10 , SDV144-SE3/B4D00 , SDV144-SE3/B4D10 ,SDV144-SE3/PRP, SDV144-SE3/CCC01, SDV144-SE3/CCC02
SDV144-SF3/B4S00 , SDV144-SF3/B4S10 , SDV144-SF3/B4D00 , SDV144-SF3/B4D10 ,SDV144-SF3/PRP, SDV144-SF3/CCC01, SDV144-SF3/CCC02
SDV144-S5C/B4S00 , SDV144-S5C/B4S10 , SDV144-S5C/B4D00 , SDV144-S5C/B4D10 ,SDV144-S5C/PRP, SDV144-S5C/CCC01, SDV144-S5C/CCC02
SDV144-S6C/B4S00 , SDV144-S6C/B4S10 , SDV144-S6C/B4D00 , SDV144-S6C/B4D10 ,SDV144-S6C/PRP, SDV144-S6C/CCC01, SDV144-S6C/CCC01
SDV144-SEC/B4S00 , SDV144-SEC/B4S10 , SDV144-SEC/B4D00 , SDV144-SEC/B4D10 ,SDV144-SEC/PRP, SDV144-SEC/CCC01, SDV144-SEC/CCC02
SDV144-SFC/B4S00 , SDV144-SFC/B4S10 , SDV144-SFC/B4D00 , SDV144-SFC/B4D10 ,SDV144-SFC/PRP, SDV144-SFC/CCC01, SDV144-SFC/CCC02

Yokogawa ESB Bus Coupler Module SEC401-11 SEC401-51
SDV531 Digital output module (8-channel, 24 V DC, module isolation)
SDV531-S53/B4S00 , SDV531-S53/B4S10 , SDV531-S53/B4D00 , SDV531-S53/B4D10 ,SDV531-S53/PRP, SDV531-S53/CCC01 , SDV531-S53/CCC02
SDV531-S63/B4S00 , SDV531-S63/B4S10 , SDV531-S63/B4D00 , SDV531-S63/B4D10 ,SDV531-S63/PRP, SDV531-S63/CCC01 , SDV531-S63/CCC02
SDV531-SE3/B4S00 , SDV531-SE3/B4S10 , SDV531-SE3/B4D00 , SDV531-SE3/B4D10 ,SDV531-SE3/PRP, SDV531-SE3/CCC01, SDV531-SE3/CCC02
SDV531-SF3/B4S00 , SDV531-SF3/B4S10 , SDV531-SF3/B4D00 , SDV531-SF3/B4D10 ,SDV531-SF3/PRP, SDV531-SF3/CCC01, SDV531-SF3/CCC02
SDV531-S5C/B4S00 , SDV531-S5C/B4S10 , SDV531-S5C/B4D00 , SDV531-S5C/B4D10 ,SDV531-S5C/PRP, SDV531-S5C/CCC01, SDV531-S5C/CCC02
SDV531-S6C/B4S00 , SDV531-S6C/B4S10 , SDV531-S6C/B4D00 , SDV531-S6C/B4D10 ,SDV531-S6C/PRP, SDV531-S6C/CCC01, SDV531-S6C/CCC01
SDV531-SEC/B4S00 , SDV531-SEC/B4S10 , SDV531-SEC/B4D00 , SDV531-SEC/B4D10 ,SDV531-SEC/PRP, SDV531-SEC/CCC01, SDV531-SEC/CCC02
SDV531-SFC/B4S00 , SDV531-SFC/B4S10 , SDV531-SFC/B4D00 , SDV531-SFC/B4D10 ,SDV531-SFC/PRP, SDV531-SFC/CCC01, SDV531-SFC/CCC02

Yokogawa ESB Bus Coupler Module SEC401-11 SEC401-51
SDV531-L53/B4S00 , SDV531-L53/B4S10 , SDV531-L53/B4D00 , SDV531-L53/B4D10 ,SDV531-L53/PRP, SDV531-L53/CCC01 , SDV531-L53/CCC02
SDV531-L63/B4S00 , SDV531-L63/B4S10 , SDV531-L63/B4D00 , SDV531-L63/B4D10 ,SDV531-L63/PRP, SDV531-L63/CCC01 , SDV531-L63/CCC02
SDV531-LE3/B4S00 , SDV531-LE3/B4S10 , SDV531-LE3/B4D00 , SDV531-LE3/B4D10 ,SDV531-LE3/PRP, SDV531-LE3/CCC01, SDV531-LE3/CCC02
SDV531-LF3/B4S00 , SDV531-LF3/B4S10 , SDV531-LF3/B4D00 , SDV531-LF3/B4D10 ,SDV531-LF3/PRP, SDV531-LF3/CCC01, SDV531-LF3/CCC02
SDV531-L5C/B4S00 , SDV531-L5C/B4S10 , SDV531-L5C/B4D00 , SDV531-L5C/B4D10 ,SDV531-L5C/PRP, SDV531-L5C/CCC01, SDV531-L5C/CCC02
SDV531-L6C/B4S00 , SDV531-L6C/B4S10 , SDV531-L6C/B4D00 , SDV531-L6C/B4D10 ,SDV531-L6C/PRP, SDV531-L6C/CCC01, SDV531-L6C/CCC01
SDV531-LEC/B4S00 , SDV531-LEC/B4S10 , SDV531-LEC/B4D00 , SDV531-LEC/B4D10 ,SDV531-LEC/PRP, SDV531-LEC/CCC01, SDV531-LEC/CCC02
SDV531-LFC/B4S00 , SDV531-LFC/B4S10 , SDV531-LFC/B4D00 , SDV531-LFC/B4D10 ,SDV531-LFC/PRP, SDV531-LFC/CCC01, SDV531-LFC/CCC02

Yokogawa ESB Bus Coupler Module SEC401-11 SEC401-51
SDV541 Digital Output Module (16-channel, 24 V DC, module isolation)
SDV541-S53/B4S00 , SDV541-S53/B4S10 , SDV541-S53/B4D00 , SDV541-S53/B4D10 ,SDV541-S53/PRP, SDV541-S53/CCC01 , SDV541-S53/CCC02
SDV541-S63/B4S00 , SDV541-S63/B4S10 , SDV541-S63/B4D00 , SDV541-S63/B4D10 ,SDV541-S63/PRP, SDV541-S63/CCC01 , SDV541-S63/CCC02
SDV541-SE3/B4S00 , SDV541-SE3/B4S10 , SDV541-SE3/B4D00 , SDV541-SE3/B4D10 ,SDV541-SE3/PRP, SDV541-SE3/CCC01, SDV541-SE3/CCC02
SDV541-SF3/B4S00 , SDV541-SF3/B4S10 , SDV541-SF3/B4D00 , SDV541-SF3/B4D10 ,SDV541-SF3/PRP, SDV541-SF3/CCC01, SDV541-SF3/CCC02
SDV541-S5C/B4S00 , SDV541-S5C/B4S10 , SDV541-S5C/B4D00 , SDV541-S5C/B4D10 ,SDV541-S5C/PRP, SDV541-S5C/CCC01, SDV541-S5C/CCC02
SDV541-S6C/B4S00 , SDV541-S6C/B4S10 , SDV541-S6C/B4D00 , SDV541-S6C/B4D10 ,SDV541-S6C/PRP, SDV541-S6C/CCC01, SDV541-S6C/CCC01
SDV541-SEC/B4S00 , SDV541-SEC/B4S10 , SDV541-SEC/B4D00 , SDV541-SEC/B4D10 ,SDV541-SEC/PRP, SDV541-SEC/CCC01, SDV541-SEC/CCC02
SDV541-SFC/B4S00 , SDV541-SFC/B4S10 , SDV541-SFC/B4D00 , SDV541-SFC/B4D10 ,SDV541-SFC/PRP, SDV541-SFC/CCC01, SDV541-SFC/CCC02

Yokogawa ESB Bus Coupler Module SEC401-11 SEC401-51
SDV521- Digital Output Module (4-channel, 24 V DC/2 A, module isolation)
SDV521-S63
SDV521-S6C
SDV521-SF3
SDV521-SFC
SDV521-S63/PRP
SDV521-S6C/PRP
SDV521-SF3/PRP
SDV521-SFC/PRP

Yokogawa ESB Bus Coupler Module SEC401-11 SEC401-51
SDV526 Digital Output Module (4-channel, module isolation)
SDV526-S33
SDV53A Digital Output Module (8-channel, 48 V DC, module isolation)
SDV53A-S63
SDV53A-SF3
SDV53A-S63/PRP
SDV53A-SF3/PRP
SCB100 Wiring Check Adapter for Digital Input (for defective open circuit detection while accepting off signalswith ISA Standard G3)
SCB100-S0
SCB110 Wiring Check Adapter for Digital Input (for defective short-circuited detection while accepting on signalswith ISA Standard G3)
SCB110-S0
Yokogawa ESB Bus Coupler Module SEC401-11 SEC401-51
SEC401-11
SEC401-51
SEC401-E1


-----------------------------------
Lily
HONGKONG XIEYUAN TECH CO., LIMITED
|T: 86-027-85581877 |F: 86-027-85309780 |Mail:lily@whxyauto.com |
Ad: 7-A16,Caishen Commercial Plaza,Hankou Railway Station,Wuhan, Hubei, China
Web: www.hkxytech.com