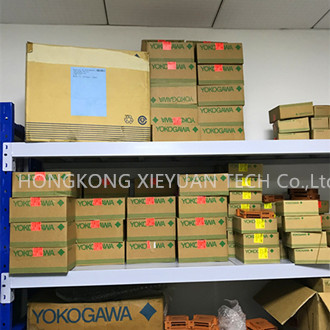 BASIC INFO
Yokogawa Digital Output Module SDV541-S33
Output Module SDV541-S33
Output modules output on/off status signals to field equipment.
The output modules can be made dual-redundant respectively. They incorporate field wiring diagnostic functions, so
they require no wiring diagnosis elements.
the hardware specifications of the digital I/O modules that can be installed in the Safety Node Unit
(SNB10D) and Safety Control Units (SSC60, SSC50, SSC10).
Yokogawa Digital Output Module SDV541-S33 SDV541-S53
Item Specifications
Item Specifications
Model SDV541
Number of outputs 16-channel, module isolation (*5)
Output voltage 24 V DC
Output voltage drop 1 V maximum
External power supply rating 24 V DC, 3.4 A minimum
External power supply 24 V DC + 20 % / -10 % (*1)
Current capacity: 3.4 A
Maximum leak current at output off status 1.6 mA
Output format Current source
Maximum load current 0.2 A/output line (3.2 A in total output line) (*2) (*5)
Minimum load current 35 mA
Load resistance range 120 to 685 Ω (*3)
Output response time 30 ms maximum
Withstand voltage 2 kV AC (between output signal lines and system), 16-point input lines collectively
connected (negative lines) (*4)
Current consumption 300 mA maximum (5 V DC)
150 mA maximum (24 V DC)
Weight 0.29 kg (For pressure clamp terminal block or MIL cable)
0.31 kg (With dedicated signal cable interface adapter)
External connection
Pressure clamp terminal
MIL cable
Dedicated signal cable (AKB331, AKB651)
Yokogawa Digital Output Module SDV541-S33 SDV541-S53
MODEL AND SUFFIX CODES
Description
Model SDV541 Digital Output Module (16-channel, 24 V DC, module isolation)
Suffix Codes
-S Standard type
5 For pressure clamp terminal block or MIL cable with no explosion protection
6 With signal cable interface adapter and no explosion protection (*1)
E For pressure clamp terminal block or MIL cable with explosion protection
F With signal cable interface adapter and explosion protection (*1)
3 With ISA Standard G3 and temperature (-20 to 70 °C)
C With ISA Standard G3 and high-density installation (-20 to 70 ºC)
Option Codes
/B4S00 With pressure clamp terminal block for digital output (without surge absorber)
[Model: STB4S-00]
/B4S10 With pressure clamp terminal block for digital output (with surge absorber)
[Model: STB4S-10]
/B4D00 With dual-redundant pressure clamp terminal block for digital output (without surge absorber) (*2)
[Model: STB4D-00]
/B4D10 With dual-redundant pressure clamp terminal block for digital output (with surge absorber) (*2)
[Model: STB4D-10]
/PRP With prevention pin of false insertion (*3)
/CCC01 With connector cover for MIL cable (for flat ribbon cable)
[Model: SCCC01]
/CCC02 With connector cover for MIL cable (for discrete wire cable)
[Model: SCCC02]
Yokogawa Digital Output Module SDV541-S33 SDV541-S53
Example model: SDV541-S53 SDV541-S33
SAI143 Analog Input Module (4 to 20 mA, 16-channel, module isolation)
SAI143-H53/A4S00 , SAI143-H53/A4S10 , SAI143-H53/A4D00 , SAI143-H53/A4D10 ,SAI143-H53/PRP, SAI143-H53/CCC01
SAI143-H63/A4S00 , SAI143-H63/A4S10 , SAI143-H63/A4D00 , SAI143-H63/A4D10 ,SAI143-H63/PRP, SAI143-H63/CCC01
SAI143-HE3/A4S00 , SAI143-HE3/A4S10 , SAI143-HE3/A4D00 , SAI143-HE3/A4D10 ,SAI143-HE3/PRP, SAI143-HE3/CCC01
SAI143-HF3/A4S00 , SAI143-HF3/A4S10 , SAI143-HF3/A4D00 , SAI143-HF3/A4D10 ,SAI143-HF3/PRP, SAI143-HF3/CCC01
SAI143-H5C/A4S00 , SAI143-H5C/A4S10 , SAI143-H5C/A4D00 , SAI143-H5C/A4D10 ,SAI143-H5C/PRP, SAI143-H5C/CCC01
SAI143-H6C/A4S00 , SAI143-H6C/A4S10 , SAI143-H6C/A4D00 , SAI143-H6C/A4D10 ,SAI143-H6C/PRP, SAI143-H6C/CCC01
SAI143-HEC/A4S00 , SAI143-HEC/A4S10 , SAI143-HEC/A4D00 , SAI143-HEC/A4D10 ,SAI143-HEC/PRP, SAI143-HEC/CCC01
SAI143-HFC/A4S00 , SAI143-HFC/A4S10 , SAI143-HFC/A4D00 , SAI143-HFC/A4D10 ,SAI143-HFC/PRP, SAI143-HFC/CCC01

Yokogawa Digital Output Module SDV541-S33 SDV541-S53
SAV144 Analog input module (1 to 5 V/1 to 10 V, 16-channel, module isolation)
SAV144-S53/A4S00, SAV144-S53/A4S10, SAV144-S53/A4D00, SAV144-S53/A4D10,SAV144-S53/PRP SAV144-S53/CCC01
SAV144-S63/A4S00, SAV144-S63/A4S10, SAV144-S63/A4D00, SAV144-S63/A4D10,SAV144-S63/PRP SAV144-S63/CCC01
SAV144-SE3/A4S00, SAV144-SE3/A4S10, SAV144-SE3/A4D00, SAV144-SE3/A4D10,SAV144-SE3/PRP SAV144-SE3/CCC01
SAV144-SF3/A4S00, SAV144-SF3/A4S10, SAV144-SF3/A4D00, SAV144-SF3/A4D10,SAV144-SF3/PRP SAV144-SF3/CCC01
Yokogawa Digital Output Module SDV541-S33 SDV541-S53
SDV144 Digital Input Module (16-channel, 24 V DC, module isolation)
SDV144-S53/B4S00 , SDV144-S53/B4S10 , SDV144-S53/B4D00 , SDV144-S53/B4D10 ,SDV144-S53/PRP, SDV144-S53/CCC01 , SDV144-S53/CCC02
SDV144-S63/B4S00 , SDV144-S63/B4S10 , SDV144-S63/B4D00 , SDV144-S63/B4D10 ,SDV144-S63/PRP, SDV144-S63/CCC01 , SDV144-S63/CCC02
SDV144-SE3/B4S00 , SDV144-SE3/B4S10 , SDV144-SE3/B4D00 , SDV144-SE3/B4D10 ,SDV144-SE3/PRP, SDV144-SE3/CCC01, SDV144-SE3/CCC02
SDV144-SF3/B4S00 , SDV144-SF3/B4S10 , SDV144-SF3/B4D00 , SDV144-SF3/B4D10 ,SDV144-SF3/PRP, SDV144-SF3/CCC01, SDV144-SF3/CCC02
SDV144-S5C/B4S00 , SDV144-S5C/B4S10 , SDV144-S5C/B4D00 , SDV144-S5C/B4D10 ,SDV144-S5C/PRP, SDV144-S5C/CCC01, SDV144-S5C/CCC02
SDV144-S6C/B4S00 , SDV144-S6C/B4S10 , SDV144-S6C/B4D00 , SDV144-S6C/B4D10 ,SDV144-S6C/PRP, SDV144-S6C/CCC01, SDV144-S6C/CCC01
SDV144-SEC/B4S00 , SDV144-SEC/B4S10 , SDV144-SEC/B4D00 , SDV144-SEC/B4D10 ,SDV144-SEC/PRP, SDV144-SEC/CCC01, SDV144-SEC/CCC02
SDV144-SFC/B4S00 , SDV144-SFC/B4S10 , SDV144-SFC/B4D00 , SDV144-SFC/B4D10 ,SDV144-SFC/PRP, SDV144-SFC/CCC01, SDV144-SFC/CCC02
Yokogawa Digital Output Module SDV541-S33 SDV541-S53
SDV531 Digital output module (8-channel, 24 V DC, module isolation)
SDV531-S53/B4S00 , SDV531-S53/B4S10 , SDV531-S53/B4D00 , SDV531-S53/B4D10 ,SDV531-S53/PRP, SDV531-S53/CCC01 , SDV531-S53/CCC02
SDV531-S63/B4S00 , SDV531-S63/B4S10 , SDV531-S63/B4D00 , SDV531-S63/B4D10 ,SDV531-S63/PRP, SDV531-S63/CCC01 , SDV531-S63/CCC02
SDV531-SE3/B4S00 , SDV531-SE3/B4S10 , SDV531-SE3/B4D00 , SDV531-SE3/B4D10 ,SDV531-SE3/PRP, SDV531-SE3/CCC01, SDV531-SE3/CCC02
SDV531-SF3/B4S00 , SDV531-SF3/B4S10 , SDV531-SF3/B4D00 , SDV531-SF3/B4D10 ,SDV531-SF3/PRP, SDV531-SF3/CCC01, SDV531-SF3/CCC02
SDV531-S5C/B4S00 , SDV531-S5C/B4S10 , SDV531-S5C/B4D00 , SDV531-S5C/B4D10 ,SDV531-S5C/PRP, SDV531-S5C/CCC01, SDV531-S5C/CCC02
SDV531-S6C/B4S00 , SDV531-S6C/B4S10 , SDV531-S6C/B4D00 , SDV531-S6C/B4D10 ,SDV531-S6C/PRP, SDV531-S6C/CCC01, SDV531-S6C/CCC01
SDV531-SEC/B4S00 , SDV531-SEC/B4S10 , SDV531-SEC/B4D00 , SDV531-SEC/B4D10 ,SDV531-SEC/PRP, SDV531-SEC/CCC01, SDV531-SEC/CCC02
SDV531-SFC/B4S00 , SDV531-SFC/B4S10 , SDV531-SFC/B4D00 , SDV531-SFC/B4D10 ,SDV531-SFC/PRP, SDV531-SFC/CCC01, SDV531-SFC/CCC02
Yokogawa Digital Output Module SDV541-S33 SDV541-S53
SDV531-L53/B4S00 , SDV531-L53/B4S10 , SDV531-L53/B4D00 , SDV531-L53/B4D10 ,SDV531-L53/PRP, SDV531-L53/CCC01 , SDV531-L53/CCC02
SDV531-L63/B4S00 , SDV531-L63/B4S10 , SDV531-L63/B4D00 , SDV531-L63/B4D10 ,SDV531-L63/PRP, SDV531-L63/CCC01 , SDV531-L63/CCC02
SDV531-LE3/B4S00 , SDV531-LE3/B4S10 , SDV531-LE3/B4D00 , SDV531-LE3/B4D10 ,SDV531-LE3/PRP, SDV531-LE3/CCC01, SDV531-LE3/CCC02
SDV531-LF3/B4S00 , SDV531-LF3/B4S10 , SDV531-LF3/B4D00 , SDV531-LF3/B4D10 ,SDV531-LF3/PRP, SDV531-LF3/CCC01, SDV531-LF3/CCC02
SDV531-L5C/B4S00 , SDV531-L5C/B4S10 , SDV531-L5C/B4D00 , SDV531-L5C/B4D10 ,SDV531-L5C/PRP, SDV531-L5C/CCC01, SDV531-L5C/CCC02
SDV531-L6C/B4S00 , SDV531-L6C/B4S10 , SDV531-L6C/B4D00 , SDV531-L6C/B4D10 ,SDV531-L6C/PRP, SDV531-L6C/CCC01, SDV531-L6C/CCC01
SDV531-LEC/B4S00 , SDV531-LEC/B4S10 , SDV531-LEC/B4D00 , SDV531-LEC/B4D10 ,SDV531-LEC/PRP, SDV531-LEC/CCC01, SDV531-LEC/CCC02
SDV531-LFC/B4S00 , SDV531-LFC/B4S10 , SDV531-LFC/B4D00 , SDV531-LFC/B4D10 ,SDV531-LFC/PRP, SDV531-LFC/CCC01, SDV531-LFC/CCC02
Yokogawa Digital Output Module SDV541-S33 SDV541-S53

SDV541 Digital Output Module (16-channel, 24 V DC, module isolation)
SDV541-S53/B4S00 , SDV541-S53/B4S10 , SDV541-S53/B4D00 , SDV541-S53/B4D10 ,SDV541-S53/PRP, SDV541-S53/CCC01 , SDV541-S53/CCC02
SDV541-S63/B4S00 , SDV541-S63/B4S10 , SDV541-S63/B4D00 , SDV541-S63/B4D10 ,SDV541-S63/PRP, SDV541-S63/CCC01 , SDV541-S63/CCC02
SDV541-SE3/B4S00 , SDV541-SE3/B4S10 , SDV541-SE3/B4D00 , SDV541-SE3/B4D10 ,SDV541-SE3/PRP, SDV541-SE3/CCC01, SDV541-SE3/CCC02
SDV541-SF3/B4S00 , SDV541-SF3/B4S10 , SDV541-SF3/B4D00 , SDV541-SF3/B4D10 ,SDV541-SF3/PRP, SDV541-SF3/CCC01, SDV541-SF3/CCC02
SDV541-S5C/B4S00 , SDV541-S5C/B4S10 , SDV541-S5C/B4D00 , SDV541-S5C/B4D10 ,SDV541-S5C/PRP, SDV541-S5C/CCC01, SDV541-S5C/CCC02
SDV541-S6C/B4S00 , SDV541-S6C/B4S10 , SDV541-S6C/B4D00 , SDV541-S6C/B4D10 ,SDV541-S6C/PRP, SDV541-S6C/CCC01, SDV541-S6C/CCC01
SDV541-SEC/B4S00 , SDV541-SEC/B4S10 , SDV541-SEC/B4D00 , SDV541-SEC/B4D10 ,SDV541-SEC/PRP, SDV541-SEC/CCC01, SDV541-SEC/CCC02
SDV541-SFC/B4S00 , SDV541-SFC/B4S10 , SDV541-SFC/B4D00 , SDV541-SFC/B4D10 ,SDV541-SFC/PRP, SDV541-SFC/CCC01, SDV541-SFC/CCC02
Yokogawa Digital Output Module SDV541-S33 SDV541-S53


-----------------------------------
Lily
HONGKONG XIEYUAN TECH CO., LIMITED
|T: 86-027-85581877 |F: 86-027-85309780 |Mail:lily@whxyauto.com |
Ad: 7-A16,Caishen Commercial Plaza,Hankou Railway Station,Wuhan, Hubei, China
Web: www.hkxytech.com