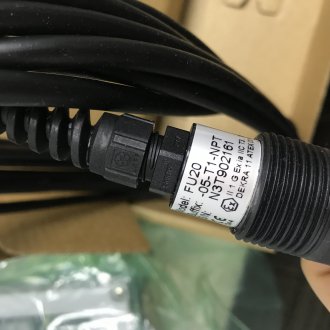 BASIC INFO
Yokogawa All-in-One pH/ORP Sensor PH Probes FU20

The PH20 is nicknamed "Tempress" because of the patented compensation for changes in the process temperature and pressure. This simple mechanicalfeature makes the sensor more accurate, and gives it alonger lifetime. The compensation panels flex to accommodate changes in the avoiding large differential pressures across the diaphragm. This prevents most problems associated with the reference junction. Made inchemically resistant PVDF, this all-in-one sensor haselements to measure pH, ORP and temperature.
The reference system is Silver/Silver Chloride, with a double junction and a gelled electrolyte to combat pollution. The Platinum Redox electrode doubles as a solution ground, essential for uncompromising accuracy, and for sensor diagnostic measurements.
The FU20 combination sensors show how Yokogawa applies the motto "Simply the best" to sensor technology. The wide body sensors (26 mm diameter) hold four separate elements in one unbreakable PPS40GF (RytonTM) body. Installation is simple with the integrated industrial 3/4" tapered thread. The large volume gelled electrolyte and the double junction reference system slows down depletion and poisoning therefore extending the lifetime.
The system is targeted at those applications where simplicity will result in accurate and reliable pH- or redox measurements. This means that in 90% of the know applications this sensor will be an excellent choice.

Features
Simultaneous pH- and ORP measurement

Integral Pt1000 temperature element for enhanced accuracy

Double junction and long diffusional path for reference pollution resistance

Extended life time by large volume of polymerized electrolyte and porous PTFE diaphragm

Solid platinum pin solution ground and/or Redox measurement

Simple maintenance by comprehensive design

Direct in-line, immersion or off-line installation

Calibration certificate delivered with each sensor
Measuring principle
pH glass electrode and silver chloride reference system.
Platinum electrode and Pt1000 temperature sensor.
Measuring range
0 to 14 pH, ±1500 mV
Measuring temperature
-10 to 105°C
Measuring pressure
0 to 1 MPa
Conductivity
>50 μS/cm
Flow rate
0 to 2 m/S
Applications
* Wastewater treatment and water supply facilities.
* pH measurement and control.
* Can be incorporated in pH control systems.
Ordering models:
FU20-05-T1-NPT
FU20-05-T2-NPT
FU20-20-T1-FSM/NSS
FU20-10-T1-NPT
FU20-10-T1-NPT/NSS
FU20-VP-T1-NPT
FU20-20-T1-NPT
-----------------------------------
Lily
HONGKONG XIEYUAN TECH CO., LIMITED
|T: 86-027-85581877 |F: 86-027-85309780 |Mail:lily@whxyauto.com |
Ad: 7-A16,Caishen Commercial Plaza,Hankou Railway Station,Wuhan, Hubei, China
Web: www.hkxytech.com