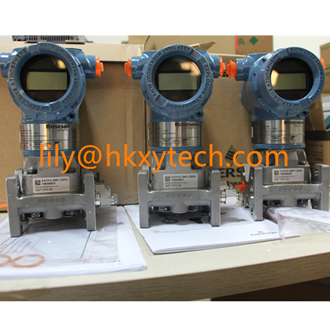 BASIC INFO
Rosemount 3051CFC Compact Orifice Plate Flow Meter

The Rosemount 3051CFC Compact Orifice Plate Flow Meter is an industry-leading flow meter designed with a compact orifice plate that delivers precise flow measurements. This flow meter has been leak-tested and calibrated to reduce leak points and increases process control. Available in a range of line sizes (0.5 - 12 in. or 15 - 300 mm), the orifice plate withstands harsh process conditions and is engineered for loop control, general purpose monitoring and custody transfer applications.
Specifications
Warranty Up to 5-year limited warranty
Rangedown Up to 150:1 (8:1 flow turndown)
Measurement Range Up to 1000 inH2O (2,48 bar) differential
Line Size 0.5 to 12 in. (15 to 300 mm)
Output Differential pressure, scaled variable
Communication Protocol 4-20 mA HART®, WirelessHART®, FOUNDATION™ Fieldbus, PROFIBUS®, 1-5 V Low Power HART®
Process Wetted Material 316 SST
Diagnostics Power Advisory Diagnostics, Advanced Diagnostics
Certifications/Approvals SIL 2/3 certified to IEC 61508 by an independent 3rd party, NACE®, hazardous location, see full specs for complete list of certifications
Features
Complete flow assemblies are leak-tested and calibrated to reduce leak points up to 70% and simplify installation
General purpose orifice plate design delivers reliable and accurate flow measurement for gas, liquid and steam service
Primary element available in 0.5 - 12 in. (15 - 300 mm) line sizes for application flexibility
10-year stability and 8:1 flow turndown (150:1 rangedown) produce reliable measurements and application flexibility
Local operator interface offers easy-to-use menus and built-in configuration buttons for streamlined commissioning
Power advisory diagnostics detect electrical loop integrity issues for reduced downtime
SIL 2/3 certified to IEC 61508 (via 3rd party) and prior-use certificate of FMEDA data for safety installations
Rosemount 3051CFC Compact Flowmeters provide a quick, reliable installation
between existing raised face flanges. Depending on your application needs, you can
reduce energy loss with the Compact Annubar or minimize straight run requirements
with the conditioning orifice.
Up to 1.8 percent of flow rate accuracy
Available in 1/2- to 12-in. (15 to 300 mm) line sizes
Fully assembled and leak tested for out-of-the-box installation
Power advisory can proactively detect degraded electrical loop integrity issues.(option code DA0)
LOI with straightforward menus and built-in configuration buttons (option code M4)
-----------------------------------
Lily
HONGKONG XIEYUAN TECH CO., LIMITED
T: 86-027-85581877 F: 86-027-85309780
Mail:lily@hkxytech.com
Ad: 7-A16,Caishen Commercial Plaza,Hankou Railway Station,Wuhan, Hubei, China
Web: www.hkxytech.com