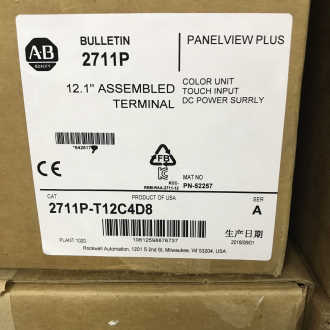 BASIC INFO
Allen-Bradley 2711P-RP1 PanelView Plus 700 to 1500 Logic Modules


Description:

The Allen-Bradley 2711P-RP1 Logic Module has 64 MB Flash Memory, 64 MB RAM Memory, and a DC Input. It also contains an Ethernet Port, Serial Port, 2 USB ports, and CompactFlash Card Slot.
About 2711P-RP1

The Allen-Bradley 2711P-RP1 is a PanelView Plus logic module. This module is combined with Allen-Bradley PanelView series display modules to form a fully operating HMI unit. It is compatible with the PanelView Plus 700 to 1500 series display modules, but not with the PanelView Plus 6 terminals. The 2711P-RP1 has a 24 Volts DC power supply connector on the back side of the device. While operating, this unit consumes 70 Watts of energy. The 2711P-RP1 is compatible with many PanelView Plus terminals. The 2711P-RP1 has 64 MB of flash memory and 64 MB of RAM. It is bolted with 6 screws to the display module and it can carry a communication module which is attached to it after removing the grey label on the back side of the logic module. Always make sure that the display module is not power supplied when connecting the logic module to it. The WordPad text editor, Media Player, and remote desktop connection are some of the extended optional features available with this module.
The 2711P-RP1 supports 2 USB connectors, 1 RS-232 connector, and 1 Ethernet port. It also has one CompactFlash Card Slot for inserting memory cards. Do not insert memory cards while the device is powered on. The 2711P-RP1 logic module is configurable with the FactoryTalk View ME Software to support both simple and complex industrial automation applications. The module works safely only in surroundings with an ambient temperature between 0 and 55 degrees Celsius. The only maintenance that this unit requires is a visual inspection of the connectors and some cleaning from accumulated dust from time to time. The 2711P-RP1 works on 24 Volts of DC power. This module has built-in status indicators for process identification. Other slots available are the USB, CompactFlash, and Ethernet slots for efficient communication.
Technical Specifications for 2711P-RP1
Manufacturer
Rockwell Automation
Brand
Allen-Bradley
Part Number/Catalog No.
2711P-RP1
Product Type
Logic Module
Series
PanelView Plus 700 to 1500 Logic Modules
Flash Memory
64 MB
RAM Memory
64 MB
Order Number:
2711P-B10C4D8
2711P-B12C4D8
2711P-B15C22A9P
2711P-B6M5D8
2711P-B7C4D8
2711PC-T6C20D8
2711P-K10C4D8
2711P-K12C4D8
2711P-K7C4D8
2711P-RDB10C
2711P-RDK12C
2711P-RDK7C
2711P-RDT10C
2711P-RDT12C
2711P-RDT15C
2711P-RDT7C
2711P-RN15S
2711P-RN6
2711P-RP1
2711P-RP2
2711P-RP8D
2711P-RP9A
2711P-RSACDIN
2711P-RW1
2711P-T10C21D8S
2711P-T10C22A9P
2711P-T10C22D8S
2711P-T10C4D9
2711P-T12C4A9
2711P-T12C4D9
2711P-T12W21D8S
2711P-T12W22D9P
2711P-T15C22D9P
2711P-T19C22D9P
2711P-T6C20D
2711P-T6C20D8
2711P-T6C21D8S
2711P-T6M20D8
2711P-T7C21D8S
2711P-T7C22D8S
2711P-T7C4D8
2711P-RP8A
2711P-RP9D
2711P-T10C4A8
2711P-T10C4D8
2711R-T10T
2711R-T4T
2711R-T7T
2711P-T7C22D9P
2711P-T7C22D9P-B
2711P-T7C22A9P
2711P-T7C22A9P-B
2711P-B7C22D9P
2711P-B7C22D9P-B
2711P-B7C22A9P
2711P-B7C22A9P-B
2711P-T9W22D9P
2711P-T9W22D9-B
2711P-T9W22A9P
2711P-T9W22A9P-B
2711P-T10C22D9P
2711P-T10C22D9P-B
2711P-T10C22A9P
2711P-T10C22A9P-B
2711P-B10C22D9P
2711P-B10C22D9P-B
2711P-B10C22A9P
2711P-B10C22A9-B
2711P-T12W22D9P
2711P-T12W22D9P-B
2711P-T12W22A9P
2711P-T12W22A9P-B
2711P-T15C22D9P
2711P-T15C22D9P-B
2711P-T15C22A9P
2711P-T15C22A9P-B
2711P-B15C22D9P
2711P-B15C22D9P-B
2711P-B15C22A9P
2711P-B15C22A9P-B
2711P-T19C22D9P
2711P-T19C22D9P-B
2711P-T19C22A9P
2711P-T19C22A9P-B
2711P-T9W22D9P-BSHK
2711P-T12W22D9P-BSHK
2711P-T7C22D9PK
2711P-T9W22D9PK
2711P-T10C22D9PK
2711P-T12W22D9PK
2711P-T15C22D9PK
2711P-T19C22D9PK
2711P-B15C22D9PK
2711P-T12W22D9P-BM001
2711P-T12W22D9P-BM002
2711P-T12W22D9P-BM003
2711P-T12W22D9P-BM004
2711P-T12W22D9P-BM005
2711P-T12W22D9P-BM006
2711P-T12W22D9P-BM007
2711P-T12W22D9P-BM008
2711P-T12W22D9P-BM009
2711P-T12W22D9P-BM010
2711P-T12W22D9P-BM011
2711P-T12W22D9P-BM012
2711P-T12W22D9P-BM013
2711P-T12W22D9P-BM014
2711P-T12W22D9P-BM015
2711P-T12W22D9P-BM016
-----------------------------------
Lily
HONGKONG XIEYUAN TECH CO., LIMITED
T: 86-027-85568699 F: 86-027-85309780
E-mail: lily@hkxytech.com
Add: 7-A16,Caishen Commercial Plaza,Hankou Railway Station,Wuhan, Hubei, China
Web: www.hkxytech.com