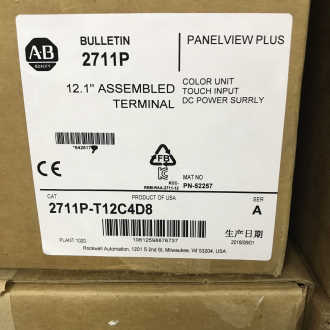 BASIC INFO
Allen-Bradley 2711P-RP2 PanelView Plus 700 to 1500 Logic Modules
Description:
The Allen-Bradley 2711P-RP2 Logic Module has 128 MB Flash Memory, 128 MB RAM Memory, and a DC Input. It also contains an Ethernet Port, Serial Port, 2 USB ports, and CompactFlash Card Slot.
About 2711P-RP2
The Allen-Bradley 2711P-RP2 is a PanelView Plus Logic Module that is a member of Allen-Bradley's PanelView 700 to 1500 terminal series. The 2711P-RP2 has isolated DC input power with no extended file viewers and features. It comes with 128 MB each of flash memory and RAM. The Allen-Bradley 2711P-RP2 Logic Module is not compatible with PanelView 6 modules. The 2711P-RP2 Logic Module is excellent for applications that use DC voltage but work on AC voltage. It uses an AC/DC power supply that can mount on a DIN rail in the presence of the 2711P-RSACDIN unit. The 2711P-RP2 logic module has an anti-glare screen that is available for the 1500 touch display. Also, the Allen-Bradley 2711P-RP2 Logic Module is conformally-coated with available options for the 700-1500 PanelView Plus Terminals.
The Allen-Bradley 2711P-RP2 Logic Module runs through a Windows CE 6.0 with its runtime version which is 6.0. The standard features that come with the 2711P-RP2 logic module are ActiveX controls, third-party device support, a PDF reader, and an FTP server connection. It can use optional extended features such as the Microsoft Office suite. This unit comes with the 2711P-RW2 Compact Flash and the 2711P-RR128 RAM. This unit comes equipped with an Ethernet port, two USB ports, one RS-232 port, and a CompactFlash card slot. This unit is available Series A, Series B, Series C, Series D, Series E, Series F, and Series G. The 2711P-RP2 Ser G is the latest series and one of the most common series of this logic module.
Technical Specifications for 2711P-RP2
Manufacturer
Rockwell Automation
Brand
Allen-Bradley
Part Number/Catalog No.
2711P-RP2
Product Type
Logic Module
Series
PanelView Plus 700 to 1500 Logic Modules
Flash Memory
128 MB
Order Number:
2711P-B10C4D8
2711P-B12C4D8
2711P-B15C22A9P
2711P-B6M5D8
2711P-B7C4D8
2711PC-T6C20D8
2711P-K10C4D8
2711P-K12C4D8
2711P-K7C4D8
2711P-RDB10C
2711P-RDK12C
2711P-RDK7C
2711P-RDT10C
2711P-RDT12C
2711P-RDT15C
2711P-RDT7C
2711P-RN15S
2711P-RN6
2711P-RP1
2711P-RP2
2711P-RP8D
2711P-RP9A
2711P-RSACDIN
2711P-RW1
2711P-T10C21D8S
2711P-T10C22A9P
2711P-T10C22D8S
2711P-T10C4D9
2711P-T12C4A9
2711P-T12C4D9
2711P-T12W21D8S
2711P-T12W22D9P
2711P-T15C22D9P
2711P-T19C22D9P
2711P-T6C20D
2711P-T6C20D8
2711P-T6C21D8S
2711P-T6M20D8
2711P-T7C21D8S
2711P-T7C22D8S
2711P-T7C4D8
2711P-RP8A
2711P-RP9D
2711P-T10C4A8
2711P-T10C4D8
2711R-T10T
2711R-T4T
2711R-T7T
2711P-T7C22D9P
2711P-T7C22D9P-B
2711P-T7C22A9P
2711P-T7C22A9P-B
2711P-B7C22D9P
2711P-B7C22D9P-B
2711P-B7C22A9P
2711P-B7C22A9P-B
2711P-T9W22D9P
2711P-T9W22D9-B
2711P-T9W22A9P
2711P-T9W22A9P-B
2711P-T10C22D9P
2711P-T10C22D9P-B
2711P-T10C22A9P
2711P-T10C22A9P-B
2711P-B10C22D9P
2711P-B10C22D9P-B
2711P-B10C22A9P
2711P-B10C22A9-B
2711P-T12W22D9P
2711P-T12W22D9P-B
2711P-T12W22A9P
2711P-T12W22A9P-B
2711P-T15C22D9P
2711P-T15C22D9P-B
2711P-T15C22A9P
2711P-T15C22A9P-B
2711P-B15C22D9P
2711P-B15C22D9P-B
2711P-B15C22A9P
2711P-B15C22A9P-B
2711P-T19C22D9P
2711P-T19C22D9P-B
2711P-T19C22A9P
2711P-T19C22A9P-B
2711P-T9W22D9P-BSHK
2711P-T12W22D9P-BSHK
2711P-T7C22D9PK
2711P-T9W22D9PK
2711P-T10C22D9PK
2711P-T12W22D9PK
2711P-T15C22D9PK
2711P-T19C22D9PK
2711P-B15C22D9PK
2711P-T12W22D9P-BM001
2711P-T12W22D9P-BM002
2711P-T12W22D9P-BM003
2711P-T12W22D9P-BM004
2711P-T12W22D9P-BM005
2711P-T12W22D9P-BM006
2711P-T12W22D9P-BM007
2711P-T12W22D9P-BM008
2711P-T12W22D9P-BM009
2711P-T12W22D9P-BM010
2711P-T12W22D9P-BM011
2711P-T12W22D9P-BM012
2711P-T12W22D9P-BM013
2711P-T12W22D9P-BM014
2711P-T12W22D9P-BM015
2711P-T12W22D9P-BM016
-----------------------------------
Lily
HONGKONG XIEYUAN TECH CO., LIMITED
T: 86-027-85568699 F: 86-027-85309780
E-mail: lily@hkxytech.com
Add: 7-A16,Caishen Commercial Plaza,Hankou Railway Station,Wuhan, Hubei, China
Web: www.hkxytech.com