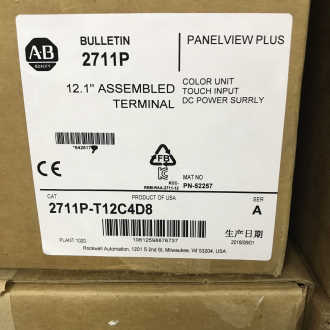 BASIC INFO
Allen Bradley 2711P-T9W22D9P Panelview Plus 7 Graphic Terminals
Description: Allen Bradley Panelview Plus 7 Terminal, Performance Model, with a Touchcreen, 9 WVGA, Wide aspect ration Color Display, with One Ethernet Port, 24V DC Powered, Windows CE OS License, Pro Software, Performance Model
About 2711P-T9W22D9P
The Allen-Bradley 2711P-T9W22D9P is a Standard PanelView Plus 7 with a nine (9) inch touchscreen display. With an aspect ratio of 5:3, screen measurements of 196 x 118 millimeters or 7.7 x 4.6 inches, and an operating force of 100 grams, this panelview's screen provides a clear display for user ease. Additionally, the touchscreen has an actuation rating of one million presses and is analog resistant.
External storage is provided through two high speed 2.0 USB ports, with an additional high speed 2.0 USB port for future release. It also contains several Ethernet ports, with two 10/100 Base-T and auto MDI/MDI-X Ethernet ports that support the DLR.
The 2711P-T9W22D9P weighs about 1.58 kilograms, with dimensions of 190 x 280 x 69.9 millimeters. Its backlight has a brightness of 300 cd/m2 (Nits) and is non-replaceable, with about 50,000 hours of life.
Its power consumption is about 50 Watts maximum, or 2.1 A at 24 Volts DC. Its supply is SELV and PELV 24 Volts DC, and it must secure one SD card slot for external storage. It uses a solid-state white light emitting diode, version 2.6+ FactoryTalk ViewPoint software, and has a battery accuracy of s +/-2 minutes per month with 4 years of battery life at 25 degrees Celsius (77 degrees Fahrenheit). The battery is replaceable by a CR2032 lithium coin cell.
Technical Specifications for 2711P-T9W22D9P
Manufacturer
Rockwell Automation
Brand
Allen-Bradley
Part Number/Catalog No.
2711P-T9W22D9P
Product Line
Panelview Plus 7
Input Type
Touchscreen
Display Size
9 in.
Order Number:
2711P-B10C4D8
2711P-B12C4D8
2711P-B15C22A9P
2711P-B6M5D8
2711P-B7C4D8
2711PC-T6C20D8
2711P-K10C4D8
2711P-K12C4D8
2711P-K7C4D8
2711P-RDB10C
2711P-RDK12C
2711P-RDK7C
2711P-RDT10C
2711P-RDT12C
2711P-RDT15C
2711P-RDT7C
2711P-RN15S
2711P-RN6
2711P-RP1
2711P-RP2
2711P-RP8D
2711P-RP9A
2711P-RSACDIN
2711P-RW1
2711P-T10C21D8S
2711P-T10C22A9P
2711P-T10C22D8S
2711P-T10C4D9
2711P-T12C4A9
2711P-T12C4D9
2711P-T12W21D8S
2711P-T12W22D9P
2711P-T15C22D9P
2711P-T19C22D9P
2711P-T6C20D
2711P-T6C20D8
2711P-T6C21D8S
2711P-T6M20D8
2711P-T7C21D8S
2711P-T7C22D8S
2711P-T7C4D8
2711P-RP8A
2711P-RP9D
2711P-T10C4A8
2711P-T10C4D8
2711R-T10T
2711R-T4T
2711R-T7T
2711P-T7C22D9P
2711P-T7C22D9P-B
2711P-T7C22A9P
2711P-T7C22A9P-B
2711P-B7C22D9P
2711P-B7C22D9P-B
2711P-B7C22A9P
2711P-B7C22A9P-B
2711P-T9W22D9P
2711P-T9W22D9-B
2711P-T9W22A9P
2711P-T9W22A9P-B
2711P-T10C22D9P
2711P-T10C22D9P-B
2711P-T10C22A9P
2711P-T10C22A9P-B
2711P-B10C22D9P
2711P-B10C22D9P-B
2711P-B10C22A9P
2711P-B10C22A9-B
2711P-T12W22D9P
2711P-T12W22D9P-B
2711P-T12W22A9P
2711P-T12W22A9P-B
2711P-T15C22D9P
2711P-T15C22D9P-B
2711P-T15C22A9P
2711P-T15C22A9P-B
2711P-B15C22D9P
2711P-B15C22D9P-B
2711P-B15C22A9P
2711P-B15C22A9P-B
2711P-T19C22D9P
2711P-T19C22D9P-B
2711P-T19C22A9P
2711P-T19C22A9P-B
2711P-T9W22D9P-BSHK
2711P-T12W22D9P-BSHK
2711P-T7C22D9PK
2711P-T9W22D9PK
2711P-T10C22D9PK
2711P-T12W22D9PK
2711P-T15C22D9PK
2711P-T19C22D9PK
2711P-B15C22D9PK
2711P-T12W22D9P-BM001
2711P-T12W22D9P-BM002
2711P-T12W22D9P-BM003
2711P-T12W22D9P-BM004
2711P-T12W22D9P-BM005
2711P-T12W22D9P-BM006
2711P-T12W22D9P-BM007
2711P-T12W22D9P-BM008
2711P-T12W22D9P-BM009
2711P-T12W22D9P-BM010
2711P-T12W22D9P-BM011
2711P-T12W22D9P-BM012
2711P-T12W22D9P-BM013
2711P-T12W22D9P-BM014
2711P-T12W22D9P-BM015
2711P-T12W22D9P-BM016
-----------------------------------
Lily
HONGKONG XIEYUAN TECH CO., LIMITED
T: 86-027-85568699 F: 86-027-85309780
E-mail: lily@hkxytech.com
Add: 7-A16,Caishen Commercial Plaza,Hankou Railway Station,Wuhan, Hubei, China
Web: www.hkxytech.com