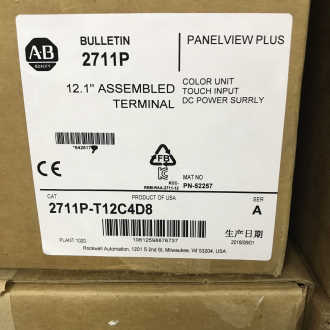 BASIC INFO
Allen-Bradley 2711P-RW1 Internal CompactFlash Used with Standard Logic Module

About 2711P-RW1
The 2711P-RW1 is a PanelView internal compact flash card from Allen Bradley. It has a memory capacity of 64 megabytes and comes pre-installed with FactoryTalk View Machine Edition software which allows for the programming of the system through the PanelView. The 2711P-RW1 weighs 0.8 ounces and measures 4 x 3.5 x 0.2 inches. For a stable operation, the 2711P-RW1 should be operated within a temperature range of between 0 and 55 degrees Celsius, a non-condensing humidity of between 5 and 95 percent, and a shock of 15G at 11 milliseconds.
When not in operation, the module should be stored at temperatures not exceeding 70 degrees Celsius and not below -25 degrees Celsius. The non-operating shock rating for the 2711P-RW1 is 30 g at 11 milliseconds. Also, at a frequency of between 57 and 500 Hertz, the module can accommodate a vibration of 2g. The PanelView which accommodates the 2711P-RW1 has an input voltage ranging from 85 to 264 Volts AC at a frequency of between 47 and 63 Hertz.
Additionally, the PanelView housing the 2711P-RW1 has a maximum power rating of 160 Volts. The Direct Current input voltage for the PanelView ranges between 18 and 32 Volts DC, with 24 Volts DC being the average operating voltage. This PanelView draws a current of 2.9 Amperes and dissipates 70 Watts at 24 Volts DC. The compact flash card slot is located at the back of the PanelView, where it is covered and securely held in place using 6 screws. After replacing the 2711P-RW1 internal compact flash card reload the KEPServer drivers, ActiveX components, accessory programs or files, and extra fonts on the PanelView.
Technical Specifications for 2711P-RW1
Manufacturer
Rockwell Automation
Brand
Allen-Bradley
Part Number/Catalog No.
2711P-RW1
Product Type
Internal CompactFlash
Order Number:
2711P-B10C4D8
2711P-B12C4D8
2711P-B15C22A9P
2711P-B6M5D8
2711P-B7C4D8
2711PC-T6C20D8
2711P-K10C4D8
2711P-K12C4D8
2711P-K7C4D8
2711P-RDB10C
2711P-RDK12C
2711P-RDK7C
2711P-RDT10C
2711P-RDT12C
2711P-RDT15C
2711P-RDT7C
2711P-RN15S
2711P-RN6
2711P-RP1
2711P-RP2
2711P-RP8D
2711P-RP9A
2711P-RSACDIN
2711P-RW1
2711P-T10C21D8S
2711P-T10C22A9P
2711P-T10C22D8S
2711P-T10C4D9
2711P-T12C4A9
2711P-T12C4D9
2711P-T12W21D8S
2711P-T12W22D9P
2711P-T15C22D9P
2711P-T19C22D9P
2711P-T6C20D
2711P-T6C20D8
2711P-T6C21D8S
2711P-T6M20D8
2711P-T7C21D8S
2711P-T7C22D8S
2711P-T7C4D8
2711P-RP8A
2711P-RP9D
2711P-T10C4A8
2711P-T10C4D8
2711R-T10T
2711R-T4T
2711R-T7T
2711P-T7C22D9P
2711P-T7C22D9P-B
2711P-T7C22A9P
2711P-T7C22A9P-B
2711P-B7C22D9P
2711P-B7C22D9P-B
2711P-B7C22A9P
2711P-B7C22A9P-B
2711P-T9W22D9P
2711P-T9W22D9-B
2711P-T9W22A9P
2711P-T9W22A9P-B
2711P-T10C22D9P
2711P-T10C22D9P-B
2711P-T10C22A9P
2711P-T10C22A9P-B
2711P-B10C22D9P
2711P-B10C22D9P-B
2711P-B10C22A9P
2711P-B10C22A9-B
2711P-T12W22D9P
2711P-T12W22D9P-B
2711P-T12W22A9P
2711P-T12W22A9P-B
2711P-T15C22D9P
2711P-T15C22D9P-B
2711P-T15C22A9P
2711P-T15C22A9P-B
2711P-B15C22D9P
2711P-B15C22D9P-B
2711P-B15C22A9P
2711P-B15C22A9P-B
2711P-T19C22D9P
2711P-T19C22D9P-B
2711P-T19C22A9P
2711P-T19C22A9P-B
2711P-T9W22D9P-BSHK
2711P-T12W22D9P-BSHK
2711P-T7C22D9PK
2711P-T9W22D9PK
2711P-T10C22D9PK
2711P-T12W22D9PK
2711P-T15C22D9PK
2711P-T19C22D9PK
2711P-B15C22D9PK
2711P-T12W22D9P-BM001
2711P-T12W22D9P-BM002
2711P-T12W22D9P-BM003
2711P-T12W22D9P-BM004
2711P-T12W22D9P-BM005
2711P-T12W22D9P-BM006
2711P-T12W22D9P-BM007
2711P-T12W22D9P-BM008
2711P-T12W22D9P-BM009
2711P-T12W22D9P-BM010
2711P-T12W22D9P-BM011
2711P-T12W22D9P-BM012
2711P-T12W22D9P-BM013
2711P-T12W22D9P-BM014
2711P-T12W22D9P-BM015
2711P-T12W22D9P-BM016
-----------------------------------
Lily
HONGKONG XIEYUAN TECH CO., LIMITED
T: 86-027-85568699 F: 86-027-85309780
E-mail: lily@hkxytech.com
Add: 7-A16,Caishen Commercial Plaza,Hankou Railway Station,Wuhan, Hubei, China
Web: www.hkxytech.com