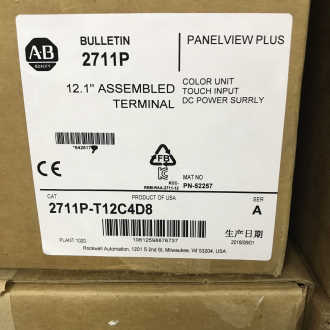 BASIC INFO
Allen-Bradley 2711P-RP9A PanelView Plus 6 Logic Modules

Description: The Allen-Bradley 2711P-RP9A Logic Module has 512 MB Nonvolatile Memory, 512 MB RAM Memory, and a AC Input. It also contains Ethernet, RS-232, and Network Interface Communication Module Communication Features.
About 2711P-RP9A
The 2711P-RP9A module is a logic module manufactured by Allen-Bradley/Rockwell Automation for use in the Allen-Bradley PanelView Plus 6 series of terminals. It has a volatile internal memory which has a capacity of 512 MB. Note that the memory is used to store application parameters. The 2711P-RP9A module supports programming by using a personal computer. However, to facilitate the programming process, the module has an RS-232 communication port. Apart from using the port for programming purposes, the users can also use it to interface the module with external devices. Additionally, the Allen-Bradley/Rockwell Automation 2711P-RP9A module supports an Ethernet port that can reach a communication speed of 100 MBP.
The Allen-Bradley 2711P-RP9A module accommodates the Windows CE 6.0 operating system. Also, to enable connection with peripheral devices such as a printer, keyboard, and mouse, the 2711P-RP9A module has a USB port. The module supports additional software programs such as the FactoryTalk View Machine Edition runtime software version 6.0 or later and the FactoryTalk ViewPoint software version 1.2 or later. The 2711P-RP9A module is among the modular components that allow for Allen-Bradley PanelView Plus 6 terminals (series 700 to 1500) to have flexible configuration, upgrade, and installation processes. The 2711P-RP9A module has extended features such as the Internet Explorer web browser, remote desktop connection, media player, and the file viewers such as Microsoft file viewers for PowerPoint, Excel, and Word applications. The Allen-Bradley 2711P-RP9A module supports an AC power input and it is marine certified. Also, the 2711P-RP9A modules and other logic modules made for use with PanelView terminals have a hot-swappable card slot that supports Allen-Bradley 1784-SDx SD cards for transferring files, upgrading firmware, or logging data.
Technical Specifications for 2711P-RP9A
Manufacturer
Rockwell Automation
Brand
Allen-Bradley
Part Number/Catalog No.
2711P-RP9A
Product Type
Logic Module
Series
PanelView Plus 6- 7001500 Logic Modules
Nonvolatile Memory
512 MB
Order Number:
2711P-B10C4D8
2711P-B12C4D8
2711P-B15C22A9P
2711P-B6M5D8
2711P-B7C4D8
2711PC-T6C20D8
2711P-K10C4D8
2711P-K12C4D8
2711P-K7C4D8
2711P-RDB10C
2711P-RDK12C
2711P-RDK7C
2711P-RDT10C
2711P-RDT12C
2711P-RDT15C
2711P-RDT7C
2711P-RN15S
2711P-RN6
2711P-RP1
2711P-RP2
2711P-RP8D
2711P-RP9A
2711P-RSACDIN
2711P-RW1
2711P-T10C21D8S
2711P-T10C22A9P
2711P-T10C22D8S
2711P-T10C4D9
2711P-T12C4A9
2711P-T12C4D9
2711P-T12W21D8S
2711P-T12W22D9P
2711P-T15C22D9P
2711P-T19C22D9P
2711P-T6C20D
2711P-T6C20D8
2711P-T6C21D8S
2711P-T6M20D8
2711P-T7C21D8S
2711P-T7C22D8S
2711P-T7C4D8
2711P-RP8A
2711P-RP9D
2711P-T10C4A8
2711P-T10C4D8
2711R-T10T
2711R-T4T
2711R-T7T
2711P-T7C22D9P
2711P-T7C22D9P-B
2711P-T7C22A9P
2711P-T7C22A9P-B
2711P-B7C22D9P
2711P-B7C22D9P-B
2711P-B7C22A9P
2711P-B7C22A9P-B
2711P-T9W22D9P
2711P-T9W22D9-B
2711P-T9W22A9P
2711P-T9W22A9P-B
2711P-T10C22D9P
2711P-T10C22D9P-B
2711P-T10C22A9P
2711P-T10C22A9P-B
2711P-B10C22D9P
2711P-B10C22D9P-B
2711P-B10C22A9P
2711P-B10C22A9-B
2711P-T12W22D9P
2711P-T12W22D9P-B
2711P-T12W22A9P
2711P-T12W22A9P-B
2711P-T15C22D9P
2711P-T15C22D9P-B
2711P-T15C22A9P
2711P-T15C22A9P-B
2711P-B15C22D9P
2711P-B15C22D9P-B
2711P-B15C22A9P
2711P-B15C22A9P-B
2711P-T19C22D9P
2711P-T19C22D9P-B
2711P-T19C22A9P
2711P-T19C22A9P-B
2711P-T9W22D9P-BSHK
2711P-T12W22D9P-BSHK
2711P-T7C22D9PK
2711P-T9W22D9PK
2711P-T10C22D9PK
2711P-T12W22D9PK
2711P-T15C22D9PK
2711P-T19C22D9PK
2711P-B15C22D9PK
2711P-T12W22D9P-BM001
2711P-T12W22D9P-BM002
2711P-T12W22D9P-BM003
2711P-T12W22D9P-BM004
2711P-T12W22D9P-BM005
2711P-T12W22D9P-BM006
2711P-T12W22D9P-BM007
2711P-T12W22D9P-BM008
2711P-T12W22D9P-BM009
2711P-T12W22D9P-BM010
2711P-T12W22D9P-BM011
2711P-T12W22D9P-BM012
2711P-T12W22D9P-BM013
2711P-T12W22D9P-BM014
2711P-T12W22D9P-BM015
2711P-T12W22D9P-BM016
-----------------------------------
Lily
HONGKONG XIEYUAN TECH CO., LIMITED
T: 86-027-85568699 F: 86-027-85309780
E-mail: lily@hkxytech.com
Add: 7-A16,Caishen Commercial Plaza,Hankou Railway Station,Wuhan, Hubei, China
Web: www.hkxytech.com