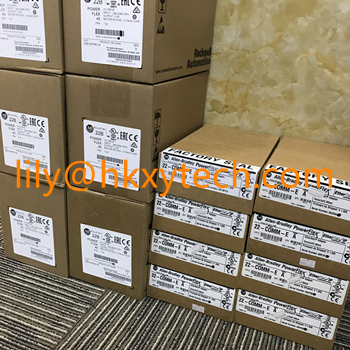 BASIC INFO
Rockwell Allen Bradley 20AB028C3AYNANC0 PowerFlex70 AC Drive

20AB028C3AYNANC0
Description: PowerFlex70 AC Drive, 240 (208) VAC, 3 PH, 28 Amps, 10 HP Normal Duty, 7.5 HP Heavy Duty,Wall / Machine Mount - IP66/NEMA Type 4X/12 (Indoor Use), with conformal coating, LCD Display, Full Numeric Keypad, Brake IGBT Installed, Without Drive Mounted Brake Resistor, Second Environment Filter per CE EMC directive (89/336/EEC), No Communication Module, Enhanced Control , No Feedback
About 20AB028C3AYNANC0
The 20AB028C3AYNANC0 PowerFlex 70 Adjustable Frequency AC Drive by Allen-Bradley is a digital AC drive with a CE line filter and an internal resistor brake option, which provides enhanced motor control in many applications with speed and torque control requirements. This drive features an indoor-rated IP66 enclosure which provides resistance to dust and dirt, and it is built to survive high-pressure water, and this drive also features a fast-acting current limit (20 to 160%) and the Bus Voltage Regulation which allows for acceleration and deceleration control without tripping. The 20AB028C3AYNANC0 has a 3-phase (6-pulse) input voltage of 240 Volts AC, with a minimum and maximum acceptable input range of -10% and +10% at 47 to 63 Hertz, and it has a displacement power factor of 0.98. This drive has a power rating of 10 Horsepower, with a current rating of 28 Amps, and it has an operational efficiency of 97.5%. It has a short-circuit rating of 200,000 Amps, with a 2 to 1 drive to motor power ratio, and it is designed to provide protection against a transient voltage and ground fault at the outputs. The 20AB028C3AYNANC0 monitors an excessive temperature trip at the heatsink, and it has a control logic ride-through time of 2 seconds. It has intermittent overload capacity of 115% for 1 minute and of 150% for 3 seconds and provides Class 10 motor overload protection using the I2T protection algorithm.
It can be programmed for standard volt per hertz motor control, sensorless vector control, and vector control with the patented Force technology which provides the drive with outstanding torque and speed control with feedback devices. The 20AB028C3AYNANC0, like every PowerFlex 70 drives utilizes a Sinusoidal Pulse Width Modulated signal with 4 KiloHertz programmable default frequency for frequency control, and it has a 0 to 400 Hertz programmable output frequency range, which determines the adjustable output voltage value. This drive is not designed with an encoder device, but it delivers 0.5% open-loop speed regulation across a wide speed range with slip compensation, and it also provides 0.1% speed regulation across a 120: 1-speed range and also +/-10% torque regulation. The 20AB028C3AYNANC0 has full numeric LCD human-machine interface module with a multilingual and easy-to-read 7 lines by 21 characters display, which provides easy setup and control. It has a 0 to 40 degrees Celsius (32 to 104 degrees Fahrenheit) operating range with –40 to +70 degrees Celsius (–40 to +158 degrees Fahrenheit) storage range, at a 5% to 95% relative humidity range, and it can withstand a 15G shock for 11 milliseconds. The 20AB028C3AYNANC0 has wall/machine mount option, and it has an approximate weight of 9.13 kilograms with a shipping dimension of 219.9 x 350.0 x 179.8 millimeters
Order Number:
PowerFlex 70 AC Drives
20AB015A0AYNANC0
20AB015C3AYNANC0
20AB015F0AYNANC0
20AB022A0AYNANC0
20AB022C3AYNANC0
20AB022F0AYNANC0
20AB028A0AYNANC0
20AB028C3AYNANC0
20AB028F0AYNANC0
20AB042A0AYNANC0
20AB042C3AYNANC0
20AB042F0AYNANC0
20AB054A0AYNANC0
20AB054C3AYNANC0
20AB054F0AYNANC0
20AB054G3AYNANC0
20AB070A0AYNANC0
20AB070C3AYNANC0
20AB070F0AYNANC0
20AB070G3AYNANC0
20AB2P2A0AYNANC0
20AB2P2A0AYNNNC0
20AB2P2C3AYNANC0
20AB2P2C3AYNNNC0
20AB2P2F0AYNANC0
20AB2P2F0AYNNNC0
20AB4P2A0AYNANC0
20AB4P2A0AYNNNC0
20AB4P2C3AYNANC0
20AB4P2C3AYNNNC0
20AB4P2F0AYNANC0
20AB4P2F0AYNNNC0
20AB6P8A0AYNANC0
20AB6P8A0AYNNNC0
20AB6P8C3AYNANC0
20AB6P8C3AYNNNC0
20AB6P8F0AYNANC0
20AB6P8F0AYNNNC0
20AB9P6A0AYNANC0
20AB9P6A0AYNNNC0
20AB9P6C3AYNANC0
20AB9P6C3AYNNNC0
20AB9P6F0AYNANC0
20AB9P6F0AYNNNC0
20AC037A0AYNANC0
20AC037C3AYNANC0
20AC043A0AYNANC0
20AC043C3AYNANC0
20AC060A0AYNANC0
20AC060C3AYNANC0
20AC072A0AYNANC0
20AC072C3AYNANC0
20AD011A0AYNANC0
20AD011C3AYNANC0
20AD011F0AYNANC0
20AD014A0AYNANC0
20AD014C3AYNANC0
20AD014F0AYNANC0
20AD022A0AYNANC0
20AD022C3AYNANC0
20AD022F0AYNANC0
20AD027A0AYNANC0
20AD027C3AYNANC0
20AD027F0AYNANC0
20AD034A0AYNANC0
20AD034C3AYNANC0
20AD034F0AYNANC0
20AD040A0AYNANC0
20AD040C3AYNANC0
20AD040F0AYNANC0
20AD052A0AYNANC0
20AD052C3AYNANC0
20AD052F0AYNANC0
20AD052G3AYNANC0
20AD065A0AYNANC0
20AD065C3AYNANC0
20AD065F0AYNANC0
20AD065G3AYNANC0
20AD1P1A0AYNANC0
20AD1P1A0AYNNNC0
20AD1P1C3AYNANC0
20AD1P1C3AYNNNC0
20AD1P1F0AYNANC0
20AD1P1F0AYNNNC0
20AD2P1A0AYNANC0
20AD2P1A0AYNNNC0
20AD2P1C3AYNANC0
20AD2P1C3AYNNNC0
20AD2P1F0AYNANC0
20AD2P1F0AYNNNC0
20AD3P4A0AYNANC0
20AD3P4A0AYNNNC0
20AD3P4C3AYNANC0
20AD3P4C3AYNNNC0
20AD3P4F0AYNANC0
20AD3P4F0AYNNNC0
20AD5P0A0AYNANC0
20AD5P0A0AYNNNC0
20AD5P0C3AYNANC0
20AD5P0C3AYNNNC0
20AD5P0F0AYNANC0
20AD5P0F0AYNNNC0
20AD8P0A0AYNANC0
20AD8P0A0AYNNNC0
20AD8P0C3AYNANC0
20AD8P0C3AYNNNC0
20AD8P0F0AYNANC0
20AD8P0F0AYNNNC0
20AE011A0AYNNNC0
20AE011C3AYNNNC0
20AE011F0AYNNNC0
20AE017A0AYNNNC0
20AE017C3AYNNNC0
20AE017F0AYNNNC0
20AE022A0AYNNNC0
20AE022C3AYNNNC0
20AE022F0AYNNNC0
20AE027A0AYNNNC0
20AE027C3AYNNNC0
20AE027F0AYNNNC0
20AE032A0AYNNNC0
20AE032C3AYNNNC0
20AE032F0AYNNNC0
20AE041A0AYNANC0
20AE041C3AYNANC0
20AE041F0AYNANC0
20AE041G3AYNANC0
20AE052A0AYNANC0
20AE052C3AYNANC0
20AE052F0AYNANC0
20AE052G3AYNANC0
20AE0P9A0AYNNNC0
20AE0P9C3AYNNNC0
20AE0P9F0AYNNNC0
20AE1P7A0AYNNNC0
20AE1P7C3AYNNNC0
20AE1P7F0AYNNNC0
20AE2P7A0AYNNNC0
20AE2P7C3AYNNNC0
20AE2P7F0AYNNNC0
20AE3P9A0AYNNNC0
20AE3P9C3AYNNNC0
20AE3P9F0AYNNNC0
20AE6P1A0AYNNNC0
20AE6P1C3AYNNNC0
20AE6P1F0AYNNNC0
20AE9P0A0AYNNNC0
20AE9P0C3AYNNNC0
20AE9P0F0AYNNNC0
Any inquires, please feel free to contact us via E-mail, thanks!
-----------------------------------
Lily
HONGKONG XIEYUAN TECH CO., LIMITED
T: 86-027-85568699 F: 86-027-85309780
E-mail: lily@hkxytech.com
Add: 7-A16,Caishen Commercial Plaza,Hankou Railway Station,Wuhan, Hubei, China
Web: www.hkxytech.com