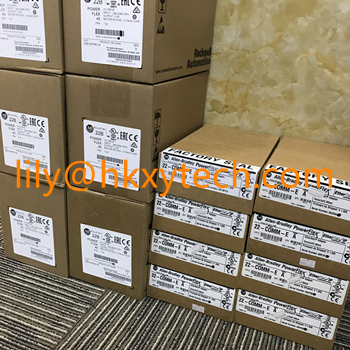 BASIC INFO
Rockwell Allen-Bradley 20AB022F0AYNANC0 PowerFlex70 AC Drive 240VAC


20AB022F0AYNANC0
Description: PowerFlex70 AC Drive, 240 (208) VAC, 3 PH, 22 Amps, 7.5 HP Normal Duty, 5 HP Heavy Duty,Flanged Mount - Front IP20, NEMA Type 1; Rear = NEMA Type 4X/12 (Indoor / Outdoor), with conformal coating, No HIM (Blank Plate), Brake IGBT Installed, Without Drive Mounted Brake Resistor, Second Environment Filter per CE EMC directive (89/336/EEC), No Communication Module, Enhanced Control , No Feedback
About 20AB022F0AYNANC0

The 20AB022F0AYNANC0 PowerFlex 70 Adjustable Frequency AC Drive, is a variable frequency drive from the PowerFlex 70 series by Allen Bradley, and it provides digital control for a 3-phase induction motor in applications requiring speed control. It operates at an AC voltage of 240V AC, with a current output of 22A, and it has a 5.5kW (7.5HP) drive power rating. It has a voltage tolerance of -10% minimum and +10% maximum at 47 to 63Hz frequency, and it has a displacement power factor of 0.92. The 20AB022F0AYNANC0's drive efficiency is 97.5%, and it offers AC input overvoltage and under voltage trips of 285V and 138V AC, respectively, with BUS overvoltage and under voltage trips of 405V and 204V DC, respectively. It provides a microprocessor-controlled excessive temperature trips at the Heatsink Thermistor, and a software controlled overcurrent trip with limits between 20 and 160% and of the rated current. The 20AB022F0AYNANC0 offers a Line Transient protection of up to 6000V, and it is designed with a Metal Oxide Varistor for both phase-to-phase and phase-to-ground protection. It can ride through short power interruption of 15 milliseconds, and it has Logic ride thru time of 2s.
The 20AB022F0AYNANC0 uses a sine-coded PWM with a programmable carrier frequency of 2 to 10 KHz for the output control, and it has an output voltage range of 0 to the rated voltage, with an output frequency range of 0 to 400Hz. It features an Open Loop with Slip Compensation (Speed Regulation) of ±0.5% of the base speed across a 40: 1-speed range, and it employs the Sensorless Vector control with full tuning and Standard Volt per Hertz control with full custom capability for the motor control. It has an Isolated Gate Bipolar Transistor (IGBT) Dynamic braking option, and it gives users two independent, and programmable Acceleration and deceleration times. It has a 110% overload capability for 1 minute and a 150% capability for 3s, and it provides Class 10 protection with a speed-sensitive response using powerful i²t Algorithm. The 20AB022F0AYNANC0 can withstand a maximum operating shock of 15G for 11ms, and it is built to operate at a temperature range of 0 to 40°C (32 to 104°F) at 5 to 95% humidity. It weighs 9.25kg, with shipping dimensions of 248.4mm x 350mm x 178.6mm, and it has IP20 Flange Mount Enclosure rating, with CL, and C-UL-us certifications.
Order Number:
PowerFlex 70 AC Drives
20AB015A0AYNANC0
20AB015C3AYNANC0
20AB015F0AYNANC0
20AB022A0AYNANC0
20AB022C3AYNANC0
20AB022F0AYNANC0
20AB028A0AYNANC0
20AB028C3AYNANC0
20AB028F0AYNANC0
20AB042A0AYNANC0
20AB042C3AYNANC0
20AB042F0AYNANC0
20AB054A0AYNANC0
20AB054C3AYNANC0
20AB054F0AYNANC0
20AB054G3AYNANC0
20AB070A0AYNANC0
20AB070C3AYNANC0
20AB070F0AYNANC0
20AB070G3AYNANC0
20AB2P2A0AYNANC0
20AB2P2A0AYNNNC0
20AB2P2C3AYNANC0
20AB2P2C3AYNNNC0
20AB2P2F0AYNANC0
20AB2P2F0AYNNNC0
20AB4P2A0AYNANC0
20AB4P2A0AYNNNC0
20AB4P2C3AYNANC0
20AB4P2C3AYNNNC0
20AB4P2F0AYNANC0
20AB4P2F0AYNNNC0
20AB6P8A0AYNANC0
20AB6P8A0AYNNNC0
20AB6P8C3AYNANC0
20AB6P8C3AYNNNC0
20AB6P8F0AYNANC0
20AB6P8F0AYNNNC0
20AB9P6A0AYNANC0
20AB9P6A0AYNNNC0
20AB9P6C3AYNANC0
20AB9P6C3AYNNNC0
20AB9P6F0AYNANC0
20AB9P6F0AYNNNC0
20AC037A0AYNANC0
20AC037C3AYNANC0
20AC043A0AYNANC0
20AC043C3AYNANC0
20AC060A0AYNANC0
20AC060C3AYNANC0
20AC072A0AYNANC0
20AC072C3AYNANC0
20AD011A0AYNANC0
20AD011C3AYNANC0
20AD011F0AYNANC0
20AD014A0AYNANC0
20AD014C3AYNANC0
20AD014F0AYNANC0
20AD022A0AYNANC0
20AD022C3AYNANC0
20AD022F0AYNANC0
20AD027A0AYNANC0
20AD027C3AYNANC0
20AD027F0AYNANC0
20AD034A0AYNANC0
20AD034C3AYNANC0
20AD034F0AYNANC0
20AD040A0AYNANC0
20AD040C3AYNANC0
20AD040F0AYNANC0
20AD052A0AYNANC0
20AD052C3AYNANC0
20AD052F0AYNANC0
20AD052G3AYNANC0
20AD065A0AYNANC0
20AD065C3AYNANC0
20AD065F0AYNANC0
20AD065G3AYNANC0
20AD1P1A0AYNANC0
20AD1P1A0AYNNNC0
20AD1P1C3AYNANC0
20AD1P1C3AYNNNC0
20AD1P1F0AYNANC0
20AD1P1F0AYNNNC0
20AD2P1A0AYNANC0
20AD2P1A0AYNNNC0
20AD2P1C3AYNANC0
20AD2P1C3AYNNNC0
20AD2P1F0AYNANC0
20AD2P1F0AYNNNC0
20AD3P4A0AYNANC0
20AD3P4A0AYNNNC0
20AD3P4C3AYNANC0
20AD3P4C3AYNNNC0
20AD3P4F0AYNANC0
20AD3P4F0AYNNNC0
20AD5P0A0AYNANC0
20AD5P0A0AYNNNC0
20AD5P0C3AYNANC0
20AD5P0C3AYNNNC0
20AD5P0F0AYNANC0
20AD5P0F0AYNNNC0
20AD8P0A0AYNANC0
20AD8P0A0AYNNNC0
20AD8P0C3AYNANC0
20AD8P0C3AYNNNC0
20AD8P0F0AYNANC0
20AD8P0F0AYNNNC0
20AE011A0AYNNNC0
20AE011C3AYNNNC0
20AE011F0AYNNNC0
20AE017A0AYNNNC0
20AE017C3AYNNNC0
20AE017F0AYNNNC0
20AE022A0AYNNNC0
20AE022C3AYNNNC0
20AE022F0AYNNNC0
20AE027A0AYNNNC0
20AE027C3AYNNNC0
20AE027F0AYNNNC0
20AE032A0AYNNNC0
20AE032C3AYNNNC0
20AE032F0AYNNNC0
20AE041A0AYNANC0
20AE041C3AYNANC0
20AE041F0AYNANC0
20AE041G3AYNANC0
20AE052A0AYNANC0
20AE052C3AYNANC0
20AE052F0AYNANC0
20AE052G3AYNANC0
20AE0P9A0AYNNNC0
20AE0P9C3AYNNNC0
20AE0P9F0AYNNNC0
20AE1P7A0AYNNNC0
20AE1P7C3AYNNNC0
20AE1P7F0AYNNNC0
20AE2P7A0AYNNNC0
20AE2P7C3AYNNNC0
20AE2P7F0AYNNNC0
20AE3P9A0AYNNNC0
20AE3P9C3AYNNNC0
20AE3P9F0AYNNNC0
20AE6P1A0AYNNNC0
20AE6P1C3AYNNNC0
20AE6P1F0AYNNNC0
20AE9P0A0AYNNNC0
20AE9P0C3AYNNNC0
20AE9P0F0AYNNNC0
Any inquires, please feel free to contact us via E-mail, thanks!
-----------------------------------
Lily
HONGKONG XIEYUAN TECH CO., LIMITED
T: 86-027-85568699 F: 86-027-85309780
E-mail: lily@hkxytech.com
Add: 7-A16,Caishen Commercial Plaza,Hankou Railway Station,Wuhan, Hubei, China
Web: www.hkxytech.com