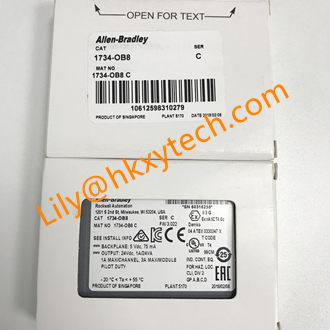 BASIC INFO
Allen Bradley 1734-IB2 POINT I/O Digital DC Sinking Input Module

1734-IB2
Revisions: Ser A Ser B Ser C Ser D
Description: The Allen-Bradley 1734-IB2 is a POINT I/O Digital DC Sinking Input Module. It has 2 Inputs and an Input Voltage of 24 Volts DC with an Input Current Maximum of 5 milliamps. This Digital DC Sinking Input Module has a 0.7 Watts Power Dissipation.
About 1734-IB2
The Allen-Bradley 1734-IB2 is a POINT I/O DC module that has 1 key switch position. This two-input module has a Removable Terminal Block (RTB) on the mounting base and has 1 or 2 groups of 2 sinking inputs per module as its basic attribute. The 1734-IB2 has 0.8 N-m or 7 pounds on an inch terminal base screw torque and a maximum POINT Bus current of 75 mA at 5 Volts DC. It has a 24 Volts DC input voltage, a maximum input current of 5 milliamps, and a 0.7-Watt maximum power dissipation at 28.8 Volts DC.
The network connectivity of the 1734-IB2 includes ControlNet, DeviceNet, EtherNet/IP, and other open networks. Moreover, it has a maximum thermal dissipation at 28.8V DC of 2.4 BTU/hour and it weighs 30.9 grams or 1.09 ounces, approximately. The 1734-IB2 has 56 x 12 x 75.5 millimeters in dimensions and the compact design makes the setup easier. It has open-style enclosure and can be mounted horizontally or vertically. The 1734-IB2 requires a power input ranging from 10 to 28.8 Volts DC or 24 Volts DC nominal. In addition, it has an operating temperature of -20 to 55 degrees Celsius or -4 to 131 degrees Fahrenheit.
Technical Specifications for 1734-IB2
Brand
Allen-Bradley
Part Number/Catalog No.
1734-IB2
Series
POINT I/O
Module Type
Digital DC Sinking Input Module
Inputs
2
Input Voltage
24 Volts DC
Input Current Maximum
5 milliamps
POINTBus Current
75 milliamps
Power Dissipation
0.7 Watts
Power Dissipation
2.4 BTU/hour
Order Number:
150-C25NBD
150-C37NBD
150-C43NBD
150-C480NBD
150-C60NBD
150-C85NBD
150-F108NBD
150-F201NBD
150-F251NBD
150-F317NBD
150-F361NBD
150-F43NBD
150-F85NBD
1606-XLE240E
1606-XLS120E
1734-232ASC
1734-485ASC
1734-ACNR
1734-ADN
1734-AENTR
1734-EP24DC
1734-FPD
1734-IB2
1734-IB4
1734-IB4D
1734-IB8
1734-IB8S
1734-IE2C
1734-IE2V
1734-IE4C
1734-IE8C
1734-IR2
1734-IT2I
1734-IV8
1734-OB4
1734-OB8
1734-OB8E
1734-OB8S
1734-OE2C
1734-OE2V
1734-OE4C
1734-OV8E
1734-OW2
1734-OW4
1734-PDN
1734-SSI
1734-TB
1734-TB3
1734-TBCJC
1734-TBS
1734-TOP
1734-TOP3
1734-TOP3S
1734-TOPS
1746-A13
1746-A4
1746-C9
1746-HSCE
1746-HSCE2
1746-IA16
1746-IB16
1746-IB32
1746-IC16
1746-IM16
1746-IV16
1746-N2
1746-NI16I
1746-NI16V
1746-NI4
1746-NO4I
1746-NR8
1746-NT8
1746-OA16
1746-OB16
1746-OBP16
1746-OV16
1746-OV32
1746-OW8
1746-P1
1746-P3
1746-P4
1747-AENTR
1747-ASB
1747-BA
1747-L532
1747-L533
1747-L541
1747-L543
1747-L551
1747-M13
1747-SDN
1747-SN
1756-A10
1756-A13
1756-A17
1756-A4
1756-A7
1756-BA1
1756-BA2
1756-CN2R
1756-CNB
1756-CNBR
1756-DNB
1756-EN2T
1756-EN2TR
1756-EN3TR
1756-ENBT
1756-ESMNSE
1756-IB16
1756-IB16I
1756-IF16
1756-IF8
1756-IM16I
1756-L61
1756-L71
1756-L71S
1756-L72
1756-L72S
1756-L74
1756-L7SP
1756-LSP
1756-M08SE
1756-N2
1756-OB16D
1756-OB32
1756-OF8
1756-OW16I
1756-PA72
1756-PA75R
1756-PB72
1756-RM2
1756-RMC1
1756-RMC3
1756-RMEN2
1756-TBCH
1756-TBNH
1756-TBS6H
1756-TBSH
1761-CBL-PM02
1761-NET-ENI
1762-IF2OF2
1762-IF4
1762-IQ16
1762-IQ32T
1762-IQ8
1762-IQ8OW6
1762-IR4
1762-IT4
1762-L24BWA
1762-L24BWAR
1762-L24BXB
1762-L40BWA
1762-L40BWAR
1762-OB16
1762-OB32T
1762-OB8
1762-OF4
1762-OW16
1762-OW8
1763-L16AWA
1763-L16BBB
1763-L16DWD
1763-MM1
1763-NC01
1764-24BWA
1764-LRP
1766-L32AWA
1766-L32AWAA
1766-L32BWA
1766-L32BWAA
1766-L32BXB
1766-MM1
1768-L43
1768-PA3
1768-PB3
1769-ADN
1769-BA
1769-CRR1
1769-ECR
1769-HSC
1769-IF16C
1769-IF16V
1769-IF4
1769-IF4XOF2
1769-IF8
1769-IM12
1769-IQ16
1769-IQ16F
1769-IQ32
1769-IQ32T
1769-IR6
1769-IT6
1769-L16ER-BB1B
1769-L18ER-BB1B
1769-L19ER-BB1B
1769-L24ER-QB1B
1769-L24ER-QBFC1B
1769-L30ER
1769-L30ERM
1769-L30ER-NSE
1769-L32E
1769-L33ER
1769-L33ERM
1769-L33ERMS
1769-L35CR
1769-L36ERM
1769-OB16
1769-OB32
1769-OB32T
1769-OB8
1769-OF2
1769-OF4
1769-OF8C
1769-OF8V
1769-OW16
1769-OW8
1769-OW8I
1769-PA2
1769-PA4
1769-PB2
1769-PB4
1769-SDN
1769-SM2
1783-EMS08T
1783-ETAP
1783-MX08T
1783-NATR
1783-US16T
1783-US5T
1783-US8T
1784-CF128
1784-PCIC
1784-PKTX
1784-SD1
1784-SD2
1784-U2CN
1784-U2DHP
1784-U2DN
1786-RG6
1786-RPA
1786-RPCD
1786-TPR
1786-TPS
1786-XT
1787-PLUG10R
1794-ACN15
1794-ACNR15
1794-ADN
1794-AENT
1794-AENTR
1794-CE1
1794-CE3
1794-IB16
1794-IB32
1794-ID2
1794-IE12
1794-IE4XOE2
1794-IE8
1794-IE8XOE4
1794-IF4I
1794-IF8IH
1794-IM16
1794-IR8
1794-IRT8
1794-IT8
1794-OA16
1794-OB16D
1794-OB16P
1794-OB32P
1794-OE12
1794-OE4
1794-OF4I
1794-OW8
1794-PS13
1794-PS3
1794-TB2
1794-TB3
1794-TB32
1794-TB3G
1794-TB3S
1794-TBN
1794-TBNF
20-750-20COMM
20-750-2263C-1R2T
20-750-ENETR
20-750-S
2094-BM02-M
2094-BM02-S
2097-V34PR5-LM
-----------------------------------
Lily
HONGKONG XIEYUAN TECH CO., LIMITED
T: 86-027-85568699 F: 86-027-85309780
E-mail: lily@hkxytech.com
Add: 7-A16,Caishen Commercial Plaza,Hankou Railway Station,Wuhan, Hubei, China
Web: www.hkxytech.com