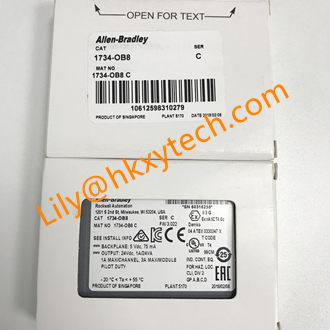 BASIC INFO
Allen Bradley 1734-ACNR Point I/O ControlNet Adapter Module 24V DC

1734-ACNR
Revisions: Ser A
Description: The Allen-Bradley 1734-ACNR is a POINT I/O ControlNet Adapter Module. It has 24 Volts DC Input Voltage and a Inrush Current of 6 amps for 10 milliseconds with an Power Requirements of 425 milliamps. This ControlNet Adapter Module has an 1000 milliamps POINTBus Current.
About 1734-ACNR
The Allen-Bradley 1734-ACNR I/O adapter provides an interface for communicating with and controlling I/O modules from a ControlNet network. This adapter offers several control solutions including high-speed data transfers between I/O devices and controllers. The 1734-ACNR handles redundant media and it supports local communication via the network access port.
With just one 1734-ACNR ControlNet Adapter, multiple I/O control connections can be established. For digital modules, up to 5 rack-optimized, I/O connections can be made per adapter. It also allows up to 25 direct connections for specialty and analog modules. The total number of supported connections in the network depends on the I/O configuration. The I/O capacity can be further expanded to as many as 63 I/O modules using multiple 1734-EP24DC power supplies. It is important to note that the 1734-ACNR can only control I/O modules from Series C or later. The adapter uses a standard 24 Volts DC power supply with 10.2W of maximum power. It has a maximum backplane current of 1 Amps at 5 Volts DC.
Technical Specifications for 1734-ACNR
Brand
Allen-Bradley
Part Number/Catalog No.
1734-ACNR
Series
POINT I/O
Module Type
ControlNet Adapter Module
Input Voltage
24 Volts DC
Inrush Current
6 amps for 10 milliseconds
Power Requirements
425 milliamps
Power Consumption
8 Watts
POINTBus Current
1000 milliamps
Input Overvoltage Protection
Reverse Polarity Protected
Power Dissipation
2.8 Watts (at 28.8 Volts)
Order Number:
150-C25NBD
150-C37NBD
150-C43NBD
150-C480NBD
150-C60NBD
150-C85NBD
150-F108NBD
150-F201NBD
150-F251NBD
150-F317NBD
150-F361NBD
150-F43NBD
150-F85NBD
1606-XLE240E
1606-XLS120E
1734-232ASC
1734-485ASC
1734-ACNR
1734-ADN
1734-AENTR
1734-EP24DC
1734-FPD
1734-IB2
1734-IB4
1734-IB4D
1734-IB8
1734-IB8S
1734-IE2C
1734-IE2V
1734-IE4C
1734-IE8C
1734-IR2
1734-IT2I
1734-IV8
1734-OB4
1734-OB8
1734-OB8E
1734-OB8S
1734-OE2C
1734-OE2V
1734-OE4C
1734-OV8E
1734-OW2
1734-OW4
1734-PDN
1734-SSI
1734-TB
1734-TB3
1734-TBCJC
1734-TBS
1734-TOP
1734-TOP3
1734-TOP3S
1734-TOPS
1746-A13
1746-A4
1746-C9
1746-HSCE
1746-HSCE2
1746-IA16
1746-IB16
1746-IB32
1746-IC16
1746-IM16
1746-IV16
1746-N2
1746-NI16I
1746-NI16V
1746-NI4
1746-NO4I
1746-NR8
1746-NT8
1746-OA16
1746-OB16
1746-OBP16
1746-OV16
1746-OV32
1746-OW8
1746-P1
1746-P3
1746-P4
1747-AENTR
1747-ASB
1747-BA
1747-L532
1747-L533
1747-L541
1747-L543
1747-L551
1747-M13
1747-SDN
1747-SN
1756-A10
1756-A13
1756-A17
1756-A4
1756-A7
1756-BA1
1756-BA2
1756-CN2R
1756-CNB
1756-CNBR
1756-DNB
1756-EN2T
1756-EN2TR
1756-EN3TR
1756-ENBT
1756-ESMNSE
1756-IB16
1756-IB16I
1756-IF16
1756-IF8
1756-IM16I
1756-L61
1756-L71
1756-L71S
1756-L72
1756-L72S
1756-L74
1756-L7SP
1756-LSP
1756-M08SE
1756-N2
1756-OB16D
1756-OB32
1756-OF8
1756-OW16I
1756-PA72
1756-PA75R
1756-PB72
1756-RM2
1756-RMC1
1756-RMC3
1756-RMEN2
1756-TBCH
1756-TBNH
1756-TBS6H
1756-TBSH
1761-CBL-PM02
1761-NET-ENI
1762-IF2OF2
1762-IF4
1762-IQ16
1762-IQ32T
1762-IQ8
1762-IQ8OW6
1762-IR4
1762-IT4
1762-L24BWA
1762-L24BWAR
1762-L24BXB
1762-L40BWA
1762-L40BWAR
1762-OB16
1762-OB32T
1762-OB8
1762-OF4
1762-OW16
1762-OW8
1763-L16AWA
1763-L16BBB
1763-L16DWD
1763-MM1
1763-NC01
1764-24BWA
1764-LRP
1766-L32AWA
1766-L32AWAA
1766-L32BWA
1766-L32BWAA
1766-L32BXB
1766-MM1
1768-L43
1768-PA3
1768-PB3
1769-ADN
1769-BA
1769-CRR1
1769-ECR
1769-HSC
1769-IF16C
1769-IF16V
1769-IF4
1769-IF4XOF2
1769-IF8
1769-IM12
1769-IQ16
1769-IQ16F
1769-IQ32
1769-IQ32T
1769-IR6
1769-IT6
1769-L16ER-BB1B
1769-L18ER-BB1B
1769-L19ER-BB1B
1769-L24ER-QB1B
1769-L24ER-QBFC1B
1769-L30ER
1769-L30ERM
1769-L30ER-NSE
1769-L32E
1769-L33ER
1769-L33ERM
1769-L33ERMS
1769-L35CR
1769-L36ERM
1769-OB16
1769-OB32
1769-OB32T
1769-OB8
1769-OF2
1769-OF4
1769-OF8C
1769-OF8V
1769-OW16
1769-OW8
1769-OW8I
1769-PA2
1769-PA4
1769-PB2
1769-PB4
1769-SDN
1769-SM2
1783-EMS08T
1783-ETAP
1783-MX08T
1783-NATR
1783-US16T
1783-US5T
1783-US8T
1784-CF128
1784-PCIC
1784-PKTX
1784-SD1
1784-SD2
1784-U2CN
1784-U2DHP
1784-U2DN
1786-RG6
1786-RPA
1786-RPCD
1786-TPR
1786-TPS
1786-XT
1787-PLUG10R
1794-ACN15
1794-ACNR15
1794-ADN
1794-AENT
1794-AENTR
1794-CE1
1794-CE3
1794-IB16
1794-IB32
1794-ID2
1794-IE12
1794-IE4XOE2
1794-IE8
1794-IE8XOE4
1794-IF4I
1794-IF8IH
1794-IM16
1794-IR8
1794-IRT8
1794-IT8
1794-OA16
1794-OB16D
1794-OB16P
1794-OB32P
1794-OE12
1794-OE4
1794-OF4I
1794-OW8
1794-PS13
1794-PS3
1794-TB2
1794-TB3
1794-TB32
1794-TB3G
1794-TB3S
1794-TBN
1794-TBNF
20-750-20COMM
20-750-2263C-1R2T
20-750-ENETR
20-750-S
2094-BM02-M
2094-BM02-S
2097-V34PR5-LM



-----------------------------------
Lily
HONGKONG XIEYUAN TECH CO., LIMITED
T: 86-027-85568699 F: 86-027-85309780
E-mail: lily@hkxytech.com
Add: 7-A16,Caishen Commercial Plaza,Hankou Railway Station,Wuhan, Hubei, China
Web: www.hkxytech.com