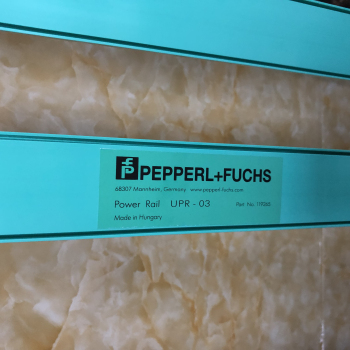 BASIC INFO
Pepperl+Fuchs Universal Power Rail UPR-03 length 2 meters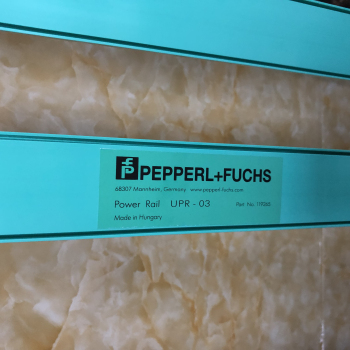 Universal Power Rail UPR-03
35 mm DIN mounting rail with 3-conductor insert
Provides DC supply voltage to all equipped K-System modules
Standard length 2 m (6 foot), simple to customize to application space
Eliminates daisy-chains
Product Description
Universal Power Rail with end caps and cover, 3 conductors, length: 2 m
Electrical specifications
Rated voltage 24 V DC
Rated current 4 A
Ambient conditions
Ambient temperature -20 ... 60 °C (-4 ... 140 °F)
Mechanical specifications
Connection 3 conductors
Supply 2 Conductors
Fault output 1 Conductors
Dimensions 35 x 15 x 2000 mm (1.4 x 0.6 x 78.7 inch)
General information
Scope of delivery - DIN mounting rail UPR-MR
- insert UPR-INS-03
- cover UPR-COVER
- end cap UPR-E
Accessories
Optional accessories - end cap UPR-E
- insulation spacer UPR-I
- DIN mounting rail UPR-MR
- insert UPR-INS-03
- cover UPR-COVER
Function: UPR-03
The Power Rail consists of a DIN mounting rail UPR-MR and a insert UPR-INS-03.
The component has two conductors for power and one conductor for collective error messaging.
The component reduces wiring and maintenance costs because it eliminates the need to daisy-chain the wires. It also simplifies expansion – just snap in a new isolator when you're ready to expand a system.
The component comes in 2 m segments but can be cut to any size.
The Power Rail is delivered with two UPR-E end caps and UPR-COVER cover. All components of the Power Rail can be ordered separately.
In conjunction with K-System modules the component can be mounted in Zone 2.
KCD2-STC-Ex1
KCD2-STC-Ex1.ES
KFD2-CRG2-Ex1.D
KFD2-HLC-Ex1.D
KFD2-HLC-Ex1.D.2W
KFD2-STC4-Ex1
KFD2-STC4-Ex1.2O
KFD2-STC4-Ex1.2O.H
KFD2-STC4-Ex1.H
KFD2-STC4-Ex2
KFU8-CRG2-Ex1.D
KCD2-STC-Ex1.2O
KCD2-STC-Ex1.2O.ES
KCD2-STC-Ex1.ES.SP
KCD2-STC-Ex1.SP
KFD2-STC3-Ex1
KFD2-STC4-Ex1-Y1
KFD2-STC4-Ex1.2O-Y1
KFD2-STC4-Ex1.ES
KFD2-STC4-Ex2-Y1
KFD2-STC5-Ex1
KFD2-STC5-Ex1.2O
KFD2-STC5-Ex1.2O.H
KFD2-STC5-Ex1.H
KFD2-STC5-Ex2
KFD2-STC5-Ex2
KFD2-STC5-Ex2
KFD2-STV4-Ex1.2O-1
KFD2-STV4-Ex2-1
KFD2-STV4-Ex2-2
KFD2-STV5-Ex1-1
KCD2-STC-Ex1.2O.DE
KFD2-HLC-Ex1.D.4S
KFD2-STV4-Ex1.2O-2
KCD2-STC-Ex1.HC
KCD2-STC-Ex1.HC.SP
KFD2-STC4-Ex1
KFD2-STC4-Ex1-Y1
KFD2-STC4-Ex1.2O
KFD2-STC4-Ex1.2O-Y1
KFD2-STC4-Ex1.2O.H
KFD2-STC4-Ex1.H
KFD2-STV4-Ex1-1
KFD2-STV4-Ex1-2
KFD2-STV4-Ex1.2O-1
KFD2-STV4-Ex2-1
KFD2-STV4-Ex2-2
KFD2-STV4-Ex1.2O-2
KFD2-STC3-Ex1
KCD2-STC-Ex1-Y1
KFD2-CRG2-1.D
KFD2-STC5-1
KFD2-STC5-1.2O
KFD2-STC5-2
KFU8-CRG2-1.D
KFU8-VCR-1
KCD2-STC-1
KCD2-STC-1.2O
KCD2-STC-1.SP
KFD2-CR4-1
KFD2-CR4-1.2O
KFD2-STC4-1
KFD2-STC4-1.2O
KFD2-STC4-1.2O-3
KFD2-STC4-2