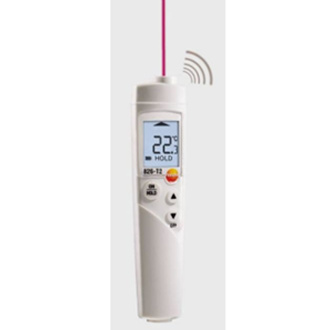 BASIC INFO
Testo 826-T2 Infrared thermometer with laser marking for food
Infrared thermometer measures the temperature without any contact and therefore in a non-destructive manner
6:1 optics and 1-point laser measurement spot marking
Limit value monitoring with min./max. function, visual and acoustic alarm if limit values are exceeded
In conjunction with the protective case TopSafe, the instrument is certified according to EN 13485 (TopSafe is included in the delivery)
Temperature checks are mandatory for ensuring the quality of foodstuffs in Incoming Goods and in food production. Use the testo 826-T2 infrared thermometer to measure the temperature of your products and goods pallets in a non-destructive manner, all in a matter of seconds.
Product Description
The testo 826-T2 for non-contact and fast temperature checks (with laser sighting) can be used easily on food, without damaging any packaging.
The adjustable acoustic alarm sounds immediately when a limit value is exceeded.
Two practical accessory parts are supplied:
1.) The TopSafe case protects the instrument from dust, dirt, impact, and water.
2.) Wall/belt holder for fast positioning of the meter.
Delivery Scope
testo 826-T2 infrared thermometer, including protective TopSafe case, wall/belt holder, and batteries
Temperature - Infrared

Measuring range

-58.0° to 572.0 °F / -50 to +300 °C

Accuracy

±2.7 °F (-4.0° to 212.0 °F) / ±1.5 °C (-20 to +100 °C)

±4 °F or 2 % of mv (Remaining Range) / ±2 °C or 2 % of mv (Remaining Range)

Measuring rate

0.5 sec

Infrared resolution

0.1 °F / 0.1 °C
General technical data

Dimensions

6 x 1.4 x 1 in. / 148 x 34.4 x 19 mm

Operating temperature

-4.0° to 122.0 °F / -20 to +50 °C

Standards

EN 13485

Battery type

2 AAA batteries

Battery life

Approx. 20 h

Display type

LCD

Display size

one-line

Storage temperature

-40.0° to 158.0 °F / -40 to +70 °C

Weight

3 oz. / 80 g
| | | |
| --- | --- | --- |
| Testo 510 | Digital manometer | 0563 0510 |
| Testo 510i | Differential pressure manometer wireless Smart Probe | 0560 1510 |
| Testo 511 | Pocket-sized absolute pressure measuring instrument | 0560 0511 |
| Testo 512 | Pressure and flow velocity measuring instrument 0 to 2 hPa | 0560 5126 |
| Testo 512 | Differential pressure meter | 0560 5127 |
| Testo 512 | Pressure and flow velocity measuring instrument 0 to 200 hPa | 0560 5128 |
| Testo 512 | Pressure and flow velocity measuring instrument 0 to 2000 hPa | 0560 5129 |
| Testo 521-1 | Differential pressure measuring instrument 0 to 100 hPa | 0560 5210 |
| Testo 521-2 | Differential pressure measuring instrument 0 to 100 hPa | 0560 5211 |
| Testo 521-3 | Differential pressure measuring instrument 0 to 2.5 hPa | 0560 5213 |
| Testo 526-1 | Differential pressure measuring instrument 0 to 2000 hPa | 0560 5280 |
| Testo 526-2 | Differential pressure measuring instrument 0 to 2000 hPa | 0560 5281 |
| Testo 535 | CO2 meter | 0560 5350 |
| Testo 549 | Digital manifold | 0560 0550 |
| Testo 549i | Refrigeration pressure wireless Smart Probe | 0560 1549 |
| Testo 550 | Digital manifold kit with Bluetooth | 0563 1550 |
| Testo 557 | 4-Valve digital manifold kit with Bluetooth and external vacuum gauge | 0563 1557 |
| Testo 552 | Digital vacuum / micron gauge with Bluetooth | 0560 5522 |
| Testo 570 | 4-Valve digital manifold kit with data logging | 0563 5702 |
| Testo 605-H1 | Compact thermal hygrometer | 0560 6053 |
| Testo 605-H2 | Compact thermal hygrometer | 0560 6054 |
| Testo 605i | Thermo-hygrometer wireless Smart Probe | 0560 1605 |
| Testo 606-1 | Moisture meter | 0560 6060 |
| Testo 606-2 | Moisture meter | 0560 6062 |
| Testo 608-H1 | Thermal hygrometer | 0560 6081 |
| Testo 608-H2 | Thermal hygrometer | 0560 6082 |
| Testo 610 | Pocket-sized air humidity measuring instrument | 0560 0610 |
| Testo 616 | Moisture meter | 0560 6160 |
| Testo 622 | Thermohygrometer and barometer | 0560 6220 |
| Testo 623 | Thermohygrometer | 0560 6230 |
| Testo 625 | Thermohygrometer | 0563 6251 |
| Testo 635-1 | Humidity measuring instrument | 0560 6351 |
| Testo 635-2 | Temperature and moisture meter | 0563 6352 |
| Testo 645 | Humidity measuring instrument for industry | 0560 6450 |
| Testo 720 | Temperature meter | 0560 7207 |
| Testo 735-1 | 3-Channel temperature measuring instrument | 0560 7351 |
| Testo 735-2 | 3-Channel temperature measuring instrument | 0563 7352 |
| Testo 750-1 | Digital Voltage Tester | 0590 7501 |
| Testo 750-2 | Digital Voltage Tester with GFCI Test | 0590 7502 |
| Testo 750-3 | Digital Voltage Tester with GFCI Test | 0590 7503 |
| Testo 755-1 | Current / Voltage Meter with 200 A AC, 600 V AC/DC, and Continuity | 0590 7551 |
| Testo 755-2 | Current / Voltage Meter Continuity, and Phase Rotation Tester | 0590 7552 |
| Testo 760-1 | Digital multimeter | 0590 7601 |
| Testo 760-2 | Digital multimeter with type K and TRMS | 0590 7602 |
| Testo 760-3 | Digital multimeter with type K, TRMS, and 1,000 V range | 510999 7603 |
| Testo 770-1 | Hook clamp meter | 0590 7701 |
| Testo 770-2 | Hook clamp meter with thermocouple adapter | 0590 7702 |
| Testo 770-3 | Hook clamp and power meter with Bluetooth | 510999 7703 |
| Testo 805i | Infrared thermometer wireless Smart Probe | 0560 1805 |
| Testo 810 | Pocket-sized temperature measuring instrument | 0560 0810 |
| Testo 826-T2 | Infrared thermometer with laser marking for food (6:1 optics) | 0563 8282 |
| Testo 826-T4 | Infrared thermometer with laser marking and penetration probe for food | 0563 8284 |
| Testo 830-T2 kit | Infrared thermometer | 0563 8312 |
| Testo 830-T4 | Infrared thermometer with 2-point laser marking (30:1 optics) | 0560 8314 |
| Testo 830-T4 Set | Infrared thermometer | 0563 8314 |
| Testo 835-T1 | Infrared thermometer | 0560 8351 |
| Testo 835-T2 | Infrared thermometer | 0560 8352 |
| Testo 835-H1 | Infrared thermometer and moisture meter | 0560 8353 |
| Testo 845 | Infrared temperature measuring instrument | 0563 8450 |
| Testo 845 | Infrared temperature measuring instrument with integrated humidity module | 0563 8451 |
| Testo 865 | thermal imager | 0560 8650 |
| Testo 868 | thermal imager with App | 0560 8681 |
| Testo 869 | thermal imager | 0560 8690 |
| Testo 871 | thermal imager with App | 0560 8712 |
-----------------------------------
Lily
HONGKONG XIEYUAN TECH CO., LIMITED
|T: 86-027-85581877 |F: 86-027-85309780 |Mail:lily@whxyauto.com |
Ad: 7-A16,Caishen Commercial Plaza,Hankou Railway Station,Wuhan, Hubei, China
Web: www.hkxytech.com