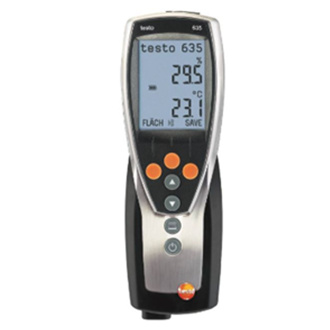 BASIC INFO
Testo 635-1 Humidity measuring instrument 0560 6351
Probes available as an option mean you can measure air humidity, temperature, absolute pressure, and dew point in compressed air
Measures air moisture, material equilibrium moisture, pressure dew point
Calculates dew point and dew point distance
Cyclical printing of readings once a minute, for example
The testo 635-1 temperature and humidity measuring instrument enables you to measure the temperature, air humidity, and dew point – in compressed air as well. State of the art technology and a large selection of probes, which are available optionally, allow for a wide variety of measuring possibilities.
Product Description
The testo 635-1 is for measuring air moisture, material equilibrium moisture, and pressure dew point in compressed air systems. Up to 3 temperature or humidity probes can be displayed; data transmission is radio-controlled, or wireless. Measurement data can be transmitted by infrared to the Testo printer. It is also possible, during cyclical printing, to print measurement data once every minute, for example.
The testo 635-1 immediately displays the dew point difference between ambient air and the wall surface, when analyzing moisture on walls and ceilings.
There are precision probes up to -60°C tpd available to inspect pressure dewpoint in compressed air systems. The humidity sensor developed by Testo has proven itself world-wide and has outstanding features in terms of precision, long-term stability, temperature resistance and robustness.
Delivery Scope
testo 635-1 temperature and humidity measuring instrument, including calibration protocol and batteries
Caution: The instrument can only be commissioned with a probe. These are available separately.
| | | |
| --- | --- | --- |
| Testo 610 | Pocket-sized air humidity measuring instrument | 0560 0610 |
| Testo 616 | Moisture meter | 0560 6160 |
| Testo 622 | Thermohygrometer and barometer | 0560 6220 |
| Testo 623 | Thermohygrometer | 0560 6230 |
| Testo 625 | Thermohygrometer | 0563 6251 |
| Testo 635-1 | Humidity measuring instrument | 0560 6351 |
| Testo 635-2 | Temperature and moisture meter | 0563 6352 |
| Testo 645 | Humidity measuring instrument for industry | 0560 6450 |
| Testo 720 | Temperature meter | 0560 7207 |
| Testo 735-1 | 3-Channel temperature measuring instrument | 0560 7351 |
| Testo 735-2 | 3-Channel temperature measuring instrument | 0563 7352 |
| Testo 750-1 | Digital Voltage Tester | 0590 7501 |
| Testo 750-2 | Digital Voltage Tester with GFCI Test | 0590 7502 |
| Testo 750-3 | Digital Voltage Tester with GFCI Test | 0590 7503 |
| Testo 755-1 | Current / Voltage Meter with 200 A AC, 600 V AC/DC, and Continuity | 0590 7551 |
| Testo 755-2 | Current / Voltage Meter Continuity, and Phase Rotation Tester | 0590 7552 |
| Testo 760-1 | Digital multimeter | 0590 7601 |
| Testo 760-2 | Digital multimeter with type K and TRMS | 0590 7602 |
| Testo 760-3 | Digital multimeter with type K, TRMS, and 1,000 V range | 510999 7603 |
| Testo 770-1 | Hook clamp meter | 0590 7701 |
| Testo 770-2 | Hook clamp meter with thermocouple adapter | 0590 7702 |
| Testo 770-3 | Hook clamp and power meter with Bluetooth | 510999 7703 |
| Testo 805i | Infrared thermometer wireless Smart Probe | 0560 1805 |
| Testo 810 | Pocket-sized temperature measuring instrument | 0560 0810 |
| Testo 826-T2 | Infrared thermometer with laser marking for food (6:1 optics) | 0563 8282 |
| Testo 826-T4 | Infrared thermometer with laser marking and penetration probe for food | 0563 8284 |
| Testo 830-T2 kit | Infrared thermometer | 0563 8312 |
| Testo 830-T4 | Infrared thermometer with 2-point laser marking (30:1 optics) | 0560 8314 |
| Testo 830-T4 Set | Infrared thermometer | 0563 8314 |
| Testo 835-T1 | Infrared thermometer | 0560 8351 |
| Testo 835-T2 | Infrared thermometer | 0560 8352 |
| Testo 835-H1 | Infrared thermometer and moisture meter | 0560 8353 |
| Testo 845 | Infrared temperature measuring instrument | 0563 8450 |
| Testo 845 | Infrared temperature measuring instrument with integrated humidity module | 0563 8451 |
| Testo 865 | thermal imager | 0560 8650 |
| Testo 868 | thermal imager with App | 0560 8681 |
| Testo 869 | thermal imager | 0560 8690 |
| Testo 871 | thermal imager with App | 0560 8712 |
-----------------------------------
Lily
HONGKONG XIEYUAN TECH CO., LIMITED
|T: 86-027-85581877 |F: 86-027-85309780 |Mail:lily@whxyauto.com |
Ad: 7-A16,Caishen Commercial Plaza,Hankou Railway Station,Wuhan, Hubei, China
Web: www.hkxytech.com