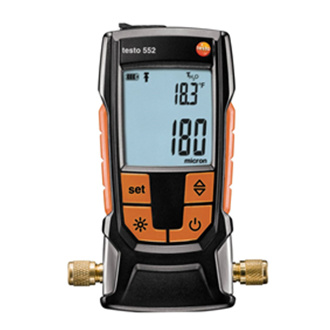 BASIC INFO
Testo 552 Digital vacuum / micron gauge with Bluetooth
Precise and reliable vacuum measurements, 1 micron resolution
Displays the saturation temperature of H2O to ensure full and proper evacuation
Illuminated, backlit display with visual alarm for evacuation pressure
Wireless Bluetooth communication to smartphone or tablet provides powerful analysis and reporting to display data, create reports, and send via email or SMS
The testo 552 digital micron gauge is ideal for monitoring the evacuation of air conditioning, refrigeration, and heat pump systems. It is rich in features that make your work faster, easier, and more accurate.
Product Description
Precise deep vacuum measurements measured at single digit resolutions are carried out with Pirani sensors. The testo 552 provides real-time calculations for the saturation temperature of water, which determines the proper micron / temperature levels at which moisture is removed from the system. These internal calculations inform you when the pressure is low enough to meet your evacuation target. This saves you time, and assures that the system is now free from moisture and contaminants. User defined alarm points alert you when target values are reached.
The new and improved testo 552 with Bluetooth links to your smartphone or device, and to the free testo Smart Probes app.
Delivery Scope
testo 552 digital vacuum / micron gauge with Bluetooth
Absolute Pressure

Measuring range

0 to 0.39 psi / / 0 to 26.66 mbar /

0 to 20000 micron

Accuracy

±(10 micron + 10 % of mv) (100 to 1000 micron)

Resolution

1 micron (0 to 1000 micron) /

10 micron (1000 to 2000 micron) /

100 micron (2000 to 5000 micron) /

Overload

absolute: 87.0 psi / 87 psi / absolute: 6.0 bar / 87 psi

(relative: 72.5 psi / 72 psi) / (relative: 5.0 bar / 72 psi)
General technical data

Dimensions

6 x 4 x 2 in. / 160 x 110 x 50 mm

Operating temperature

14.0° to 122.0 °F / -10 to +50 °C

Protection class

IP42

System requirements

requires iOS 8.3 or newer; requires Android 4.3 or newer; requires mobile end device with Bluetooth 4.0

Battery type

2 x AA

Battery life

50 hrs (without Bluetooth/backlighting)

Connection

2 x 7/16" UNF

Interface

Bluetooth® 4.0 wireless technology

Parameter

mbar; micron; mmHg; Torr; inHg; inH20; hPa; Pa

Measuring rate

0.5 sec

Storage temperature

-4.0° to 122.0 °F / -20 to +50 °C

Weight

18 oz. / 500 g
| | | |
| --- | --- | --- |
| Model | Description | Order Number |
| Testo 103 | Folding food thermometer | 0560 0103 |
| Testo 104 | Waterproof folding food thermometer | 0563 0104 |
| Testo 104-IR | Dual purpose IR and penetration thermometer | 0560 1040 |
| Testo 105 | Food probe thermometer | 0563 1051 |
| Testo 105 set | Food probe thermometer set | 0563 1052 |
| Testo 105 | Food probe thermometer with frozen food measurement tip | 0563 1054 |
| Testo 106 set | Food thermometer kit(with waterproof protective case) | 0563 1063 |
| Testo 108-1 | Waterproof food thermometer | 0563 1080 |
| Testo 108-2 | Waterproof digital food thermometer(lockable Type) | 0563 1082 |
| Testo 110 | One-channel temperature measuring instrument | 0560 1108 |
| Testo 112 | Officially calibratable one-channel temperature measuring instrument | 0560 1128 |
| Testo 115i | Pipe-clamp thermometer wireless Smart Probe | 0560 1115 |
| Testo 174T | Mini temperature data logger | 0572 1560 |
| Testo 174T | Mini temperature data logger kit | 0572 0561 |
| Testo 174H | Mini temperature and humidity data logger | 0572 6560 |
| Testo 174H | Mini temperature and humidity data logger kit | 0572 0566 |
| Testo 175T1 | Temperature data logger | 0572 1751 |
| Testo 175T2 | Temperature data logger | 0572 1752 |
| Testo 175T3 | Temperature data logger | 0572 1753 |
| Testo 175H1 | Temperature and humidity data logger | 0572 1754 |
| Testo 176T1 | One-channel temperature data logger | 0572 1761 |
| Testo 176T2 | Two-channel temperature data logger | 0572 1762 |
| Testo 176T3 | Four-channel temperature data logger | 0572 1763 |
| Testo 176T4 | Four-channel temperature data logger | 0572 1764 |
| Testo 176H1 | Four-channel humidity and temperature data logger | 0572 1765 |
| Testo 176H2 | Four-channel humidity and temperature data logger | 0572 1766 |
| Testo 176P1 | Five-channel pressure, temperature, and RH data logger | 0572 1767 |
| Testo 184 T1 | Short-term temperature USB transport data logger | 0572 1841 |
| Testo 184 T2 | Short-term temperature USB transport data logger with LCD display | 0572 1842 |
| Testo 184 T3 | Temperature USB transport data logger with LCD display | 0572 1843 |
| Testo 184 T4 | Cryogenic temperature USB transport data logger | 0572 1844 |
| Testo 184 H1 | Temperature and humidity USB transport data logger with LCD display | 0572 1845 |
| Testo 184 G1 | Temperature, humidity and shock USB transport data logger | 0572 1846 |
| Testo 205 | One-hand pH/temperature measuring instrument | 0563 2051 |
| Testo 205 | One-hand pH/temperature measuring instrument Set | 0563 2052 |
| Testo 270 | Cooking oil tester | 0563 2750 |
| Testo 310 | Residential combustion analyzer kit | 0563 3100 |
| Testo 310 | Residential combustion analyzer kit with printer | 0563 3110 |
| Testo 316-3 | Refrigerant Leak Detector | 0563 3163 |
| Testo 316-4 | Leakage detector for refrigerants | 0563 3164 |
| Testo 320 | Combustion analyzer kit | 0563 3220 70 |
| Testo 405 | Pocket-sized thermal anemometer | 0560 4053 |
| Testo 405i | Hot-wire anemometer wireless Smart Probe | 0560 1405 |
| Testo 410i | Vane anemometer wireless Smart Probe | 0560 1410 |
| Testo 410-1 | Vane anemometer | 0560 4101 |
| Testo 410-2 | Vane anemometer with humidity measurement | 0560 4102 |
| Testo 416 | Small vane anemometer | 0560 4160 |
| Testo 417 | Rotating vane anemometer | 0560 4170 |
| Testo 420 | Air flow capture hood | 0563 4200 |
| Testo 425 | Hot wire anemometer | 0560 4251 |
| Testo 435-1 | Multifunction meter | 0560 4351 |
| Testo 435-2 | Multifunction meter w/ memory and software | 0563 4352 |
| Testo 435-3 | Multifunction meter w/ integrated differential pressure | 0560 4353 |
| Testo 435-4 | Multifunction meter w/ memory, software, and differential pressure | 0563 4354 |
| Testo 445 | Service instrument for air conditioning / ventilation systems | 0560 4450 |
| Testo 460 | Tachometer | 0560 0460 |
| Testo 465 | Tachometer kit | 0563 0465 |
| Testo 470 | Tachometer kit | 0563 0470 |
| Testo 476 | Pocket StrobeTM handheld stroboscope | 0563 4760 |
| Testo 477 | LED stroboscope | 0563 4770 |
| Testo 510 | Digital manometer | 0563 0510 |
| Testo 510i | Differential pressure manometer wireless Smart Probe | 0560 1510 |
| Testo 511 | Pocket-sized absolute pressure measuring instrument | 0560 0511 |
| Testo 512 | Pressure and flow velocity measuring instrument 0 to 2 hPa | 0560 5126 |
| Testo 512 | Differential pressure meter | 0560 5127 |
| Testo 512 | Pressure and flow velocity measuring instrument 0 to 200 hPa | 0560 5128 |
| Testo 512 | Pressure and flow velocity measuring instrument 0 to 2000 hPa | 0560 5129 |
| Testo 521-1 | Differential pressure measuring instrument 0 to 100 hPa | 0560 5210 |
| Testo 521-2 | Differential pressure measuring instrument 0 to 100 hPa | 0560 5211 |
| Testo 521-3 | Differential pressure measuring instrument 0 to 2.5 hPa | 0560 5213 |
| Testo 526-1 | Differential pressure measuring instrument 0 to 2000 hPa | 0560 5280 |
| Testo 526-2 | Differential pressure measuring instrument 0 to 2000 hPa | 0560 5281 |
| Testo 535 | CO2 meter | 0560 5350 |
| Testo 549 | Digital manifold | 0560 0550 |
| Testo 549i | Refrigeration pressure wireless Smart Probe | 0560 1549 |
| Testo 550 | Digital manifold kit with Bluetooth | 0563 1550 |
| Testo 557 | 4-Valve digital manifold kit with Bluetooth and external vacuum gauge | 0563 1557 |
| Testo 552 | Digital vacuum / micron gauge with Bluetooth | 0560 5522 |
| Testo 570 | 4-Valve digital manifold kit with data logging | 0563 5702 |
| Testo 605-H1 | Compact thermal hygrometer | 0560 6053 |
| Testo 605-H2 | Compact thermal hygrometer | 0560 6054 |
| Testo 605i | Thermo-hygrometer wireless Smart Probe | 0560 1605 |
| Testo 606-1 | Moisture meter | 0560 6060 |
| Testo 606-2 | Moisture meter | 0560 6062 |
| Testo 608-H1 | Thermal hygrometer | 0560 6081 |
| Testo 608-H2 | Thermal hygrometer | 0560 6082 |
| Testo 610 | Pocket-sized air humidity measuring instrument | 0560 0610 |
| Testo 616 | Moisture meter | 0560 6160 |
| Testo 622 | Thermohygrometer and barometer | 0560 6220 |
| Testo 623 | Thermohygrometer | 0560 6230 |
| Testo 625 | Thermohygrometer | 0563 6251 |
| Testo 635-1 | Humidity measuring instrument | 0560 6351 |
| Testo 635-2 | Temperature and moisture meter | 0563 6352 |
| Testo 645 | Humidity measuring instrument for industry | 0560 6450 |
| Testo 720 | Temperature meter | 0560 7207 |
| Testo 735-1 | 3-Channel temperature measuring instrument | 0560 7351 |
| Testo 735-2 | 3-Channel temperature measuring instrument | 0563 7352 |
| Testo 750-1 | Digital Voltage Tester | 0590 7501 |
| Testo 750-2 | Digital Voltage Tester with GFCI Test | 0590 7502 |
| Testo 750-3 | Digital Voltage Tester with GFCI Test | 0590 7503 |
| Testo 755-1 | Current / Voltage Meter with 200 A AC, 600 V AC/DC, and Continuity | 0590 7551 |
| Testo 755-2 | Current / Voltage Meter with 200 A AC, 1000 V AC/DC, Continuity, and Phase Rotation Tester | 0590 7552 |
| Testo 760-1 | Digital multimeter | 0590 7601 |
| Testo 760-2 | Digital multimeter with type K and TRMS | 0590 7602 |
| Testo 760-3 | Digital multimeter with type K, TRMS, and 1,000 V range | 510999 7603 |
| Testo 770-1 | Hook clamp meter | 0590 7701 |
| Testo 770-2 | Hook clamp meter with thermocouple adapter | 0590 7702 |
| Testo 770-3 | Hook clamp and power meter with Bluetooth | 510999 7703 |
| Testo 805i | Infrared thermometer wireless Smart Probe | 0560 1805 |
| Testo 810 | Pocket-sized temperature measuring instrument | 0560 0810 |
| Testo 826-T2 | Infrared thermometer with laser marking for food (6:1 optics) | 0563 8282 |
| Testo 826-T4 | Infrared thermometer with laser marking and penetration probe for food | 0563 8284 |
| Testo 830-T2 kit | Infrared thermometer | 0563 8312 |
| Testo 830-T4 | Infrared thermometer with 2-point laser marking (30:1 optics) | 0560 8314 |
| Testo 830-T4 Set | Infrared thermometer | 0563 8314 |
| Testo 835-T1 | Infrared thermometer | 0560 8351 |
| Testo 835-T2 | Infrared thermometer | 0560 8352 |
| Testo 835-H1 | Infrared thermometer and moisture meter | 0560 8353 |
| Testo 845 | Infrared temperature measuring instrument | 0563 8450 |
| Testo 845 | with integrated humidity module - Infrared temperature measuring instrument with integrated humidity module | 0563 8451 |
| Testo 865 | thermal imager | 0560 8650 |
| Testo 868 | thermal imager with App | 0560 8681 |
| Testo 869 | thermal imager | 0560 8690 |
| Testo 871 | thermal imager with App | 0560 8712 |
| | | |
| | | |
| | | |
-----------------------------------
Lily
HONGKONG XIEYUAN TECH CO., LIMITED
|T: 86-027-85581877 |F: 86-027-85309780 |Mail:lily@whxyauto.com |
Ad: 7-A16,Caishen Commercial Plaza,Hankou Railway Station,Wuhan, Hubei, China
Web: www.hkxytech.com