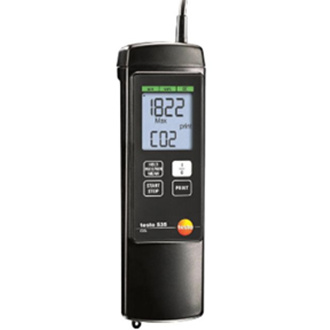 BASIC INFO
Testo 535 CO2 meter measurements Order-No 0560 5350
Quick and accurate CO2 measurements
Long term measurements using max / avg values
Long term stable / maintenance free infrared sensor
Optional testo turbo printer for printouts on site
Ideal for monitoring and optimizing the ambient air, the testo 535 CO2 meter with a maintenance free, long term stable sensor.
Product Description
The average American spends about 90 percent of their time in closed rooms. The room climate often has a considerable effect on our health and overall wellbeing. There's a big difference if the air – such as in an office – is fresh and invigorating, or if it's heavy and stale. Stale air can cause fatigue and tiredness, and considerable discomfort. It can also lead to a lack of concentration, and have a detrimental effect on your health. The testo 535 CO2 meter is designed to measure the CO2 concentration in the ambient air, because stale air has much higher CO2 levels than fresh air.
Areas of application and benefits of the testo 535 CO2 meter
The testo 535 CO2 meter is ideal for monitoring / optimizing room climate, such as in offices. It can also be used to check if existing AC and ventilation systems provide rooms with enough fresh air.
The high precision, long term stable, 2-channel IR sensor measures the CO2 concentration in the ambient air. The 2-channel infrared sensor is maintenance free and can be used for long term measurements. The readings from such measurements can be analyzed using min / max and average values, which can be displayed at the touch of a key.
The optional testo turbo printer can provide you with measuring data printouts that include both the time and date, while you are still on site. The optional TopSafe protective cover protects your meter against impact and dirt and water ingress.
Delivery Scope
testo 535 CO2 meter with permanently attached sensor, calibration certificate, and batteries
Ambient CO₂

Measuring range

0 to 9999 ppm

0 to 0.999 Vol.%

Accuracy

0 to 5000 ppm: ±(75 ppm + 3 % of mv)

5001 to 9999 ppm: ±(150 ppm + 5 % of mv)

Resolution

1 ppm

0.001 Vol.%
General technical data

Dimensions

7 x 2 x 2 in. / 190 x 57 x 42 mm

Operating temperature

32° to 122 °F / 0 to +50 °C

Housing

ABS

Measuring medium

Air

Auto-off instrument

10 min

Battery type

9V block battery

Battery life

6 h

Display type

LCD

Display size

2 lines

Storage temperature

-4° to 158 °F / -20 to +70 °C

Weight

11 oz. / 300 g
| | | |
| --- | --- | --- |
| Testo 535 | CO2 meter | 0560 5350 |
| Testo 549 | Digital manifold | 0560 0550 |
| Testo 549i | Refrigeration pressure wireless Smart Probe | 0560 1549 |
| Testo 550 | Digital manifold kit with Bluetooth | 0563 1550 |
| Testo 557 | 4-Valve digital manifold kit with Bluetooth and external vacuum gauge | 0563 1557 |
| Testo 552 | Digital vacuum / micron gauge with Bluetooth | 0560 5522 |
| Testo 570 | 4-Valve digital manifold kit with data logging | 0563 5702 |
| Testo 605-H1 | Compact thermal hygrometer | 0560 6053 |
| Testo 605-H2 | Compact thermal hygrometer | 0560 6054 |
| Testo 605i | Thermo-hygrometer wireless Smart Probe | 0560 1605 |
| Testo 606-1 | Moisture meter | 0560 6060 |
| Testo 606-2 | Moisture meter | 0560 6062 |
| Testo 608-H1 | Thermal hygrometer | 0560 6081 |
| Testo 608-H2 | Thermal hygrometer | 0560 6082 |
| Testo 610 | Pocket-sized air humidity measuring instrument | 0560 0610 |
| Testo 616 | Moisture meter | 0560 6160 |
| Testo 622 | Thermohygrometer and barometer | 0560 6220 |
| Testo 623 | Thermohygrometer | 0560 6230 |
| Testo 625 | Thermohygrometer | 0563 6251 |
| Testo 635-1 | Humidity measuring instrument | 0560 6351 |
| Testo 635-2 | Temperature and moisture meter | 0563 6352 |
| Testo 645 | Humidity measuring instrument for industry | 0560 6450 |
| Testo 720 | Temperature meter | 0560 7207 |
| Testo 735-1 | 3-Channel temperature measuring instrument | 0560 7351 |
| Testo 735-2 | 3-Channel temperature measuring instrument | 0563 7352 |
| Testo 750-1 | Digital Voltage Tester | 0590 7501 |
| Testo 750-2 | Digital Voltage Tester with GFCI Test | 0590 7502 |
| Testo 750-3 | Digital Voltage Tester with GFCI Test | 0590 7503 |
| Testo 755-1 | Current / Voltage Meter with 200 A AC, 600 V AC/DC, and Continuity | 0590 7551 |
| Testo 755-2 | Current / Voltage Meter with 200 A AC, 1000 V AC/DC, Continuity, and Phase Rotation Tester | 0590 7552 |
| Testo 760-1 | Digital multimeter | 0590 7601 |
| Testo 760-2 | Digital multimeter with type K and TRMS | 0590 7602 |
| Testo 760-3 | Digital multimeter with type K, TRMS, and 1,000 V range | 510999 7603 |
| Testo 770-1 | Hook clamp meter | 0590 7701 |
| Testo 770-2 | Hook clamp meter with thermocouple adapter | 0590 7702 |
| Testo 770-3 | Hook clamp and power meter with Bluetooth | 510999 7703 |
| Testo 805i | Infrared thermometer wireless Smart Probe | 0560 1805 |
| Testo 810 | Pocket-sized temperature measuring instrument | 0560 0810 |
| Testo 826-T2 | Infrared thermometer with laser marking for food (6:1 optics) | 0563 8282 |
| Testo 826-T4 | Infrared thermometer with laser marking and penetration probe for food (6:1 optics) | 0563 8284 |
| Testo 830-T2 kit | Infrared thermometer | 0563 8312 |
| Testo 830-T4 | Infrared thermometer with 2-point laser marking (30:1 optics) | 0560 8314 |
| Testo 830-T4 Set | Infrared thermometer | 0563 8314 |
| Testo 835-T1 | Infrared thermometer | 0560 8351 |
| Testo 835-T2 | Infrared thermometer | 0560 8352 |
| Testo 835-H1 | Infrared thermometer and moisture meter | 0560 8353 |
| Testo 845 | Infrared temperature measuring instrument | 0563 8450 |
| Testo 845 | with integrated humidity module - Infrared temperature measuring instrument with integrated humidity module | 0563 8451 |
| Testo 865 | thermal imager | 0560 8650 |
| Testo 868 | thermal imager with App | 0560 8681 |
| Testo 869 | thermal imager | 0560 8690 |
| Testo 871 | thermal imager with App | 0560 8712 |
-----------------------------------
Lily
HONGKONG XIEYUAN TECH CO., LIMITED
|T: 86-027-85581877 |F: 86-027-85309780 |Mail:lily@whxyauto.com |
Ad: 7-A16,Caishen Commercial Plaza,Hankou Railway Station,Wuhan, Hubei, China
Web: www.hkxytech.com