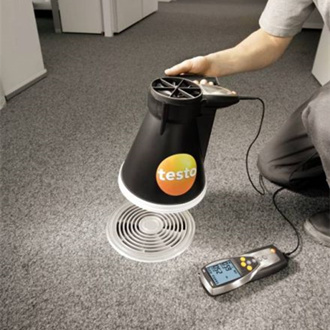 BASIC INFO
Testo 435-1 Multifunction meter Order-No 0560 4351
Wide array of probes available for various applications
Optional wireless (RF) temperature probes for remote measurement
Backlit LCD for easy viewing
Optional printer allows for easy documenting of measured data
The testo 435-1 is an economic multifunction meter capable of monitoring, analyzing, and diagnosing indoor air quality. In addition, you can easily pinpoint and troubleshoot airflow problems with HVAC systems, and immediately see the results of corrections. Commissioning, validating, benchmarking, or simpy adjusting HVAC systems are all easy with the testo 435-1.
Product Description
The testo 435-1 multifunction meter allows you to carry out the measurements that are necessary to check and adjust the airflow of air conditioning systems, and to assess the quality of indoor air. The testo 435-1 multifunction meter accepts a wide variety of probes to measure and record airflow, temperature, and indoor air quality readings.
Probe dependent menus and selectable user profiles ensure that the testo 435-1 multifunction meter is always ready to use. Easy setup of user defined IAQ and airflow / duct profiles allow for fast measurement of many different tasks, and with a wide variety of probe choices available, the testo 435-1 is ready to handle a vast array of indoor air quality applications.
testo 435-1 highlights:
Ideal for spot check measurements
Wired, or wireless temperature probes
IP54 Protection class
Delivery Scope
testo 435-1, batteries, and conformity certificate
| | | |
| --- | --- | --- |
| Model | Description | Order Number |
| Testo 103 | Folding food thermometer | 0560 0103 |
| Testo 104 | Waterproof folding food thermometer | 0563 0104 |
| Testo 104-IR | Dual purpose IR and penetration thermometer | 0560 1040 |
| Testo 105 | Food probe thermometer | 0563 1051 |
| Testo 105 set | Food probe thermometer set | 0563 1052 |
| Testo 105 | Food probe thermometer with frozen food measurement tip | 0563 1054 |
| Testo 106 set | Food thermometer kit(with waterproof protective case) | 0563 1063 |
| Testo 108-1 | Waterproof food thermometer | 0563 1080 |
| Testo 108-2 | Waterproof digital food thermometer(lockable Type) | 0563 1082 |
| Testo 110 | One-channel temperature measuring instrument | 0560 1108 |
| Testo 112 | Officially calibratable one-channel temperature measuring instrument | 0560 1128 |
| Testo 115i | Pipe-clamp thermometer wireless Smart Probe | 0560 1115 |
| Testo 174T | Mini temperature data logger | 0572 1560 |
| Testo 174T | Mini temperature data logger kit | 0572 0561 |
| Testo 174H | Mini temperature and humidity data logger | 0572 6560 |
| Testo 174H | Mini temperature and humidity data logger kit | 0572 0566 |
| Testo 175T1 | Temperature data logger | 0572 1751 |
| Testo 175T2 | Temperature data logger | 0572 1752 |
| Testo 175T3 | Temperature data logger | 0572 1753 |
| Testo 175H1 | Temperature and humidity data logger | 0572 1754 |
| Testo 176T1 | One-channel temperature data logger | 0572 1761 |
| Testo 176T2 | Two-channel temperature data logger | 0572 1762 |
| Testo 176T3 | Four-channel temperature data logger | 0572 1763 |
| Testo 176T4 | Four-channel temperature data logger | 0572 1764 |
| Testo 176H1 | Four-channel humidity and temperature data logger | 0572 1765 |
| Testo 176H2 | Four-channel humidity and temperature data logger | 0572 1766 |
| Testo 176P1 | Five-channel pressure, temperature, and RH data logger | 0572 1767 |
| Testo 184 T1 | Short-term temperature USB transport data logger | 0572 1841 |
| Testo 184 T2 | Short-term temperature USB transport data logger with LCD display | 0572 1842 |
| Testo 184 T3 | Temperature USB transport data logger with LCD display | 0572 1843 |
| Testo 184 T4 | Cryogenic temperature USB transport data logger | 0572 1844 |
| Testo 184 H1 | Temperature and humidity USB transport data logger with LCD display | 0572 1845 |
| Testo 184 G1 | Temperature, humidity and shock USB transport data logger | 0572 1846 |
| Testo 205 | One-hand pH/temperature measuring instrument | 0563 2051 |
| Testo 205 | One-hand pH/temperature measuring instrument Set | 0563 2052 |
| Testo 270 | Cooking oil tester | 0563 2750 |
| Testo 310 | Residential combustion analyzer kit | 0563 3100 |
| Testo 310 | Residential combustion analyzer kit with printer | 0563 3110 |
| Testo 316-3 | Refrigerant Leak Detector | 0563 3163 |
| Testo 316-4 | Leakage detector for refrigerants | 0563 3164 |
| Testo 320 | Combustion analyzer kit | 0563 3220 70 |
| Testo 405 | Pocket-sized thermal anemometer | 0560 4053 |
| Testo 405i | Hot-wire anemometer wireless Smart Probe | 0560 1405 |
| Testo 410i | Vane anemometer wireless Smart Probe | 0560 1410 |
| Testo 410-1 | Vane anemometer | 0560 4101 |
| Testo 410-2 | Vane anemometer with humidity measurement | 0560 4102 |
| Testo 416 | Small vane anemometer | 0560 4160 |
| Testo 417 | Rotating vane anemometer | 0560 4170 |
| Testo 420 | Air flow capture hood | 0563 4200 |
| Testo 425 | Hot wire anemometer | 0560 4251 |
| Testo 435-1 | Multifunction meter | 0560 4351 |
| Testo 435-2 | Multifunction meter w/ memory and software | 0563 4352 |
| Testo 435-3 | Multifunction meter w/ integrated differential pressure | 0560 4353 |
| Testo 435-4 | Multifunction meter w/ memory, software, and differential pressure | 0563 4354 |
| Testo 445 | Service instrument for air conditioning / ventilation systems | 0560 4450 |
| Testo 460 | Tachometer | 0560 0460 |
| Testo 465 | Tachometer kit | 0563 0465 |
| Testo 470 | Tachometer kit | 0563 0470 |
| Testo 476 | Pocket StrobeTM handheld stroboscope | 0563 4760 |
| Testo 477 | LED stroboscope | 0563 4770 |
| Testo 510 | Digital manometer | 0563 0510 |
| Testo 510i | Differential pressure manometer wireless Smart Probe | 0560 1510 |
| Testo 511 | Pocket-sized absolute pressure measuring instrument | 0560 0511 |
| Testo 512 | Pressure and flow velocity measuring instrument 0 to 2 hPa | 0560 5126 |
| Testo 512 | Differential pressure meter | 0560 5127 |
| Testo 512 | Pressure and flow velocity measuring instrument 0 to 200 hPa | 0560 5128 |
| Testo 512 | Pressure and flow velocity measuring instrument 0 to 2000 hPa | 0560 5129 |
| Testo 521-1 | Differential pressure measuring instrument 0 to 100 hPa | 0560 5210 |
| Testo 521-2 | Differential pressure measuring instrument 0 to 100 hPa | 0560 5211 |
| Testo 521-3 | Differential pressure measuring instrument 0 to 2.5 hPa | 0560 5213 |
| Testo 526-1 | Differential pressure measuring instrument 0 to 2000 hPa | 0560 5280 |
| Testo 526-2 | Differential pressure measuring instrument 0 to 2000 hPa | 0560 5281 |
-----------------------------------
Lily
HONGKONG XIEYUAN TECH CO., LIMITED
|T: 86-027-85581877 |F: 86-027-85309780 |Mail:lily@whxyauto.com |
Ad: 7-A16,Caishen Commercial Plaza,Hankou Railway Station,Wuhan, Hubei, China
Web: www.hkxytech.com