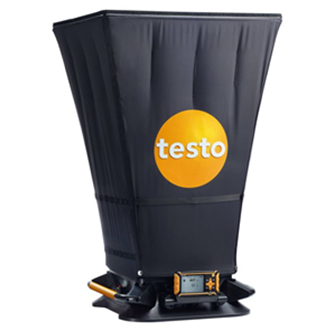 BASIC INFO
Testo 420 Air flow capture hood Order-No: 0563 4200
Product Description
The rugged and durable testo 420 air flow capture hood is an accurate and lightweight air flow instrument.
The hood features a unique flow straightener, which significantly improves measurement accuracy, saving you valuable time on difficult tasks
The testo 420 control unit can be tilted for a more convenient view of the display
The included Bluetooth / app feature allows for wireless connection to mobile devices, for remote monitoring, as well as remote operation
The testo 420 app can send measurement reports directly from the work site via email
For additional convenience, there is an optional tripod when working with high ceilings, as well as four additional flow hood sizes available for complete versatility
The testo 420 is also a CEC approved air flow capture hood
The testo 420 air flow capture hood is ideal for larger air supplies and returns, and enables fast and precise testing and balancing of indoor environmental systems. It provides reliable data with precise calculations of the overall volume flow in HVAC systems.
Volume flow is frequently measured at swirl outlets, and airflow measurements are often incorrectly measured due to the turbulent air from these outlets. Thanks to Testo's volume flow straightener, you can be confident in receiving high measuring accuracy at swirl outlets. The integrated volume flow straightener calms this turbulence and converts it into a virtually uniform air flow. This enables highly accurate calculations of volume flow in the 24 to 2,354 CFM range.
Exceptionally Light
The testo 420 air flow capture hood with ergonomic handles and tiltable display has an exceptional light weight of less than 6.4 lbs. This means that frequent volume flow calculations in large rooms and measurements above head height can be carried out reliably and comfortably. While in use, a large measuring button on the capture hood ensures easy recording of the measurements.
Removable Control Unit
The control unit of the testo 420 enables you to measure flow velocity, volume flow, absolute pressure, temperature, and relative humidity. The automatic zeroing ensures higher accuracy for low pressures. This integrated measuring control unit was not just developed for volume flow measurement at ceiling outlets, as it can be removed from the capture hood and be used for pressure, flow, and volume flow measurements in the duct. You only need to attach a pitot tube and connection hoses (both optional) for measurements in ducts. Timed and multi-point mean calculation, as well as the combination of the two, together with simple input of the duct geometry, provide you with accurate flow measurements in ducts. This means you can save on the purchase of an additional measuring instrument.
testo 420 App
The testo 420 app enables live measurement streaming of HVAC systems using a smartphone or tablet. The app features a start and stop function and enables you to save your measurement data in .txt format, and creates the measurement protocol directly on site. Measurement results, such as the overall volume flow and the air exchange rate, can be directly assigned to customer-specific folder templates. You can then send your readings and protocols via the in-app email function, saving you a considerable amount of time and increasing efficiency.
Delivery Scope
0563 4200 – testo 420 air flow capture hood base with Bluetooth, 24" x 24" capture hood with flow straightener, USB cable, batteries, and soft case with telescoping handle and wheels
400563 4200 – testo 420 air flow capture hood base with Bluetooth, 24" x 24" capture hood with flow straightener, USB cable, batteries, soft case with telescoping handle and wheels, and NIST certificate
Rugged and durable 24" x 24" air flow capture hood weighs less than 6.4 lbs (with base)
Large, tiltable, removable backlit display makes readings easy to see
Flow straightener for more precise measurement at turbulent outlets
App integration via Bluetooth for fast and easy monitoring and reporting on site
The CEC compliant testo 420 air flow capture hood with Bluetooth is the accurate, lightweight, and convenient solution for measuring volume flows at supplies and returns. Handling this air flow capture hood with its flow straightener and tiltable display is especially easy, with its low weight of less than 6.4 lbs, 24" x 24" included hood dimensions, and ergonomic handles.
Temperature - NTC

Measuring range

-4° to 158 °F / -20 to +70 °C

Accuracy

±1 °F (32° to 158 °F) / ±0.5 °C (0 to +70 °C)

±1.4 °F (-4° to 32 °F) / ±0.8 °C (-20 to +0 °C)

Resolution

0.1 °F / 0.1 °C

Reaction time

45 sec (t90)
Humidity - Capacitive

Measuring range

0 to 100 %rH

Accuracy

±1.8 %rH + 3 % of mv at +77 °F / ±1.8 %RH + 3 % of mv at +25 °C

(5 to 80 %rH)

Resolution

0.1 %rH
Differential Pressure

Measuring range

-0.480 to 0.480 InH₂O / -120 to +120 Pa

Accuracy

±2 % of mv + 0.002 InH₂O at +72 °F, 405 InH₂O / ±2 % of mv + 0.5 Pa at +22 °C, 1013 hPa

Resolution

0.001 InH₂O / 0.001 Pa

Reaction time

1 sec (t90)
Absolute Pressure

Measuring range

280 to 440 InH₂O / 700 to 1100 hPa

Accuracy

±1 InH₂O / ±3 hPa

Resolution

0.1 InH₂O / 0.1 hPa

Reaction time

1 sec
Volume flow

Measuring range

24 to 2354 CFM / 40 to 4000 m³/h

Accuracy

±3 % of mv + 7 CFM at +72 °F / ±3 % of mv + 12 m³/h at +22 °C

405 InH₂O (50 to 2060 CFM) / 1013 hPa (85 to 3500 m³/h)

Resolution

1 CFM / 1 m³/h

Reaction time

1 sec (t90)
General technical data

Dimensions

24 x 24 in. (Standard hood) / 610 x 610 mm (Standard hood)

Operating temperature

23° to 122 °F / -5 to +50 °C

EU-/EG-guidelines

EU-guideline 2014/30/EU

Battery type

Alkaline, type AA

Battery life

40 h

Display size

3.5"

Display function

Dot matrix

Display ligthing

with illumination

Interface

Micro-USB; Bluetooth® 4.0 wireless technology

Memory

2 GB (internal)

Storage temperature

-4° to 140 °F / -20 to +60 °C

Weight

102 oz. / 2900 g
| | | |
| --- | --- | --- |
| Model | Description | Order Number |
| Testo 103 | Folding food thermometer | 0560 0103 |
| Testo 104 | Waterproof folding food thermometer | 0563 0104 |
| Testo 104-IR | Dual purpose IR and penetration thermometer | 0560 1040 |
| Testo 105 | Food probe thermometer | 0563 1051 |
| Testo 105 set | Food probe thermometer set | 0563 1052 |
| Testo 105 | Food probe thermometer with frozen food measurement tip | 0563 1054 |
| Testo 106 set | Food thermometer kit(with waterproof protective case) | 0563 1063 |
| Testo 108-1 | Waterproof food thermometer | 0563 1080 |
| Testo 108-2 | Waterproof digital food thermometer(lockable Type) | 0563 1082 |
| Testo 110 | One-channel temperature measuring instrument | 0560 1108 |
| Testo 112 | Officially calibratable one-channel temperature measuring instrument | 0560 1128 |
| Testo 115i | Pipe-clamp thermometer wireless Smart Probe | 0560 1115 |
| Testo 174T | Mini temperature data logger | 0572 1560 |
| Testo 174T | Mini temperature data logger kit | 0572 0561 |
| Testo 174H | Mini temperature and humidity data logger | 0572 6560 |
| Testo 174H | Mini temperature and humidity data logger kit | 0572 0566 |
| Testo 175T1 | Temperature data logger | 0572 1751 |
| Testo 175T2 | Temperature data logger | 0572 1752 |
| Testo 175T3 | Temperature data logger | 0572 1753 |
| Testo 175H1 | Temperature and humidity data logger | 0572 1754 |
| Testo 176T1 | One-channel temperature data logger | 0572 1761 |
| Testo 176T2 | Two-channel temperature data logger | 0572 1762 |
| Testo 176T3 | Four-channel temperature data logger | 0572 1763 |
| Testo 176T4 | Four-channel temperature data logger | 0572 1764 |
| Testo 176H1 | Four-channel humidity and temperature data logger | 0572 1765 |
| Testo 176H2 | Four-channel humidity and temperature data logger | 0572 1766 |
| Testo 176P1 | Five-channel pressure, temperature, and RH data logger | 0572 1767 |
| Testo 184 T1 | Short-term temperature USB transport data logger | 0572 1841 |
| Testo 184 T2 | Short-term temperature USB transport data logger with LCD display | 0572 1842 |
| Testo 184 T3 | Temperature USB transport data logger with LCD display | 0572 1843 |
| Testo 184 T4 | Cryogenic temperature USB transport data logger | 0572 1844 |
| Testo 184 H1 | Temperature and humidity USB transport data logger with LCD display | 0572 1845 |
| Testo 184 G1 | Temperature, humidity and shock USB transport data logger | 0572 1846 |
| Testo 205 | One-hand pH/temperature measuring instrument | 0563 2051 |
| Testo 205 | One-hand pH/temperature measuring instrument Set | 0563 2052 |
| Testo 270 | Cooking oil tester | 0563 2750 |
| Testo 310 | Residential combustion analyzer kit | 0563 3100 |
| Testo 310 | Residential combustion analyzer kit with printer | 0563 3110 |
| Testo 316-3 | Refrigerant Leak Detector | 0563 3163 |
| Testo 316-4 | Leakage detector for refrigerants | 0563 3164 |
| Testo 320 | Combustion analyzer kit | 0563 3220 70 |
| Testo 405 | Pocket-sized thermal anemometer | 0560 4053 |
| Testo 405i | Hot-wire anemometer wireless Smart Probe | 0560 1405 |
| Testo 410i | Vane anemometer wireless Smart Probe | 0560 1410 |
| Testo 410-1 | Vane anemometer | 0560 4101 |
| Testo 410-2 | Vane anemometer with humidity measurement | 0560 4102 |
| Testo 416 | Small vane anemometer | 0560 4160 |
| Testo 417 | Rotating vane anemometer | 0560 4170 |
| Testo 420 | Air flow capture hood | 0563 4200 |
| Testo 425 | Hot wire anemometer | 0560 4251 |
| Testo 435-1 | Multifunction meter | 0560 4351 |
| Testo 435-2 | Multifunction meter w/ memory and software | 0563 4352 |
| Testo 435-3 | Multifunction meter w/ integrated differential pressure | 0560 4353 |
| Testo 435-4 | Multifunction meter w/ memory, software, and differential pressure | 0563 4354 |
| Testo 445 | Service instrument for air conditioning / ventilation systems | 0560 4450 |
| Testo 460 | Tachometer | 0560 0460 |
| Testo 465 | Tachometer kit | 0563 0465 |
| Testo 470 | Tachometer kit | 0563 0470 |
| Testo 476 | Pocket StrobeTM handheld stroboscope | 0563 4760 |
| Testo 477 | LED stroboscope | 0563 4770 |
| Testo 510 | Digital manometer | 0563 0510 |
| Testo 510i | Differential pressure manometer wireless Smart Probe | 0560 1510 |
| Testo 511 | Pocket-sized absolute pressure measuring instrument | 0560 0511 |
| Testo 512 | Pressure and flow velocity measuring instrument 0 to 2 hPa | 0560 5126 |
| Testo 512 | Differential pressure meter | 0560 5127 |
| Testo 512 | Pressure and flow velocity measuring instrument 0 to 200 hPa | 0560 5128 |
| Testo 512 | Pressure and flow velocity measuring instrument 0 to 2000 hPa | 0560 5129 |
| Testo 521-1 | Differential pressure measuring instrument 0 to 100 hPa | 0560 5210 |
| Testo 521-2 | Differential pressure measuring instrument 0 to 100 hPa | 0560 5211 |
| Testo 521-3 | Differential pressure measuring instrument 0 to 2.5 hPa | 0560 5213 |
| Testo 526-1 | Differential pressure measuring instrument 0 to 2000 hPa | 0560 5280 |
| Testo 526-2 | Differential pressure measuring instrument 0 to 2000 hPa | 0560 5281 |
-----------------------------------
Lily
HONGKONG XIEYUAN TECH CO., LIMITED
|T: 86-027-85581877 |F: 86-027-85309780 |Mail:lily@whxyauto.com |
Ad: 7-A16,Caishen Commercial Plaza,Hankou Railway Station,Wuhan, Hubei, China
Web: www.hkxytech.com