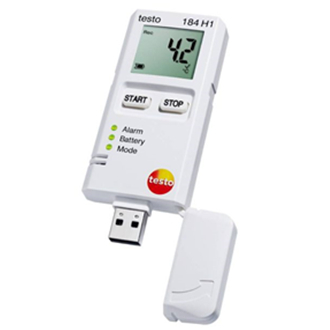 BASIC INFO
Testo 184 H1 Temperature humidity USB transport data logger LCD display

Long battery life of up to 500 consecutive days of use with a large memory capable of storing 64,000 readings
Replaceable battery for unlimited use
PDF Reports allow for quick access to non-corruptible documentation - without installed software!
NFC (Near Field Communication) allows for easy access of documentation with a compatible device
The testo 184 H1 logger is capable of monitoring temperature and humidity levels during cold chain transportation. Its large, easy to read LCD display shows readouts in real time. Its LED status lights alert when specified limits have been exceeded. With configuration, reports, and calibration certificates on-board, the 184 makes transport monitoring and documentation of sensitive goods easy.
Product Description
The testo 184 H1 temperature and humidity logger is ideal for both pharmaceutical and food cold chain logistics. Configuration of the testo 184 logger is as simple as plugging into a USB port and customizing the included PDF file. With clear indication of configurable alarm settings, including measurement frequency, temperature or humidty range, and start and end times, ensuring proper cold chain transportation has never been easier. For international shipping, different languages can be independently configured for the recipient or shipper. Available in packs of 1, 10, or 50, configuring mutiple devices is as simple as drag and drop.
NFC communication to compatible devices allows for unaltered documentation to display immediately
Easy configuration on any computer with pre-loaded files
On-board electronic calibration certificate eliminates the hassles of maintaining traceabilty
IP30 protection class
GxP, ISO 9001:2008, FDA 21 CFR Part 11, EN 12830, and HACCP International compliant
Delivery Scope
testo 184 H1 temperature and humidity logger and adhesive installation pad


Temperature - NTC

Measuring range

-4.0° to 158.0 °F / -20 to +70 °C

Accuracy

±0.9 °F (32.0° to 158.0 °F) / ±0.5 °C (0 to +70 °C)

±1.4 °F (-4.0° to 32.0 °F) / ±0.8 °C (-20 to 0 °C)

Resolution

0.1 °F / 0.1 °C
Humidity - Capacitive

Measuring range

0 to 100 %rH

Accuracy

±1.8 %rH +3 % of m.v. at +25 °C (5 to 80 %rH)

±0.03 %rH / K (32 to +140 °F) / ±0.03 %RH / K (0 to +60 °C)

Resolution

0.1 %rH
General technical data

Dimensions

2 x 0 x 4 in. / 44 x 12 x 97 mm

Operating temperature

-4.0° to 158.0 °F / -20 to +70 °C

Protection class

IP30

Certificate type

Certified by HACCP International

Operating time

Unlimited

Alarmsignal

by LED and Display

Battery type

Lithium battery CR2450, 3V, exchangeable

Battery life

500 days (at +25 °C and 15 mins measurement rate).

Memory

64,000 measuring values

Storage temperature

-67.0° to 158.0 °F / -55 to +70 °C

Weight

2 oz. / 45 g
| | | |
| --- | --- | --- |
| Model | Description | Order Number |
| Testo 103 | Folding food thermometer | 0560 0103 |
| Testo 104 | Waterproof folding food thermometer | 0563 0104 |
| Testo 104-IR | Dual purpose IR and penetration thermometer | 0560 1040 |
| Testo 105 | Food probe thermometer | 0563 1051 |
| Testo 105 set | Food probe thermometer set | 0563 1052 |
| Testo 105 | Food probe thermometer with frozen food measurement tip | 0563 1054 |
| Testo 106 set | Food thermometer kit(with waterproof protective case) | 0563 1063 |
| Testo 108-1 | Waterproof food thermometer | 0563 1080 |
| Testo 108-2 | Waterproof digital food thermometer(lockable Type) | 0563 1082 |
| Testo 110 | One-channel temperature measuring instrument | 0560 1108 |
| Testo 112 | Officially calibratable one-channel temperature measuring instrument | 0560 1128 |
| Testo 115i | Pipe-clamp thermometer wireless Smart Probe | 0560 1115 |
| Testo 174T | Mini temperature data logger | 0572 1560 |
| Testo 174T | Mini temperature data logger kit | 0572 0561 |
| Testo 174H | Mini temperature and humidity data logger | 0572 6560 |
| Testo 174H | Mini temperature and humidity data logger kit | 0572 0566 |
| Testo 175T1 | Temperature data logger | 0572 1751 |
| Testo 175T2 | Temperature data logger | 0572 1752 |
| Testo 175T3 | Temperature data logger | 0572 1753 |
| Testo 175H1 | Temperature and humidity data logger | 0572 1754 |
| Testo 176T1 | One-channel temperature data logger | 0572 1761 |
| Testo 176T2 | Two-channel temperature data logger | 0572 1762 |
| Testo 176T3 | Four-channel temperature data logger | 0572 1763 |
| Testo 176T4 | Four-channel temperature data logger | 0572 1764 |
| Testo 176H1 | Four-channel humidity and temperature data logger | 0572 1765 |
| Testo 176H2 | Four-channel humidity and temperature data logger | 0572 1766 |
| Testo 176P1 | Five-channel pressure, temperature, and RH data logger | 0572 1767 |
| Testo 184 T1 | Short-term temperature USB transport data logger | 0572 1841 |
| Testo 184 T2 | Short-term temperature USB transport data logger with LCD display | 0572 1842 |
| Testo 184 T3 | Temperature USB transport data logger with LCD display | 0572 1843 |
| Testo 184 T4 | Cryogenic temperature USB transport data logger | 0572 1844 |
| Testo 184 H1 | Temperature and humidity USB transport data logger with LCD display | 0572 1845 |
| Testo 184 G1 | Temperature, humidity and shock USB transport data logger | 0572 1846 |
| Testo 205 | One-hand pH/temperature measuring instrument | 0563 2051 |
| Testo 205 | One-hand pH/temperature measuring instrument Set | 0563 2052 |
| Testo 270 | Cooking oil tester | 0563 2750 |
-----------------------------------
Lily
HONGKONG XIEYUAN TECH CO., LIMITED
|T: 86-027-85581877 |F: 86-027-85309780 |Mail:lily@whxyauto.com |
Ad: 7-A16,Caishen Commercial Plaza,Hankou Railway Station,Wuhan, Hubei, China
Web: www.hkxytech.com