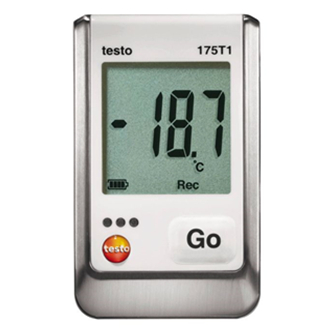 BASIC INFO
Testo 175T1 Temperature data logger 0572 1751
Product Description
The testo 175T1 is an ideal data logger for the continuous monitoring of temperatures. Because storage temperatures should never exceed specific limit values, the 175T1 records the temperatures values and alerts when thresholds have been exceeded.
High accuracy internal NTC thermistor sensor for reliable data
Data transfer possible using the USB port, or SD card (optional)
Easy to read large display that shows current reading and exceeded measurement limits
IP65 proection class
Capable of CFR 21 Part 11 Compliancy
Free data logger software available for download
Data is secured within the logger, and can be password protected using ComSoft
Includes lockable wall mount to prevent theft or tampering
Please note: The testo 175T1 temperature measurement logger requires an interface to use the free data logger software. One interface can be used for multiple instruments.
Delivery Scope
testo 175T1 temperature data logger, batteries, wall mount, lock, and certificate of conformity



Temperature - NTC
Measuring range
-31° to 131 °F / -35 to +55 °C
Accuracy
±0.9 °F (-31° to 131 °F) / ±0.5 °C (-35 to +55 °C)
Resolution
0.1 °F / 0.1 °C
General technical data
Dimensions
4 x 2 x 1 in. / 89 x 53 x 27 mm
Operating temperature
-31° to 131 °F / -35 to +55 °C
Protection class
IP65
Channels
1 internal
Standards
EN 12830
Battery type
3 x AIMn type AAA or Energizer
Battery life
3 years (15 min. meas. rate, +25 °C)
Memory
1,000,000 measuring values
Storage temperature
-31° to 131 °F / -35 to +55 °C
Features:

Internal NTC thermistor provides reliable temperature monitoring with a small footprint
Large easy to read backlit display
Large data memory capable of storing up to 1,000,000 temperature readings
Rugged and waterproof according to IP65
The testo 175T1 temperature data logger features a large display and alarm indication that makes it ideal for continuous monitoring of storage temperature. The temperature measurement logger is ideal for dependable temperature monitoring in refrigerated and deep freeze rooms for extended periods of time. Creation of Excel Spreadsheets, PDFs, and data analysis are all easily achieved with the free, downloadable ComSoft software.
| | | |
| --- | --- | --- |
| Model | Description | Order Number |
| Testo 103 | Folding food thermometer | 0560 0103 |
| Testo 104 | Waterproof folding food thermometer | 0563 0104 |
| Testo 104-IR | Dual purpose IR and penetration thermometer | 0560 1040 |
| Testo 105 | Food probe thermometer | 0563 1051 |
| Testo 105 set | Food probe thermometer set | 0563 1052 |
| Testo 105 | Food probe thermometer with frozen food measurement tip | 0563 1054 |
| Testo 106 set | Food thermometer kit(with waterproof protective case) | 0563 1063 |
| Testo 108-1 | Waterproof food thermometer | 0563 1080 |
| Testo 108-2 | Waterproof digital food thermometer(lockable Type) | 0563 1082 |
| Testo 110 | One-channel temperature measuring instrument | 0560 1108 |
| Testo 112 | Officially calibratable one-channel temperature measuring instrument | 0560 1128 |
| Testo 115i | Pipe-clamp thermometer wireless Smart Probe | 0560 1115 |
| Testo 174T | Mini temperature data logger | 0572 1560 |
| Testo 174T | Mini temperature data logger kit | 0572 0561 |
| Testo 174H | Mini temperature and humidity data logger | 0572 6560 |
| Testo 174H | Mini temperature and humidity data logger kit | 0572 0566 |
| Testo 175T1 | Temperature data logger | 0572 1751 |
| Testo 175T2 | Temperature data logger | 0572 1752 |
| Testo 175T3 | Temperature data logger | 0572 1753 |
| Testo 175H1 | Temperature and humidity data logger | 0572 1754 |
| Testo 176T1 | One-channel temperature data logger | 0572 1761 |
| Testo 176T2 | Two-channel temperature data logger | 0572 1762 |
| Testo 176T3 | Four-channel temperature data logger | 0572 1763 |
| Testo 176T4 | Four-channel temperature data logger | 0572 1764 |
| Testo 176H1 | Four-channel humidity and temperature data logger | 0572 1765 |
| Testo 176H2 | Four-channel humidity and temperature data logger | 0572 1766 |
| Testo 176P1 | Five-channel pressure, temperature, and RH data logger | 0572 1767 |
| Testo 184 T1 | Short-term temperature USB transport data logger | 0572 1841 |
| Testo 184 T2 | Short-term temperature USB transport data logger with LCD display | 0572 1842 |
| Testo 184 T3 | Temperature USB transport data logger with LCD display | 0572 1843 |
| Testo 184 T4 | Cryogenic temperature USB transport data logger | 0572 1844 |
| Testo 184 H1 | Temperature and humidity USB transport data logger with LCD display | 0572 1845 |
| Testo 184 G1 | Temperature, humidity and shock USB transport data logger | 0572 1846 |
| Testo 205 | One-hand pH/temperature measuring instrument | 0563 2051 |
| Testo 205 | One-hand pH/temperature measuring instrument Set | 0563 2052 |
| Testo 270 | Cooking oil tester | 0563 2750 |
-----------------------------------
Lily
HONGKONG XIEYUAN TECH CO., LIMITED
|T: 86-027-85581877 |F: 86-027-85309780 |Mail:lily@whxyauto.com |
Ad: 7-A16,Caishen Commercial Plaza,Hankou Railway Station,Wuhan, Hubei, China
Web: www.hkxytech.com