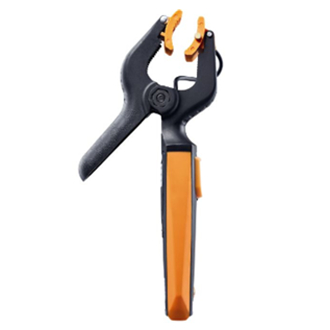 BASIC INFO
Testo 115i Pipe-clamp thermometer wireless Smart Probe
Product Description
Users can read the measurements using the testo Smart Probes app installed on their smart device. The testo 115i works on smart devices with either Android or Apple operating systems, at distances up to 60 feet. The testo Smart Probes app is a powerful and easy to use tool. It allows you to remotely read measurements from up to six (6) Smart Probes, and easily document and report the results. Automatic calculations make it a snap!
All measurement data is displayed as instrument readings, tables, or graphs. The measurements can be quickly saved as PDF or Excel files. The app creates custom reports, which can be saved and/or shared by email. All your data can be stored and retrieved, saving you hours of time consuming paperwork!
Delivery Scope
testo 115i Bluetooth clamp thermometer for measurements on pipes with diameters of 0.25 to 1.5 in., including 3 AAA batteries and certificate of calibration
Measures temperature of pipes in heating and cooling systems
Compatible with the testo 549i refrigeration pressure Smart Probe to calculate superheat and subcooling
Identifies temperature changes by monitoring real-time trends and data logging
testo 115i NTC temperature sensor is more accurate and stable than thermocouples
The testo 115i Smart Probe is a pipe-clamp probe that measures temperature in pipes more accurately than thermocouples, thanks to superior NTC temperature sensor technology. The exclusive Testo probe design grips pipes up to 1.5" in diameter, and maintains critical contact between probe and pipe surface to derive the best readings.
| | | |
| --- | --- | --- |
| Model | Description | Order Number |
| Testo 103 | Folding food thermometer | 0560 0103 |
| Testo 104 | Waterproof folding food thermometer | 0563 0104 |
| Testo 104-IR | Dual purpose IR and penetration thermometer | 0560 1040 |
| Testo 105 | Food probe thermometer | 0563 1051 |
| Testo 105 set | Food probe thermometer set | 0563 1052 |
| Testo 105 | Food probe thermometer with frozen food measurement tip | 0563 1054 |
| Testo 106 set | Food thermometer kit(with waterproof protective case) | 0563 1063 |
| Testo 108-1 | Waterproof food thermometer | 0563 1080 |
| Testo 108-2 | Waterproof digital food thermometer(lockable Type) | 0563 1082 |
| Testo 110 | One-channel temperature measuring instrument | 0560 1108 |
| Testo 112 | Officially calibratable one-channel temperature measuring instrument | 0560 1128 |
| Testo 115i | Pipe-clamp thermometer wireless Smart Probe | 0560 1115 |
| Testo 174T | Mini temperature data logger | 0572 1560 |
| Testo 174T | Mini temperature data logger kit | 0572 0561 |
| Testo 174H | Mini temperature and humidity data logger | 0572 6560 |
| Testo 174H | Mini temperature and humidity data logger kit | 0572 0566 |
| Testo 175T1 | Temperature data logger | 0572 1751 |
| Testo 175T2 | Temperature data logger | 0572 1752 |
| Testo 175T3 | Temperature data logger | 0572 1753 |
| Testo 175H1 | Temperature and humidity data logger | 0572 1754 |
| Testo 176T1 | One-channel temperature data logger | 0572 1761 |
| Testo 176T2 | Two-channel temperature data logger | 0572 1762 |
| Testo 176T3 | Four-channel temperature data logger | 0572 1763 |
| Testo 176T4 | Four-channel temperature data logger | 0572 1764 |
| Testo 176H1 | Four-channel humidity and temperature data logger | 0572 1765 |
| Testo 176H2 | Four-channel humidity and temperature data logger | 0572 1766 |
| Testo 176P1 | Five-channel pressure, temperature, and RH data logger | 0572 1767 |
| Testo 184 T1 | Short-term temperature USB transport data logger | 0572 1841 |
| Testo 184 T2 | Short-term temperature USB transport data logger with LCD display | 0572 1842 |
| Testo 184 T3 | Temperature USB transport data logger with LCD display | 0572 1843 |
| Testo 184 T4 | Cryogenic temperature USB transport data logger | 0572 1844 |
| Testo 184 H1 | Temperature and humidity USB transport data logger with LCD display | 0572 1845 |
| Testo 184 G1 | Temperature, humidity and shock USB transport data logger | 0572 1846 |
| Testo 205 | One-hand pH/temperature measuring instrument | 0563 2051 |
| Testo 205 | One-hand pH/temperature measuring instrument Set | 0563 2052 |
| Testo 270 | Cooking oil tester | 0563 2750 |
-----------------------------------
Lily
HONGKONG XIEYUAN TECH CO., LIMITED
|T: 86-027-85581877 |F: 86-027-85309780 |Mail:lily@whxyauto.com |
Ad: 7-A16,Caishen Commercial Plaza,Hankou Railway Station,Wuhan, Hubei, China
Web: www.hkxytech.com