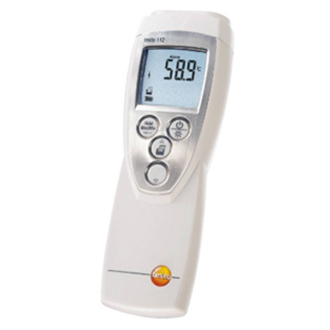 BASIC INFO
Testo 112 calibratable one-channel temperature measuring instrument
Product Description
The calibratable testo 112 precision temperature measuring instrument was designed specially for official inspection measurements. The instrument is approved for official measurements by food inspectors, assessors and official authorities on account of its PTB design approval and the option of calibrating it. A built-in self-test indicates correct functioning before measurement begins.
Owing to its wide measuring range, testo 112 is the ideal temperature measuring instrument for all areas of food monitoring. NTC probes (thermistor probes) and Pt100 probes (platinum resistance probes) can both be attached to the probe input, so that a wide temperature range is covered, ranging from deep-frozen products to deep-fat fryer monitoring.
In order to document readings, testo 112 provides the possibility of printing data directly on site with date and time. This is particularly interesting for food hygiene inspectors. If adjustable high or low limit values are exceeded, the instrument immediately sounds an audible alarm.
Minimum and maximum limit values can be conveniently called up in the two-line display.
It is possible to print out readings on site on the Testo printer (optional).
Delivery Scope
testo 112 temperature measuring instrument, including calibration protocol and batteries


Features
High-precision, calibratable temperature measuring instrument with PTB type approval – approved for official measurements
An attachable temperature probe can be connected – NTC and Pt100 probes optionally available to meet numerous practical requirements
Thanks to the water and dirt-repellent protective case TopSafe (optional), it is ideal for use in the food sector
Useful functions: minimum/maximum value memory and acoustic alarm
Testo 112, 1-channel temperature measuring instrument NTC/Pt100, calibratable, with battery.
| | | |
| --- | --- | --- |
| Model | Description | Order Number |
| Testo 103 | Folding food thermometer | 0560 0103 |
| Testo 104 | Waterproof folding food thermometer | 0563 0104 |
| Testo 104-IR | Dual purpose IR and penetration thermometer | 0560 1040 |
| Testo 105 | Food probe thermometer | 0563 1051 |
| Testo 105 set | Food probe thermometer set | 0563 1052 |
| Testo 105 | Food probe thermometer with frozen food measurement tip | 0563 1054 |
| Testo 106 set | Food thermometer kit(with waterproof protective case) | 0563 1063 |
| Testo 108-1 | Waterproof food thermometer | 0563 1080 |
| Testo 108-2 | Waterproof digital food thermometer(lockable Type) | 0563 1082 |
| Testo 110 | One-channel temperature measuring instrument | 0560 1108 |
| Testo 112 | Officially calibratable one-channel temperature measuring instrument | 0560 1128 |
| Testo 115i | Pipe-clamp thermometer wireless Smart Probe | 0560 1115 |
| Testo 174T | Mini temperature data logger | 0572 1560 |
| Testo 174T | Mini temperature data logger kit | 0572 0561 |
| Testo 174H | Mini temperature and humidity data logger | 0572 6560 |
| Testo 174H | Mini temperature and humidity data logger kit | 0572 0566 |
| Testo 175T1 | Temperature data logger | 0572 1751 |
| Testo 175T2 | Temperature data logger | 0572 1752 |
| Testo 175T3 | Temperature data logger | 0572 1753 |
| Testo 175H1 | Temperature and humidity data logger | 0572 1754 |
| Testo 176T1 | One-channel temperature data logger | 0572 1761 |
| Testo 176T2 | Two-channel temperature data logger | 0572 1762 |
| Testo 176T3 | Four-channel temperature data logger | 0572 1763 |
| Testo 176T4 | Four-channel temperature data logger | 0572 1764 |
| Testo 176H1 | Four-channel humidity and temperature data logger | 0572 1765 |
| Testo 176H2 | Four-channel humidity and temperature data logger | 0572 1766 |
| Testo 176P1 | Five-channel pressure, temperature, and RH data logger | 0572 1767 |
| Testo 184 T1 | Short-term temperature USB transport data logger | 0572 1841 |
| Testo 184 T2 | Short-term temperature USB transport data logger with LCD display | 0572 1842 |
| Testo 184 T3 | Temperature USB transport data logger with LCD display | 0572 1843 |
| Testo 184 T4 | Cryogenic temperature USB transport data logger | 0572 1844 |
| Testo 184 H1 | Temperature and humidity USB transport data logger with LCD display | 0572 1845 |
| Testo 184 G1 | Temperature, humidity and shock USB transport data logger | 0572 1846 |
| Testo 205 | One-hand pH/temperature measuring instrument | 0563 2051 |
| Testo 205 | One-hand pH/temperature measuring instrument Set | 0563 2052 |
| Testo 270 | Cooking oil tester | 0563 2750 |
-----------------------------------
Lily
HONGKONG XIEYUAN TECH CO., LIMITED
|T: 86-027-85581877 |F: 86-027-85309780 |Mail:lily@whxyauto.com |
Ad: 7-A16,Caishen Commercial Plaza,Hankou Railway Station,Wuhan, Hubei, China
Web: www.hkxytech.com