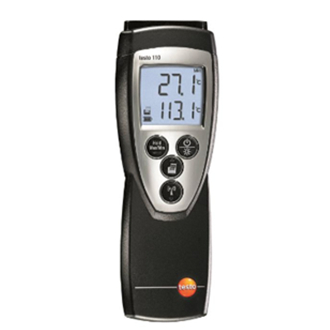 BASIC INFO
Testo 110 One-channel temperature measuring instrument
Product Description
Minus 20 degrees Celsius is what most of us would call really cold. But for others, it's just a normal part of their working lives. The testo 110 temperature meter provides such people with an extremely accurate means of carrying out temperature measurements at extremely low temperatures. Ideal for use outdoors and in cold storage houses.
At-a-glance look at the benefits of the testo 110
Precision you can rely on, including at very low temperatures – thanks to NTC technology: cold storage rooms, cold storage warehouses, outdoors – just a few of the places where you can count on the testo 110 to provide you with precise and reliable results
Special features: large, two-line display; user-defined thresholds; audible alarm alerts when thresholds are exceeded; min/max value recognition; auto-hold
Wide range of optional NTC sensors to suit your individual requirements: includes a wide variety of food sensors, i.e. frozen food probe, penetration/immersion probe, surface sensors
Further practical accessories: from the TopSafe dishwasher safe protective cover to the testo turbo printer for on-the-spot print outs
Delivery Scope
testo 110 digital temperature meter, calibration certificate, and batteries
Please note: You will need a temperature sensor to use your meter. The accuracy of your measurements depends on the accuracy of the sensor and the accuracy of your meter.


Features

Extremely accurate in very low temperature ranges, i.e. cold storage rooms
Optional connectable temperature sensor and wireless sensor for different applications in the field
Audible alarm, user-defined thresholds
HACCP compliant, certified according to EN 13485 for use in the food sector
Cold storage rooms, cold storage warehouses, outdoors: the testo 110 digital temperature meter shows what it's really made of when temperatures start to drop. Thanks to NTC technology, it can measure temperatures in very low temperature environments.
| | | |
| --- | --- | --- |
| Model | Description | Order Number |
| Testo 103 | Folding food thermometer | 0560 0103 |
| Testo 104 | Waterproof folding food thermometer | 0563 0104 |
| Testo 104-IR | Dual purpose IR and penetration thermometer | 0560 1040 |
| Testo 105 | Food probe thermometer | 0563 1051 |
| Testo 105 set | Food probe thermometer set | 0563 1052 |
| Testo 105 | Food probe thermometer with frozen food measurement tip | 0563 1054 |
| Testo 106 set | Food thermometer kit(with waterproof protective case) | 0563 1063 |
| Testo 108-1 | Waterproof food thermometer | 0563 1080 |
| Testo 108-2 | Waterproof digital food thermometer(lockable Type) | 0563 1082 |
| Testo 110 | One-channel temperature measuring instrument | 0560 1108 |
| Testo 112 | Officially calibratable one-channel temperature measuring instrument | 0560 1128 |
| Testo 115i | Pipe-clamp thermometer wireless Smart Probe | 0560 1115 |
| Testo 174T | Mini temperature data logger | 0572 1560 |
| Testo 174T | Mini temperature data logger kit | 0572 0561 |
| Testo 174H | Mini temperature and humidity data logger | 0572 6560 |
| Testo 174H | Mini temperature and humidity data logger kit | 0572 0566 |
| Testo 175T1 | Temperature data logger | 0572 1751 |
| Testo 175T2 | Temperature data logger | 0572 1752 |
| Testo 175T3 | Temperature data logger | 0572 1753 |
| Testo 175H1 | Temperature and humidity data logger | 0572 1754 |
| Testo 176T1 | One-channel temperature data logger | 0572 1761 |
| Testo 176T2 | Two-channel temperature data logger | 0572 1762 |
| Testo 176T3 | Four-channel temperature data logger | 0572 1763 |
| Testo 176T4 | Four-channel temperature data logger | 0572 1764 |
| Testo 176H1 | Four-channel humidity and temperature data logger | 0572 1765 |
| Testo 176H2 | Four-channel humidity and temperature data logger | 0572 1766 |
| Testo 176P1 | Five-channel pressure, temperature, and RH data logger | 0572 1767 |
| Testo 184 T1 | Short-term temperature USB transport data logger | 0572 1841 |
| Testo 184 T2 | Short-term temperature USB transport data logger with LCD display | 0572 1842 |
| Testo 184 T3 | Temperature USB transport data logger with LCD display | 0572 1843 |
| Testo 184 T4 | Cryogenic temperature USB transport data logger | 0572 1844 |
| Testo 184 H1 | Temperature and humidity USB transport data logger with LCD display | 0572 1845 |
| Testo 184 G1 | Temperature, humidity and shock USB transport data logger | 0572 1846 |
| Testo 205 | One-hand pH/temperature measuring instrument | 0563 2051 |
| Testo 205 | One-hand pH/temperature measuring instrument Set | 0563 2052 |
| Testo 270 | Cooking oil tester | 0563 2750 |
-----------------------------------
Lily
HONGKONG XIEYUAN TECH CO., LIMITED
|T: 86-027-85581877 |F: 86-027-85309780 |Mail:lily@whxyauto.com |
Ad: 7-A16,Caishen Commercial Plaza,Hankou Railway Station,Wuhan, Hubei, China
Web: www.hkxytech.com