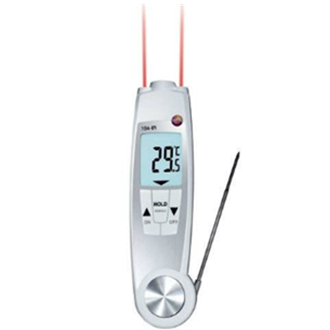 BASIC INFO
Testo 104-IR Dual purpose IR and penetration thermometer
Product Description
The testo 104-IR is a versatile, waterproof (IP65) penetration thermometer combined with an infrared sensor for both contact and non-contact temperature measurements. The 104-IR is an ideal solution for all aspects of the food industry ranging from receiving goods to food inspectors. The testo 104-IR scans the surface temperature of individual foods or entire pallets from a distance with the highest accuracy. If a limit value is exceeded or undershot, the folding penetration probe is also able to measure core temperature. The dual-purpose instrument is handy and practical, and easily fits into a shirt pocket. The penetration probe is always secure and neatly folds away when not in use. As soon as the probe is opened up, the display is automatically activated and its ready to use, and the IR measurement starts with the touch of a button. Results are easily read on the large and bright back lit display. For quick, super accurate and convenient temperature measurements anywhere at anytime the 104-IR thermometer is unmatched in value and quality.
Delivery Scope
testo 104-IR waterproof folding food thermometer, user guide, calibration protocol, adhesive color strips, batteries



Features
Precise 2-point laser with 10:1 optics for exact, error free measurements
Super rugged design, built for extreme, everyday use
Large, backlit, easy to read display
Included color strips aid in preventing cross contamination concerns
The testo 104 dual purpose IR and penetration thermometer is ideal for both food inspectors as well as receiving departments. With the ability to scan surface temperatures from a distance using the IR sensor, and a fast response folding NTC penetration probe for core temperature checks, the 104-IR is an ideal thermometer for all aspects of the food industry.
| | | |
| --- | --- | --- |
| Model | Description | Order Number |
| Testo 103 | Folding food thermometer | 0560 0103 |
| Testo 104 | Waterproof folding food thermometer | 0563 0104 |
| Testo 104-IR | Dual purpose IR and penetration thermometer | 0560 1040 |
| Testo 105 | Food probe thermometer | 0563 1051 |
| Testo 105 set | Food probe thermometer set | 0563 1052 |
| Testo 105 | Food probe thermometer with frozen food measurement tip | 0563 1054 |
| Testo 106 set | Food thermometer kit(with waterproof protective case) | 0563 1063 |
| Testo 108-1 | Waterproof food thermometer | 0563 1080 |
| Testo 108-2 | Waterproof digital food thermometer(lockable Type) | 0563 1082 |
| Testo 110 | One-channel temperature measuring instrument | 0560 1108 |
| Testo 112 | Officially calibratable one-channel temperature measuring instrument | 0560 1128 |
| Testo 115i | Pipe-clamp thermometer wireless Smart Probe | 0560 1115 |
| Testo 174T | Mini temperature data logger | 0572 1560 |
| Testo 174T | Mini temperature data logger kit | 0572 0561 |
| Testo 174H | Mini temperature and humidity data logger | 0572 6560 |
| Testo 174H | Mini temperature and humidity data logger kit | 0572 0566 |
| Testo 175T1 | Temperature data logger | 0572 1751 |
| Testo 175T2 | Temperature data logger | 0572 1752 |
| Testo 175T3 | Temperature data logger | 0572 1753 |
| Testo 175H1 | Temperature and humidity data logger | 0572 1754 |
| Testo 176T1 | One-channel temperature data logger | 0572 1761 |
| Testo 176T2 | Two-channel temperature data logger | 0572 1762 |
| Testo 176T3 | Four-channel temperature data logger | 0572 1763 |
| Testo 176T4 | Four-channel temperature data logger | 0572 1764 |
| Testo 176H1 | Four-channel humidity and temperature data logger | 0572 1765 |
| Testo 176H2 | Four-channel humidity and temperature data logger | 0572 1766 |
| Testo 176P1 | Five-channel pressure, temperature, and RH data logger | 0572 1767 |
| Testo 184 T1 | Short-term temperature USB transport data logger | 0572 1841 |
| Testo 184 T2 | Short-term temperature USB transport data logger with LCD display | 0572 1842 |
| Testo 184 T3 | Temperature USB transport data logger with LCD display | 0572 1843 |
| Testo 184 T4 | Cryogenic temperature USB transport data logger | 0572 1844 |
| Testo 184 H1 | Temperature and humidity USB transport data logger with LCD display | 0572 1845 |
| Testo 184 G1 | Temperature, humidity and shock USB transport data logger | 0572 1846 |
| Testo 205 | One-hand pH/temperature measuring instrument | 0563 2051 |
| Testo 205 | One-hand pH/temperature measuring instrument Set | 0563 2052 |
| Testo 270 | Cooking oil tester | 0563 2750 |
-----------------------------------
Lily
HONGKONG XIEYUAN TECH CO., LIMITED
|T: 86-027-85581877 |F: 86-027-85309780 |Mail:lily@whxyauto.com |
Ad: 7-A16,Caishen Commercial Plaza,Hankou Railway Station,Wuhan, Hubei, China
Web: www.hkxytech.com