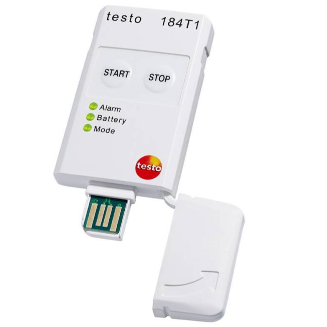 BASIC INFO
testo 184 T1 temperature data loggers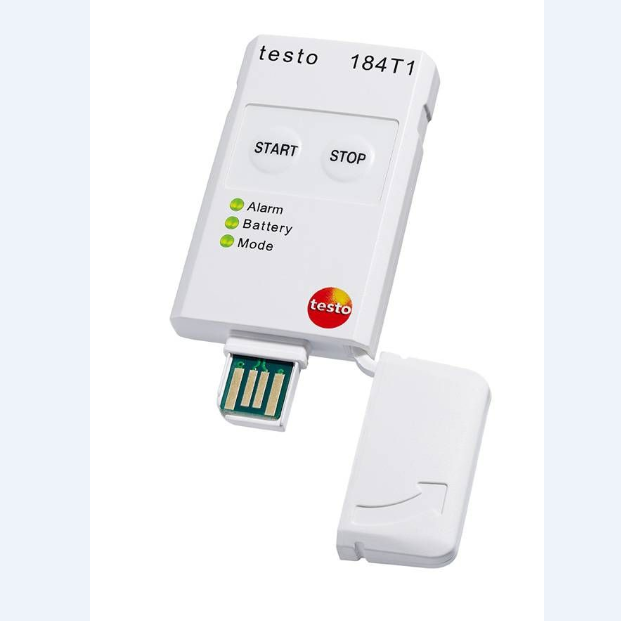 Product Description
With the temperature data loggers testo 184 T1, you monitor the transport of sensitive goods such as pharmaceuticals, foods or electronics, over a maximum period of 90 days. More info on applications (link to tab Applications)
At their destination, a glance at the LEDs tells you whether the configured limit values have been adhered to. In order to obtain detailed information, it is sufficient to connect the logger to a PC – a PDF report is immediately generated with all relevant data. In order for you to be able to work even more efficiently and conveniently with the data loggers, all required files and information are stored directly and securely in the testo 184 T1: Configuration file, acceptance test certificate 3.1 according to DIN ISO 10204, instruction manual and PDF report of your recorded data.
The measurement value store of the temperature data logger testo 184 T1 has a capacity of 16000 measurement values. The measurement rate is freely selectable from 1 min to 24 h.
testo 184 T1 is compliant with GxP, 21 CFR Part 11, HACCP and EN 12830. Testo AG is an ISO 9001:2008-certified company, and ensures the adherence to the norms through internal audits as well as accredited external audits.
All advantages at a glance:
1. Clear alarm indication
A glance at the the LEDs is enough to know whether limit values have been violated during transport.
2. Easiest operation
testo 184 T1 is intuitively operated, and can be used without special training or previous knowledge: The "Start" button begins data recording. "Stop" ends it.
3. Easiest configurationIn each testo 184 T1, a configuration file is stored, with which the configuration of the testo 184 T1 is childsplay – no download, no installation, no user interface and no additional costs.
4. Convenient readoutA PDF report with the transport data is created immediately on connection of the testo 184 T1 data logger to the USB interface of a computer. This is suitable for long-term archiving according to PDF/A standard.
5. Mobile readout/printout on site
All testo 184 T1 data loggers can be read out on site with an NFC-capable Android smartphone. Data transfer from the data logger to a compatible Testo fast printer (option) also functions wirelessly via NFC.
6. IT-safe
The testo 184 T1 data loggers work securely without software installation or download, so that IT problems are triggered neither by the firewall nor the virus scanner.
Delivery Scope
Temperature data logger testo 184 T1, including acceptance test certificate 3.1 according to DIN ISO 10204 (stored in testo 184 T1), battery and 1 piece double-sided adhesive tape for easy attachment of the data logger.
Contact us
Tel:+86 027-85880977
Email: vicky@hkxytech.com