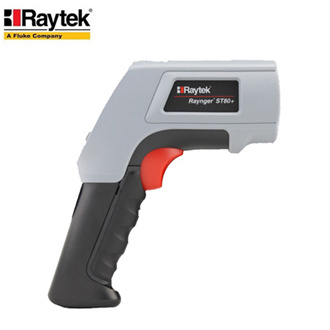 BASIC INFO
Fluke Raytek Raynger ST80+ industrial infrared thermometer

Specifications:
Infrared and contact thermometers with innovative dot matrix display. With simple 3-button on-screen menu interface (in 6 languages), Fluke ST80 + and ST60 +
Digital laser thermometer to make complex measurements become very simple. With just a few clicks, you can quickly browse advanced features to adjust emissivity, start data logging, or turn
Alerts on and off. Fluke ST80 + and ST60 + contact and non-contact thermometers made of sturdy, easy to use user-friendly design, can easily cope with harsh industrial,
Electrical and mechanical environments. Performance of these tools far beyond other infrared thermometer (or pyrometer), so that users can more applications to achieve higher efficiency.
ST80 + offers additional features:
· Use the included FlukeView Forms software to easily view and analyze data trends
· Fast download via USB data stored
· Without having to leave the scene, you can use the USB interface and laptop immediately view the data
· Digital thermometer through the USB interface gets its power from the laptop, extended battery life
ST80 + and ST60 + features and benefits:
· Measuring range: -40°C~800°C / -40 F to 1472 F (ST80 +), or -40°C~650°C /-40 F to 1202 F (ST60 +)
· With soft-key buttons and dot-matrix display, easy access to advanced features
· Measurable distance farther, smaller objects, D: S ratio of 50:1 (ST80 +) or 30:1 (ST60 +)
· Compatible with all standard mini-connector K-type thermocouple, thermocouple investment retained
· Adjustable emissivity function (built-in material table), allowing users to rest assured that measure a variety of surfaces
· Capture multiple data points (ST80 + up to 99, ST60 + up to 20), available for downloading and recalling later m
· Two kinds of high-level backlight, easy to adapt to various lighting conditions
· Audible and visual alarms prompt the user for whether the measured value exceeds the set limit
· Through the minimum, maximum, average, and DIF functions quickly identify problems
· Accompanying K-type thermocouple bead probe to facilitate immediate contact measurement
· 1% measurement accuracy allows users to rest assured maintenance equipment
· There are six kinds of multi-interface languages to choose from

Model

ST80 +

Temperature range
-40 ~ 800
Measurement Accuracy
(Ambient temperature 23 )
1% or 1 °C
Repeatability
0.5% or 1 °C , whichever is greater
Response Time
500ms (95% response)
Operating ambient temperature range
0°C ~ 50°C
Power supply
9V alkaline batteries or nickel-cadmium batteries
Weight / Dimensions
320g/200 × 160 × 55mm
D: S
50:1
Emissivity
Adjustable emissivity
Sighting
Laser sighting
-----------------------------------
Lily
HONGKONG XIEYUAN TECH CO., LIMITED
|T: 86-027-85581877 |F: 86-027-85309780 |Mail:lily@whxyauto.com |
Ad: 7-A16,Caishen Commercial Plaza,Hankou Railway Station,Wuhan, Hubei, China
Web: www.hkxytech.com