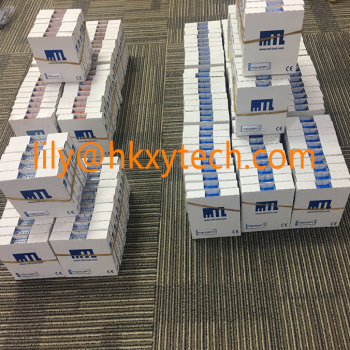 BASIC INFO
MTL TP48-N-NDI Surge Protection Safeguards electronic process transmitters
Protects 2, 3 and 4 wire transmitters
• Easy and direct mounting — screws into
spare conduit entry
• Intrinsically safe and flameproof to
CENELEC standards
• Parallel connection avoids introduction of
any resistance into loop
• ATEX approved
• 10 year product warranty
The TP48 range of surge protection devices uniquely provide a level
of protection for 2, 3 and 4 wire field-mounted transmitters that is far
in excess of the optional transient protection facilities available from
the transmitter manufacturers - without involving any additional wiring,
conduit modifications or other expensive extras.
The TP48 range protection network consists of high-power, solidstate
electronics and a gas-filled discharge tube capable of diverting
20kA impulses. The whole unit is encased in a 316 stainless steel
housing, threaded for the common conduit entries used on process
transmitters. Versions are available for 1/2" NPT, 20mm ISO, and
G1/2" (BSP 1/2 inch) threaded entries.
Installation can easily be carried out retrospectively to existing
installations. The TP48 is screwed into any unused conduit entry on the
transmitter case and flying leads are connected to the terminal block
(+ve, -ve) and the internal earth stud. The 3 wire TP protects +ve, -ve
and signal. The 4 wire TP48 protects +ve, -ve, signal +ve and -ve. The
TPs operate without in any way affecting normal operation - passing ac
or dc signals without attenuation while diverting surge currents safely
to earth and clamping output voltages to specific levels
The all-important earthing connection is made to the local casing
of the transmitter with no separate earth connection or ground stake
at the transmitter being needed. In operation, the TP48 makes sure
that the transmitter electronics are never exposed to damaging
transients between lines or between lines and casing/earth. Any surge
current appearing as a series-mode or common-mode transient is
converted into a common-mode voltage - whereupon the transmitter
electronics are temporarily raised to some higher voltage level before
'floating' down automatically (and without damage) to resume normal
operation.
For hazardous area use, approvals for both intrinsically safe and
flameproof (explosion-proof) operation are available (pending for
the TP48 3 & 4 wire), in all gas groups and apparatus temperature
classification up to T4 for the TP48 3 & 4 wire and T6 for the TP48.
Where transmitters are used in circuits suitable for Div 2/Zone 2
installations, the TP can be added without adversely affecting the level
of safety.
For fieldbus applications, use the TP32 which meets the
requirements of IEC61158-2:2004 and ANSI/ISA-50.02-2 1992 for
31.25kbit/s systems as used by Foundation™ fieldbus, PROFIBUS-PA
and WorldFIP



Model Number:
MTL5018AC
MTL5501-SR
MTL5510
MTL5510B
MTL5511
MTL5513
MTL5514
MTL5514D
MTL5516C
MTL5517
MTL5521
MTL5522
MTL5523
MTL5523V
MTL5524
MTL5525
MTL5526
MTL5541
MTL5541A
MTL5541AS
MTL5541S
MTL5544
MTL5544A
MTL5544AS
MTL5544D
MTL5544S
MTL5546
MTL5546Y
MTL5549
MTL5549Y
MTL5573
MTL5575
MTL5576-RTD
MTL5576-THC
MTL5581
MTL5582
MTL5582B
MTL5531
MTL5532
MTL5561
MPA5500
MTL5051
MTL5053
MTL5314
MTL5599
SD07
SD16
SD32
SD55
SD07R
SD16R
SD32R
SD55R
SD07X
SD16X
SD32X
SD55X
SD32T3
SD07R3
SD16R3
SD32R3
SD55R3
SDRTD
SDPSTN
SD150X
SD275X
MTL5575
MTL5544D
MTL5546Y
MTL4541
MTL4546Y
MTL5573
MTL5541A
MTL4524
MTL5576-RTD
MTL5051
IOP32
IOP32D
TP48-N-NDI
KFD2-SR2-EX2.W
Any inquires, please feel free to contact us via E-mail, thanks!
-----------------------------------
Lily
HONGKONG XIEYUAN TECH CO., LIMITED
T: 86-027-85568699 F: 86-027-85309780
E-mail: lily@hkxytech.com
Add: 7-A16,Caishen Commercial Plaza,Hankou Railway Station,Wuhan, Hubei, China
Web: www.hkxytech.com