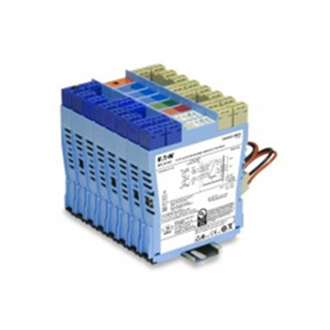 BASIC INFO
MTL SLP32D SLP Range Cost Effective Surge Protection
SLP range
Cost effective surge protection
for digital and analogue I/O
• Surge protection for two loops per SLP (or
one 4-wire circuit)
• Range of ATEX Certified intrinsically safe
surge protectors
• Multi-stage yybrid protection circuit — 20kA
maximum surge current
• Range of voltage ratings — to suit all
process I/O applications
• Designed for high bandwidth, low
resistance applications
• 10 year product warranty
The SLP range is a series of surge protection devices combining
high packing densities, application versatility, proven hybrid circuitry
and simple installation – features which make the range the most
cost effective surge protection solution for process control equipment
systems and communications networks.
The multi-stage hybrid surge protection network at the heart of
the SLP uses a combination of solid state electronics and a gas filled
discharge tube (GDT) to provide surge protection up to 20kA. This
impressive surge protection circuit is designed to exhibit exceptionally
low line resistance and adds only a tiny voltage drop to the circuit.
In operation, the SLP device does not adversely affect the
performance or operation of the loop or combined equipment. The
device allows signals to pass with very little attenuation while diverting
surge currents safely to earth and clamping output voltages to safe
levels.
Fully automatic in operation, SLP devices react immediatley to make
sure that equipment is never exposed to damaging surges between
lines or the lines and earth. Reacting instantaneously, the SLP redirects
surges safely to earth and then resets automatically.
The versatile SLP range design considers the need for high packing
densities and has a product combining protection for two process loops
into one case. Each module provides full hybrid surge protection for two
process loops.
For higher bandwidth applications, the SLP range has been developed
to meet the demands of today's highest speed communication systems.
One simple manual operation clamps modules securely onto DIN
rail, which automatically provides the essential high-integrity earth
connection.
A 10 Year 'No Fuss' warranty is available as standard for the SLP so if
a correctly connected device should fail for any reason, simply return it
for a free replacement.
'Top-hat' (T-section) DIN rail is generally suitable for mounting SLP
modules although for adverse environments, a specially-plated version
is available.
SPECIFICATION
All figures typical at 77°F (25°C) unless otherwise
stated
Maximum surge current
20kA (8/20µs waveform) per line
Leakage current
<1µA @ working voltage
Maximum rated load current
1.50A
Loop resistance
2 ohm
Capacitance
Line to Line: 60pF
Attenuation
–0.1db @ 9kHz - 37MHz
–3dB @ 50MHz
Response time
<1ns
Ambient temperature
Working & Storage
-40 to +80°C/-40 to +176°F
(see also "Approvals" below right)
Humidity
5 to 95% RH (non-condensing)
Terminals
2.5mm2 (12 AWG)
Electrical connections
Plug/header screw terminal strip
Mounting
T-section DIN-rail (35 x 15mm rail)
Weight
5oz (140g approximately)
Case flammability
UL94-V0
EMC compliance
BS EN 60950-1:2006+A12:2011
BS EN 61326-1:2006
BS EN 61010-1:2010
Electrical safety
See "Approvals" below right
Part Number & Description
Digital Input
MTL4501-SR 1ch DI failsafe solid-state output + LFD alarm
MTL4504 1ch DI relay output + LFD alarm + phase reversal
MTL4510 4ch DI solid-state output
MTL4510B 4ch DI multifunction solid-state output
MTL4511 1ch DI relay output
MTL4513 2ch DI solid-state output
MTL4514/B 1ch DI relay output + LFD alarm
MTL4516 2ch DI relay output
MTL4516C 2ch DI with changeover relay output
MTL4517 2ch DI relay output + LFD alarm
Digital Output
MTL4521 Loop powered solenoid driver
MTL4521L Loop powered solenoid driver IIC
MTL4523 Solenoid driver with LFD
MTL4523L Loop powered solenoid driver + LFD
MTL4523R Solenoid driver with LFD
MTL4523V/VL Solenoid/Alarm driver with voltage control
MTL4524 Switch operated solenoid driver
MTL4524S Switch operated solenoid driver, 24V override
MTL4525 Switch operated solenoid driver low power
MTL4526 2ch switch operated relay
Analogue Input
MTL4541 1ch 2/3 wire Transmitter repeater
MTL4541A 1ch Transmitter repeater, passive input
MTL4541AS 1ch Transmitter repeater, passive input, current sink
MTL4541B MTL4041B replacement
MTL4541P MTL4041P replacement
MTL4541S 1ch 2/3 wire Transmitter repeater, current sink
MTL4544 2ch 2/3 wire Transmitter repeater
MTL4544A 2ch Transmitter repeater, passive input
MTL4544AS 2ch Transmitter repeater, passive input, current sink
MTL4544B MTL4044 replacement
MTL4544D 2/3 wire transmitter repeater, dual output
MTL4544S 2ch 2/3 transmitter repeater, current sink
Analogue Output
MTL4546 1ch 4-20mA smart isolating driver + LFD
MTL4546C 1ch 4-20mA smart isolating driver + oc LFD
MTL4546Y 1ch 4-20mA smart isolating driver + oc LFD
MTL4549 2ch 4-20mA smart isolating driver + LFD
MTL4549C 2ch 4-20mA smart isolating driver + oc LFD
MTL4549Y 2ch 4-20mA smart isolating driver + oc LFD
Temperature Input
MTL4575 1ch Temperature converter with alarm
MTL4576-RTD 2ch Temperature converter, RTD
MTL4576-THC 2ch Temperature converter, THC
MTL4581 1ch mV/THC isolator for low-level signals
Pulse and Vibration
MTL4531 1ch vibration probe interface
MTL4532 1ch pulse isolator, digital or analogue output
MTL4533 2ch vibration probe interface
Fire and Smoke
MTL4561 2ch loop-powered, for fire and smoke detectors
General
MTL4599 Dummy isolator
MTL4599N General purpose feed-through module
MTL5018AC
MTL5501-SR
MTL5510
MTL5510B
MTL5511
MTL5513
MTL5514
MTL5514D
MTL5516C
MTL5517
MTL5521
MTL5522
MTL5523
MTL5523V
MTL5524
MTL5525
MTL5526
MTL5541
MTL5541A
MTL5541AS
MTL5541S
MTL5544
MTL5544A
MTL5544AS
MTL5544D
MTL5544S
MTL5546
MTL5546Y
MTL5549
MTL5549Y
MTL5573
MTL5575
MTL5576-RTD
MTL5576-THC
MTL5581
MTL5582
MTL5582B
MTL5531
MTL5532
MTL5561
MPA5500
MTL5051
MTL5053
MTL5314
MTL5599
-----------------------------------
Lily
HONGKONG XIEYUAN TECH CO., LIMITED
T: 86-027-85581877 F: 86-027-85309780
Mail:lily@whxyauto.com
Ad: 7-A16,Caishen Commercial Plaza,Hankou Railway Station,Wuhan, Hubei, China
Web: www.hkxytech.com