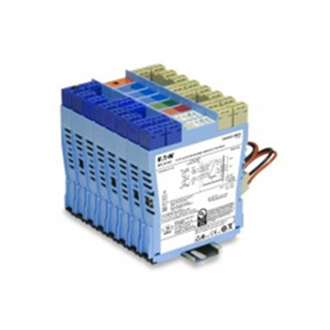 BASIC INFO
MTL IOP32D IOP Series Surge Protectors Cost effective
IOP32D and IOP-AC each provide surge
protection for two loops or 4 wires
• IOP32 provides surge protection for one loop
or 2 wires
• IOP HC32 provides surge protection for one
high current loop, up to 5A
• IOP-AC provides surge protections for two
120V or 240V AC loops
• Hybrid protection circuit - 20kA rated
surge current
• ATEX & FM certification for IOP32 and IOP32D
• Space saving - width per loop:
IOP32D & IOP-AC 6mm
IOP32 & IOP HC32 12mm
The IOP was conceived to offer protection for both digital I/O and
analogue I/O. The IOP range is the most economical surge protection
solution for I/O offered by Eaton. High packing-density, high protection
level and low price combine to make the IOP a value solution.
The IOP range is cost-effective and still retains a hybrid circuit
comprising 20kA gas discharge tubes and solid state components.
This impressive product is designed to exhibit exceptionally low line
resistance and therefore adds only a tiny voltage drop to the circuit.
Removable terminals are used on the IOP range for ease of
installation, maintenance and for providing a loop disconnect by simply
unplugging the terminals from the side of the module. Wire entry is
angled to assist wiring within limited space enclosures.
The IOP HC32 is ideal for applications requiring up to 5A of
load current. Protection of circuits to drive solenoids, relays, and
actuators is now possible. The IOP AC is ideal for 120V and 240V
AC circuit loops
Fully automatic in operation, IOP devices react immediately to make
sure that equipment is never exposed to damaging surges between
lines or the lines and ground. Reacting instantaneously, the IOP
redirects surges safely to ground and then resets automatically
The versatile design minimizes space. The IOP32D and IOP-AC
models have protection for two loops in a package that is only
12mm wide. The effective space taken, per loop, is therefore only
6mm. For customers desiring single channel integrity, the IOP32 fits
this need exactly.
One simple manual operation clamps modules securely onto DIN
rail, which automatically provides the essential high-integrity ground
connection.
A 10 Year 'No Fuss' warranty is available, as standard, for the IOP, so
if a correctly connected device should fail for any reason, simply return
it for a free replacement.
'Top-hat' (T-section) DIN rail is generally suitable for mounting IOP
modules although for adverse environments, a specially-plated version
is available from Eaton's MTL Surge Technologies.
Part Number & Description
Digital Input
MTL4501-SR 1ch DI failsafe solid-state output + LFD alarm
MTL4504 1ch DI relay output + LFD alarm + phase reversal
MTL4510 4ch DI solid-state output
MTL4510B 4ch DI multifunction solid-state output
MTL4511 1ch DI relay output
MTL4513 2ch DI solid-state output
MTL4514/B 1ch DI relay output + LFD alarm
MTL4516 2ch DI relay output
MTL4516C 2ch DI with changeover relay output
MTL4517 2ch DI relay output + LFD alarm
Digital Output
MTL4521 Loop powered solenoid driver
MTL4521L Loop powered solenoid driver IIC
MTL4523 Solenoid driver with LFD
MTL4523L Loop powered solenoid driver + LFD
MTL4523R Solenoid driver with LFD
MTL4523V/VL Solenoid/Alarm driver with voltage control
MTL4524 Switch operated solenoid driver
MTL4524S Switch operated solenoid driver, 24V override
MTL4525 Switch operated solenoid driver low power
MTL4526 2ch switch operated relay
Analogue Input
MTL4541 1ch 2/3 wire Transmitter repeater
MTL4541A 1ch Transmitter repeater, passive input
MTL4541AS 1ch Transmitter repeater, passive input, current sink
MTL4541B MTL4041B replacement
MTL4541P MTL4041P replacement
MTL4541S 1ch 2/3 wire Transmitter repeater, current sink
MTL4544 2ch 2/3 wire Transmitter repeater
MTL4544A 2ch Transmitter repeater, passive input
MTL4544AS 2ch Transmitter repeater, passive input, current sink
MTL4544B MTL4044 replacement
MTL4544D 2/3 wire transmitter repeater, dual output
MTL4544S 2ch 2/3 transmitter repeater, current sink
Analogue Output
MTL4546 1ch 4-20mA smart isolating driver + LFD
MTL4546C 1ch 4-20mA smart isolating driver + oc LFD
MTL4546Y 1ch 4-20mA smart isolating driver + oc LFD
MTL4549 2ch 4-20mA smart isolating driver + LFD
MTL4549C 2ch 4-20mA smart isolating driver + oc LFD
MTL4549Y 2ch 4-20mA smart isolating driver + oc LFD
Temperature Input
MTL4575 1ch Temperature converter with alarm
MTL4576-RTD 2ch Temperature converter, RTD
MTL4576-THC 2ch Temperature converter, THC
MTL4581 1ch mV/THC isolator for low-level signals
Pulse and Vibration
MTL4531 1ch vibration probe interface
MTL4532 1ch pulse isolator, digital or analogue output
MTL4533 2ch vibration probe interface
Fire and Smoke
MTL4561 2ch loop-powered, for fire and smoke detectors
General
MTL4599 Dummy isolator
MTL4599N General purpose feed-through module
MTL5018AC
MTL5501-SR
MTL5510
MTL5510B
MTL5511
MTL5513
MTL5514
MTL5514D
MTL5516C
MTL5517
MTL5521
MTL5522
MTL5523
MTL5523V
MTL5524
MTL5525
MTL5526
MTL5541
MTL5541A
MTL5541AS
MTL5541S
MTL5544
MTL5544A
MTL5544AS
MTL5544D
MTL5544S
MTL5546
MTL5546Y
MTL5549
MTL5549Y
MTL5573
MTL5575
MTL5576-RTD
MTL5576-THC
MTL5581
MTL5582
MTL5582B
MTL5531
MTL5532
MTL5561
MPA5500
MTL5051
MTL5053
MTL5314
MTL5599
-----------------------------------
Lily
HONGKONG XIEYUAN TECH CO., LIMITED
T: 86-027-85581877 F: 86-027-85309780
Mail:lily@whxyauto.com
Ad: 7-A16,Caishen Commercial Plaza,Hankou Railway Station,Wuhan, Hubei, China
Web: www.hkxytech.com