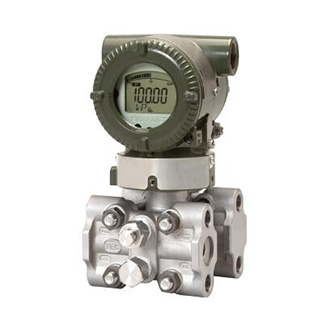 BASIC INFO
EJA438E Diaphragm Sealed Gauge Pressure Transmitter EJA438E-JASCG-917EB-WA13C2HW00-AA25

100% Japan orgin ,high quality with good price
Product Details
Brand Name:Yokgawa
Product Name:Differential Pressure Transmitter
Place of Origin:Japan
PERFORMANCE SPECIFICATIONS

Zero-based calibrated span, linear output, wetted
parts material code SW for 3-inch flange flush type,
fill fluid code B, and capillary length of 5 m.
For Fieldbus and PROFIBUS PA communication
types, use caribrated range instead of span in the
following specifications.
Sell yokogawa EJA438E Differential Pressure Transmitter
The EJA-E series of transmitters is Yokogawa's most recent evolution of the DPharp family of pressure transmitters. Released in 2012, it combines the ruggedness and success of the work-horse EJA-A series with the performance of the thoroughbred EJX-A series to deliver the type of product you have come to expect from Yokogawa.
The EJA438E is our standard traditional-mount differential pressure transmitter in this series.
Packaging & Delivery
Packaging details:in carton or according to custom's service
NEW FACTORY SEAL /ORIGINAL PACKING
Delivery Time:8-10 Weeks
Expert Customer Service. Good price of Yokogawa goods!Buy yokogawa soon!Sell eja438e!

Ordering code:

EJA438E-JASCG-917EB-WA13C2HW00-AA25
EJA115E-JMS4J-912DN
EJA510E-DAS4N-09DE
EJA510E-EAS4N-09DE
EJA510E-DBS4N-09DE
EJA510E-EBS4N-09DE
EJA510E-DCS4N-09DE
EJA510E-ECS4N-09DE
EJA510E-DDS4N-09DE
EJA510E-EDS4N-09DE
EJA120E-DES5A-92NN
EJA130E-GMS4A-92DN
EJA430E-JHS5G-917EB
EJA430E-JBS4G-914DB/SU21/D1/M11
EJA430E-JBS4J-314DB/KS21/D1/M11
EJA430E-JBS4G-324DB/KS21/D1/M11
EJA430E-JBS4J-912EB/KU22
EJA430E-JAS5G-917DA/KU22/X2/C3
EJA430E-JAS5G-917DB/KU22/C3
EJA430E-FAS5G-917DA/KS26/X2/A
EJA430E-FAS5C-917DB/KS26
Why choose us?
1. 100% original yokogawa product, 100% quality assurance.
If you find a fake yokogawa. Please contact us without hesitation! We afford the shipment cost! We send you a new product asking zero cent!
2. Varied payment methods.We adopt L/C, D/A, D/P, T/T, and other methods.
3.all the goods we promise at least 1 year warranty!