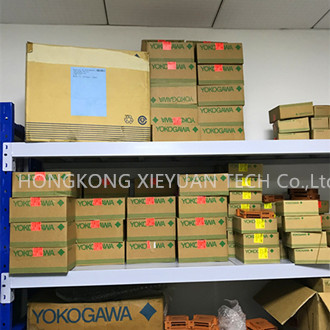 BASIC INFO
Yokogawa Digital Input Module ADV151-P03

GENERAL
This GS covers the hardware specifications of the Digital I/O Modules (FIO) that can be installed in the ESB
Bus Node Unit (ANB10S, ANB10D), Optical ESB Bus Node Unit (ANB11S, ANB11D), and the Field Control Unit
(AFV30S, AFV30D, AFV40S, AFV40D).
Digital Output Modules
The Digital Input Modules receive 32-channel or 64-channel 24 V DC ON/OFF signals.
The ADV151 and ADV161 can be used in dual redundant configuration.
Item Specifications
Model ADV151-P/ADV151-E (*1) ADV157 ADV161
Number of input channels 32 32 64
Rated input voltage (*2) 24 V DC (sink/source) 24 V DC (sink/source) 24 V DC (sink/source)
Input ON voltage 18 to 26.4 V DC 18 to 26.4 V DC 20 to 26.4 V DC
Input OFF voltage 5.0 V DC or less 5.0 V DC or less 5.0 V DC or less
Input current (at rated input voltage) 4.1 mA±20 % / channel 4.1 mA±20 % / channel 2.5 mA±20 % / channel
Maximum allowable input voltage 30.0 V DC 30.0 V DC 30.0 V DC
Withstanding voltage Between input signal and system: 2 kV AC, For 1 minute
Between commons: 500 V AC, For 1 minute, common every 16-channel (*3)
Functions
Status input Function for detecting
ON/OFF status
Function for detecting
ON/OFF status
Function for detecting
ON/OFF status
Pushbutton input Function for counting the
pushbutton edges
— Function for counting the
pushbutton edges
Input response time 8 ms or less (for status input)
Minimum ON detection time 20 ms (for pushbutton input)
Maximum ON/OFF cycle 25 Hz (for pushbutton input)
Maximum current consumption 500 mA (5 V DC) 350 mA (5 V DC) 550 mA (5 V DC)
Weight Approx. 0.30 kg Approx. 0.40 kg Approx. 0.30 kg
External connection
Pressure clamp terminal,
Dedicated cable (AKB331),
MIL connector cable
Pressure clamp terminal Dedicated cable (AKB337),
MIL connector cable
MODELS AND SUFFIX CODES
Digital Input Module
Description
Model ADV151 Digital Input Module (32-channel, 24 V DC, Isolated)
Suffix
Codes
-P With pushbutton input
-E With SOE capture (*1)
5 Without status display; with no explosion protection
6 With status display; with no explosion protection
E Without status display; with explosion protection
F With status display; with explosion protection
0 Basic type
3 With ISA Standard G3 option and temperature (-20 to 70 °C) option
Option
Codes
/D5A00 With KS Cable Interface Adapter for 32-channel digital [Model: ATD5A-00]
/B5S00 With Pressure Clamp Terminal Block for Digital Input [Model: ATB5S-00]
/B5S10 With Pressure Clamp Terminal Block for Digital Input (surge absorber) [Model: ATB5S-10]
/B5D00 With Dual Pressure Clamp Terminal Block for Digital Input [Model: ATB5D-00]
/B5D10 With Dual Pressure Clamp Terminal Block for Digital Input (surge absorber) [Model: ATB5D-10]
/CCC01 With Connector Cover for MIL Cable [Model: ACCC01]

Yokogawa Digital Input Module ADV151-P50/D5A00
Digital I/O module
ADV151 Digital Input Module (32-channel, 24 V DC, Isolated)
ADV151-P50/D5A00,ADV151-P50/B5S00,ADV151-P50/B5S10,ADV151-P50/B5D00,ADV151-P50/B5D10,ADV151-P50/CCC01
ADV151-P53/D5A00,ADV151-P53/B5S00,ADV151-P53/B5S10,ADV151-P53/B5D00,ADV151-P53/B5D10,ADV151-P53/CCC01
ADV151-P60/D5A00,ADV151-P60/B5S00,ADV151-P60/B5S10,ADV151-P60/B5D00,ADV151-P60/B5D10,ADV151-P60/CCC01
ADV151-P63/D5A00,ADV151-P63/B5S00,ADV151-P63/B5S10,ADV151-P63/B5D00,ADV151-P63/B5D10,ADV151-P63/CCC01
ADV151-PE0/D5A00,ADV151-PE0/B5S00,ADV151-PE0/B5S10,ADV151-PE0/B5D00,ADV151-PE0/B5D10,ADV151-PE0/CCC01
ADV151-PE3/D5A00,ADV151-PE3/B5S00,ADV151-PE3/B5S10,ADV151-PE3/B5D00,ADV151-PE3/B5D10,ADV151-PE3/CCC01
ADV151-PF0/D5A00,ADV151-PF0/B5S00,ADV151-PF0/B5S10,ADV151-PF0/B5D00,ADV151-PF0/B5D10,ADV151-PF0/CCC01
ADV151-PF3/D5A00,ADV151-PF3/B5S00,ADV151-PF3/B5S10,ADV151-PF3/B5D00,ADV151-PF3/B5D10,ADV151-PF3/CCC01
ADV151-E50/D5A00,ADV151-E50/B5S00,ADV151-E50/B5S10,ADV151-E50/B5D00,ADV151-E50/B5D10,ADV151-E50/CCC01
ADV151-E53/D5A00,ADV151-E53/B5S00,ADV151-E53/B5S10,ADV151-E53/B5D00,ADV151-E53/B5D10,ADV151-E53/CCC01
ADV151-E60/D5A00,ADV151-E60/B5S00,ADV151-E60/B5S10,ADV151-E60/B5D00,ADV151-E60/B5D10,ADV151-E60/CCC01
ADV151-E63/D5A00,ADV151-E63/B5S00,ADV151-E63/B5S10,ADV151-E63/B5D00,ADV151-E63/B5D10,ADV151-E63/CCC01
ADV151-EE0/D5A00,ADV151-EE0/B5S00,ADV151-EE0/B5S10,ADV151-EE0/B5D00,ADV151-EE0/B5D10,ADV151-EE0/CCC01
ADV151-EE3/D5A00,ADV151-EE3/B5S00,ADV151-EE3/B5S10,ADV151-EE3/B5D00,ADV151-EE3/B5D10,ADV151-EE3/CCC01
ADV151-EF0/D5A00,ADV151-EF0/B5S00,ADV151-EF0/B5S10,ADV151-EF0/B5D00,ADV151-EF0/B5D10,ADV151-EF0/CCC01
ADV151-EF3/D5A00,ADV151-EF3/B5S00,ADV151-EF3/B5S10,ADV151-EF3/B5D00,ADV151-EF3/B5D10,ADV151-EF3/CCC01
ADV141 Digital Input Module (16-channel, 100V - 120 V AC, Isolated)
ADV141-P50/C4S50
ADV141-P53/C4S50
ADV141-PE0/C4S50
ADV141-PE3/C4S50
ADV142 Digital Input Module (16-channel, 200 V - 240 V AC, Isolated)
ADV142-P00/C4S60
ADV142-P03/C4S60
ADV157 Digital Input Module (32-channel, 24V DC, Pressure Clamp Terminal support only, Isolated)
ADV157-S50
ADV157-S51
ADV157-SE0
ADV157-SE1
ADV161 Digital Input Module (64-channel, 24 V DC, Isolated)
ADV161-P50
ADV161-P51
ADV161-PE0
ADV161-PE1
ADV551 Digital Output Module (32-channel, 24 V DC, Isolated)
ADV551-P50/D5A00,ADV551-P50/D5S00,ADV551-P50/D5S10,ADV551-P50/D5D00,ADV551-P50/D5D10,ADV551-P50/CCC01
ADV551-P53/D5A00,ADV551-P53/D5S00,ADV551-P53/D5S10,ADV551-P53/D5D00,ADV551-P53/D5D10,ADV551-P53/CCC01
ADV551-P60/D5A00,ADV551-P60/D5S00,ADV551-P60/D5S10,ADV551-P60/D5D00,ADV551-P60/D5D10,ADV551-P60/CCC01
ADV551-P63/D5A00,ADV551-P63/D5S00,ADV551-P63/D5S10,ADV551-P63/D5D00,ADV551-P63/D5D10,ADV551-P63/CCC01
ADV551-PE0/D5A00,ADV551-PE0/D5S00,ADV551-PE0/D5S10,ADV551-PE0/D5D00,ADV551-PE0/D5D10,ADV551-PE0/CCC01
ADV551-PE3/D5A00,ADV551-PE3/D5S00,ADV551-PE3/D5S10,ADV551-PE3/D5D00,ADV551-PE3/D5D10,ADV551-PE3/CCC01
ADV551-PF0/D5A00,ADV551-PF0/D5S00,ADV551-PF0/D5S10,ADV551-PF0/D5D00,ADV551-PF0/D5D10,ADV551-PF0/CCC01
ADV551-PF3/D5A00,ADV551-PF3/D5S00,ADV551-PF3/D5S10,ADV551-PF3/D5D00,ADV551-PF3/D5D10,ADV551-PF3/CCC01
ADR541 Relay Output Module (16-channel, 24 to 110 V DC/100 to 240 V AC, Isolated)
ADR541-P50/C4S70, ADR541-P53/C4S70, ADR541-PE0/C4S70, ADR541-PE3/C4S70
ADV557 Digital Output Module (32-channel, 24 V DC, Pressure Clamp Terminal support only, Isolated)
ADV557-S50
ADV557-S51
ADV557-E50
ADV557-E51
ADV561 Digital Output Module (64-channel, 24 V DC, Isolated)
ADV561-P50
ADV561-P51
ADV561-E50
ADV561-E51
ADV859 Digital I/O Module for Compatible ST2 (16-channel input/16-channel output, Isolated channels)
ADV859-P00
ADV859-P01
ADV159 Digital Input Module for Compatible ST3 (32-channel, Isolated channels)
ADV159-P00
ADV159-P01
ADV559 Digital Output Module for Compatible ST4 (32-channel output, Isolated channels)
ADV559-P00
ADV559-P01
ADV869 Digital I/O Module for Compatible ST5 (32-channel input/32-channel output, Isolated, Common Minus Side Every 16-channel)
ADV869-P00
ADV869-P01
ADV169 Digital Input Module for Compatible ST6 (64-channel, Isolated, Common Minus Side Every 16-channel)
ADV169-P00
ADV169-P01
ADV569 Digital Output Module for Compatible ST7 (64-channel output, Isolated, Common Minus Side Every 16-channel)
ADV569-P00
ADV569-P01
-----------------------------------
Lily
HONGKONG XIEYUAN TECH CO., LIMITED
|T: 86-027-85581877 |F: 86-027-85309780 |Mail:lily@whxyauto.com |
Ad: 7-A16,Caishen Commercial Plaza,Hankou Railway Station,Wuhan, Hubei, China
Web: www.hkxytech.com