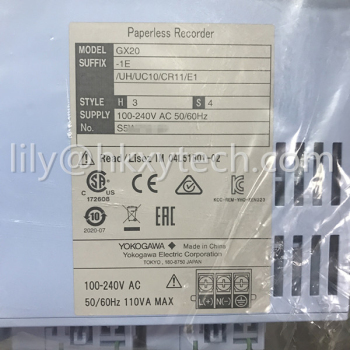 BASIC INFO
Yokogawa GX10 / GX20 Paperless Recorder Touch Screen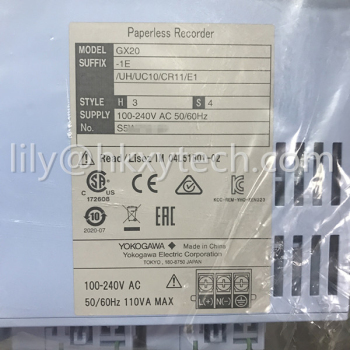 We promise 100% original brand new with 1-year warranty.
If you are interested in our products, please feel free to contact us!
-----------------------------------------------------------
HONGKONG XIEYUAN TECH CO., LIMITED
Add: 7-A16,Caishen Commercial Plaza,Hankou Railway Station,Wuhan, China
Contact: Ms. Lily
Email: lily@hkxytech.com
WhatsApp/Skype: +86 13789949182
Power generation, process automation, and factory automation in manufacturing industries require rigorous, continuous monitoring in the control room. The GX series is Yokogawa's latest recorder offering for industrial automation.
The GX series is an industry-first multi-point touch panel, to improve intuitive and smart operator control. Users can scroll, pan, zoom historical data, and even write freehand messages on its dust-proof and water-proof display. The Yokogawa GX series delivers industry leading reliability and measurement accuracy. Its custom graphics accommodates application or process-specific displays, while a wide range of communication protocols guarantee compatibility with your network architecture. It's simple for operators to view and retrieve past data with automatic email and FTP notifications.
Smart User Interface
Variety of display functions
Standard display screens clearly indicate channel data with units and tags, plus alarm log, message log, and other event log information.
Custom Display function (option) lets you place graphic images on screens.
Touch screen for intuitive operation
The touch screen provides swipe, pinch in/out, and click and drag controls for fast navigation of common display mode functions.
Use "2-point touch" to zoom in or out in the direction of display span.
Supports freehand messages
Operators can write a free hand text message directly on the touch screen with a stylus or finger.
Smart Architecture
Add I/O modules when you need more channels
The fully modular I/O design allows you to build the system with the channels you need today, and expand the unit's capability any time in the future by purchasing and installing additional modules.
Wide-ranging input/output specifications
The 10 channel universal input module measures DC volts, thermocouple, RTD, and contact input signals. A 16 channel digital input module and a relay output module are also available.
GX90XA Analog input module: DC voltage, DC current, thermocouple, RTD, contact
GX90XA-10-V1: High withstand voltage AI module: Max. common mode voltage Double insulation 600V, basic insulation 1000VDC
GX90XA-04-H0 High Speed AI Module: DC voltage, DC current, thermocouple, RTD, contact
GX90XA-06-R1 4-Wire RTD Module: 4-wire RTD, 4-wire resistance
GX90YA Analog output module: Current output (Isolated between channels)
GX90XD Digital input module: Remote control input or operation recording
GX90YD Digital output module: Alarm output
GX90WD Digital input/output module: Remote control input or operation recording/alarm output
GX90XP Pulse intput module: Pulse signal data acquisition, integral count
GX90UT PID control module: PID control (2 loop)
Front panel door available in white or black
Choose the best color for your operating environment.
Multichannel I/O
GX10 and GX20 support up to 30 channels and 100 channels of input respectively.
Up to 450 inputs available with an expansion unit that provides easy Ethernet connection to the recorder.
Smart Functionality
AI Function as standard
Predict the future and simultaneously display from the past to the future, and predict and notify you of the set events by e-mail etc.


Order code:
GX20-1E/MT/US30
GX20-1E/US30
GX20-1E/BC/CG/D5/E1/UH/UC20
GX20-1E/US50
GX20-1E/UH/E1/UC10/CR11
GX20-1E\UH\UC40
GX20-1E/UH/UC10/CR11/E1