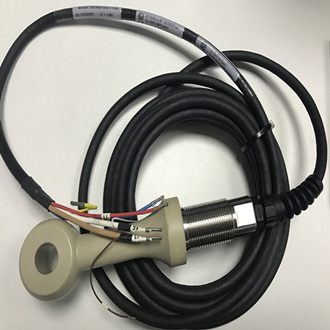 BASIC INFO
Yokogawa ISC40 Inductive Conductivity Sensor ISC40S-GG-T1-05
The ISC40 inductive conductivity sensor is designed for use with the ISC202 2-wire transmitters, and the ISC450G 4-wire converter. This combination exceeds all expectations for conductivity measurement in terms of reliability, accuracy, rangeability and price performance.

This innovative inductive conductivity sensor provides highly accurate measurements over a wide measuring range (1 μS/cm to 1999 mS/cm) and process temperature range (-10 to 130 deg C) without changing the cell constant and conducting recalibration.

The erosion/abrasion resistant PEEK (Poly Ether Ether Ketone), which also features excellent chemical resistance in all solutions except Fluoric Acid or Oxidizing Concentrated Acids.
Features
*
Inductive conductivity technique for elimination of fouling and polarization errors.
*
Wide bore sensors for long term stability.
*
Installation flexibility due to wide range of holders and due to the use of universal bulkhead construction.
*
A single sensor can maintain the high resolution and accuracy, and measure the conductivity in an extremely broad range.
Minimum span: 100 μS/cm
Maximum span: 1999 mS/cm
Specifications
Compatibility
Compatible with the ISC202, ISC450G inductive conductivity transmitters/converter.
Measuring range
1 μS/cm to 1999 mS/cm
Output span
Minimum 100 μS/cm
Maximum 1999 mS/cm
Process temperature
-10 to 130 deg C for continuous exposure. Suitable for steam-sterilizable applications.
Process pressure
Dependent on installation; but < 2 MPa (300 psi).
Process flow
Maximum 5 m/s.
Wetted materials
Sensor: PEEK (Poly Ether Ether Ketone)
Gasket: Viton® or ethylene propylene copolymer rubber
Adapter (optional): SUS316 Stainless steel or PVC or PVDF
Non-wetted materials
Sensor thread: SUS304 Stainless steel
Retaining nut: SUS304 Stainless steel
Cable: Weatherproof vinyl
Process connection
With retaining nut on G3/4 thread of sensor top for bulkhead mounting; optional process adapters or process fittings.
Process adapters
JIS 10K 50 RF flange adapter (Material: SUS316)
JIS 10K 50 FF flange adapter (Material: PVC or PVDF)
DIN PN16 DN50 flange adapter ANSI CLASS150 2 flange adapter R2 screw-in adapter
Cable length
5 m, 10 m, 15 m, 20 m
Weight
Sensor: approx. 0.6 kg
Applications
| | |
| --- | --- |
| * | All applications where severe electrode fouling prevents the use of contacting electrodes. |
| * | All ranges except (ultra) pure water applications. |
| * | All slurry applications where conventional systems suffer from plugging or erosion. |
| * | All applications where the 6 decade rangeability is necessary for accurate process control. |
-----------------------------------
Lily
HONGKONG XIEYUAN TECH CO., LIMITED
|T: 86-027-85581877 |F: 86-027-85309780 |Mail:lily@whxyauto.com |
Ad: 7-A16,Caishen Commercial Plaza,Hankou Railway Station,Wuhan, Hubei, China
Web: www.hkxytech.com