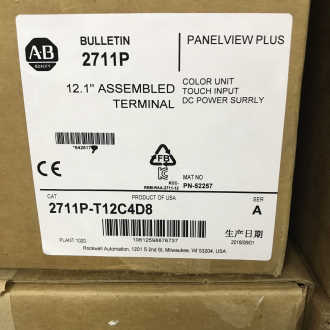 BASIC INFO
Allen-Bradley 2711P-RDT7C Display Module 700 Display Touchscreen.
About 2711P-RDT7C

The Allen-Bradley 2711P-RDT7C is a PanelView Plus 700 operator panel display module. This module has a 7-inch display which is made for graphically displaying industrial processes while using few elements. The 2711P-RDT7C has a flat-panel color display with a minimum resolution of 640 x 480 and 18-bit graphics. The programming of the module is conducted with a PC-based software called the FactoryTalk View Studio software. When programmers download the applications to run on the device, they can configure the panel display module to work as a closed system or an open system (allowing the operators to have access to the desktop and the control panel for eventual device configuration). The Allen-Bradley 2711P-RDT7C supports firmware upgrades. If there are new firmware editions, they can be downloaded from the Allen-Bradley/Rockwell Automation website. These upgrades make the module run more efficiently and reliably. They affect the FactoryTalk View Machine Edition Station software that is responsible for running the SCADA applications on the module, but it also brings improvements to the communication protocols and drivers.
The Allen-Bradley 2711P-RDT7C is installed with a logic module that delivers power to this unit. These 2 components combined need 179 millimeters x 246 millimeters x 55 millimeters (7.04 inches x 9.68 inches x 2.18 inches) of installation space in enclosures. This is a panel-mountable device that is intended to be mounted on the door of a NEMA or an IP rated enclosure. To be able to hold the 2711P-RDT7C display module in place, the supporting panels must have a thickness of between 1.5 millimeters and 4.8 millimeters. All the holding screws of the unit must provide an adequate gasket seal between the display module and the door panel. If this is not the case, water or chemicals can damage the unit or the other equipment within the enclosure. The 2711P-RDT7C can connect to external devices and it supports ActiveX controls and remote connectivity, and it uses vector-based graphics and provides data management through CSV files. With the login feature, it facilitates data storage and modification.
Technical Specifications for 2711P-RDT7C
Manufacturer
Rockwell Automation
Brand
Allen-Bradley
Part Number/Catalog No.
2711P-RDT7C
Series
PanelView Plus
Input
Touch



Order Number:
2711P-B10C4D8
2711P-B12C4D8
2711P-B15C22A9P
2711P-B6M5D8
2711P-B7C4D8
2711PC-T6C20D8
2711P-K10C4D8
2711P-K12C4D8
2711P-K7C4D8
2711P-RDB10C
2711P-RDK12C
2711P-RDK7C
2711P-RDT10C
2711P-RDT12C
2711P-RDT15C
2711P-RDT7C
2711P-RN15S
2711P-RN6
2711P-RP1
2711P-RP2
2711P-RP8D
2711P-RP9A
2711P-RSACDIN
2711P-RW1
2711P-T10C21D8S
2711P-T10C22A9P
2711P-T10C22D8S
2711P-T10C4D9
2711P-T12C4A9
2711P-T12C4D9
2711P-T12W21D8S
2711P-T12W22D9P
2711P-T15C22D9P
2711P-T19C22D9P
2711P-T6C20D
2711P-T6C20D8
2711P-T6C21D8S
2711P-T6M20D8
2711P-T7C21D8S
2711P-T7C22D8S
2711P-T7C4D8
2711P-RP8A
2711P-RP9D
2711P-T10C4A8
2711P-T10C4D8
2711R-T10T
2711R-T4T
2711R-T7T
2711P-T7C22D9P
2711P-T7C22D9P-B
2711P-T7C22A9P
2711P-T7C22A9P-B
2711P-B7C22D9P
2711P-B7C22D9P-B
2711P-B7C22A9P
2711P-B7C22A9P-B
2711P-T9W22D9P
2711P-T9W22D9-B
2711P-T9W22A9P
2711P-T9W22A9P-B
2711P-T10C22D9P
2711P-T10C22D9P-B
2711P-T10C22A9P
2711P-T10C22A9P-B
2711P-B10C22D9P
2711P-B10C22D9P-B
2711P-B10C22A9P
2711P-B10C22A9-B
2711P-T12W22D9P
2711P-T12W22D9P-B
2711P-T12W22A9P
2711P-T12W22A9P-B
2711P-T15C22D9P
2711P-T15C22D9P-B
2711P-T15C22A9P
2711P-T15C22A9P-B
2711P-B15C22D9P
2711P-B15C22D9P-B
2711P-B15C22A9P
2711P-B15C22A9P-B
2711P-T19C22D9P
2711P-T19C22D9P-B
2711P-T19C22A9P
2711P-T19C22A9P-B
2711P-T9W22D9P-BSHK
2711P-T12W22D9P-BSHK
2711P-T7C22D9PK
2711P-T9W22D9PK
2711P-T10C22D9PK
2711P-T12W22D9PK
2711P-T15C22D9PK
2711P-T19C22D9PK
2711P-B15C22D9PK
2711P-T12W22D9P-BM001
2711P-T12W22D9P-BM002
2711P-T12W22D9P-BM003
2711P-T12W22D9P-BM004
2711P-T12W22D9P-BM005
2711P-T12W22D9P-BM006
2711P-T12W22D9P-BM007
2711P-T12W22D9P-BM008
2711P-T12W22D9P-BM009
2711P-T12W22D9P-BM010
2711P-T12W22D9P-BM011
2711P-T12W22D9P-BM012
2711P-T12W22D9P-BM013
2711P-T12W22D9P-BM014
2711P-T12W22D9P-BM015
2711P-T12W22D9P-BM016
-----------------------------------
Lily
HONGKONG XIEYUAN TECH CO., LIMITED
T: 86-027-85568699 F: 86-027-85309780
E-mail: lily@hkxytech.com
Add: 7-A16,Caishen Commercial Plaza,Hankou Railway Station,Wuhan, Hubei, China
Web: www.hkxytech.com